Old School Delights, as it name might suggest, bases its idea on the school tuck shops of yesteryear. And it was this concept that had me hooked when the kind folks at the eatery invited me down for a simple lunch. In line with the theme, "fancy" dishes like foie gras and steak are missing from the menu and instead, simple local fare like macaroni, mee siam, laksa, nasi lemak etc are featured prominently.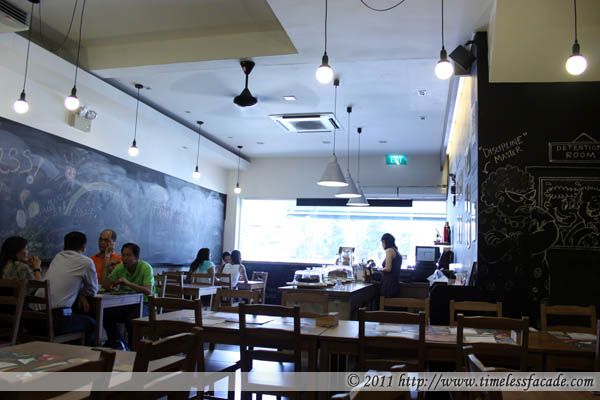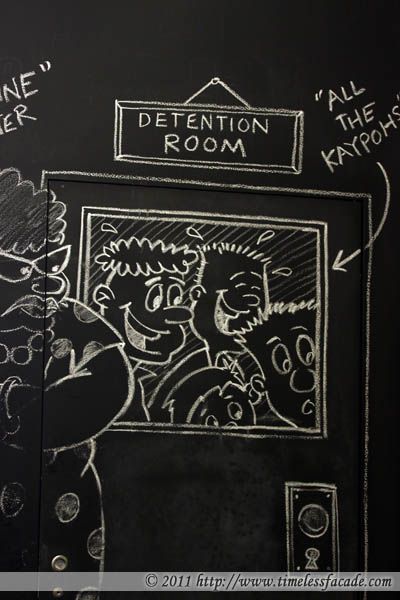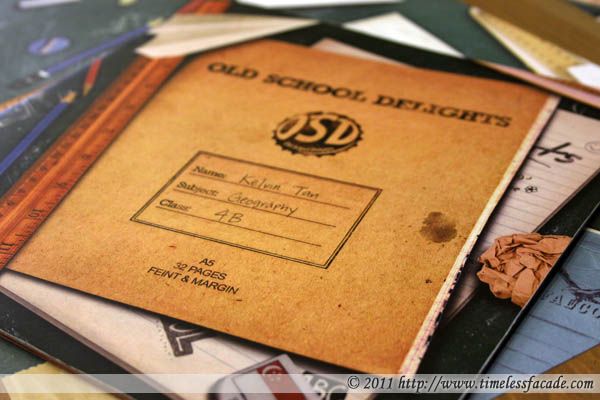 Interior
The place is reminiscent of a classroom with its huge chalkboard, cement screed floors and quirky drawings which seemingly hark back to the days of "Mr Kiasu". There is even a paper table mat with an almost realistic imprint of an old school jotter book which I used when I was a kid. Lets not forget the pack of "Snap" cards and the erasers with country flags on them. Ahh the nostalgia.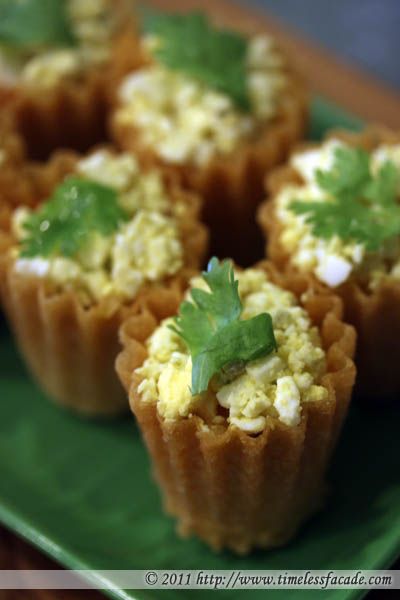 Kueh Pie Tee
I've always had a penchant for Kueh Pie Tee, with its crisp shell and delectable filling of chopped egg and stewed vegetables (they are first fried with garlic then simmered in water). OSD's rendition was a little bland due to the lack of sweet sauce (I opted for no chilli). The shell (which isn't made in house) had a crunchy overtone to it but did seem a little too oily for my liking. I would have also appreciated the filling to be served piping hot instead of at room temperature.


Macaroni
What you get it pretty standard. A couple of slices of fishcake and some strands of shredded chicken as well as a couple of quail eggs, vegetables and of course macaroni in a tasty yet light broth. Although this dish wasn't spectacular, it did cover me in comfort and warm fuzziness. This was a dish that I loved to eat when I was kid and this one was simple and unpretentious - giving rise to a homely feeling (有家的感觉).


Chocolate Banana Cake
I ended off my lunch with a Chocolate Banana Cake, which wasn't quite the same as what I've had before. Think Choc a bloc. OSD's offering was the old fashioned banana cake with a layer of mashed bananas wedged in between and covered with a layer of molten (and shiny) chocolate. The cake came across as a little too dry for my liking but overall still a nice and sinful dessert (if you like bananas and chocolate)!


Overall, the food wasn't great but still very comforting in it's own way. Maybe it's just nostalgia and the chance to relive those happy and carefree moments, albeit for only a brief moment? Thanks to the folks at OSD for the invite!


Final Verdict:
Ambience:7/10 (Nostalgic!)
Service:NA
Food:6.5/10
Value for money:NA
Overall:6.75/10

Address: 215M Upper Thomson Road

Contact: 6458 4518

Opening Hours: 12 noon to 11pm (Closed Mondays & Tuesdays)

Website: http://www.oldschooldelights.com