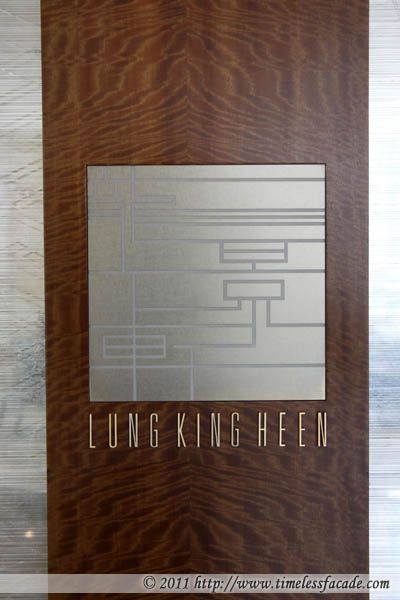 I managed to squeeze in a reservation on short notice at Lung King Heen (龍景軒), a 3 michelin star restaurant at the Four Seasons Hotel during my recent short stay in Hong Kong. The place was ideal because it overlooked the harbour and was just a short ferry ride away from my hotel.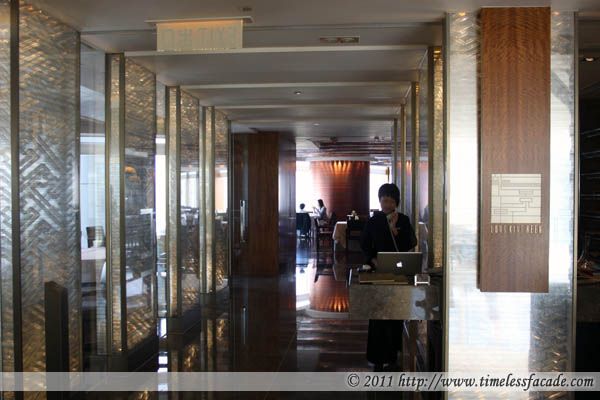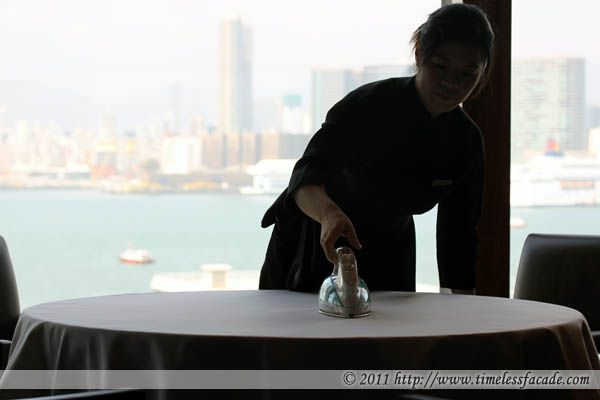 The Place
I have to admit. The Four Seasons Hong Kong exuded unparallelled class but I wasn't quite taken with Lung King Heen's decor. Floor to ceiling windows provided a view of the Hong Kong Harbour and heavy leather bound chairs made for comfortable seating. However, the shiny curvatures on the ceiling were a little too ostentatious for my liking. I also noticed that they actually made the effort to iron each and every table cloth before setting the cutlery. That's honestly a first for me.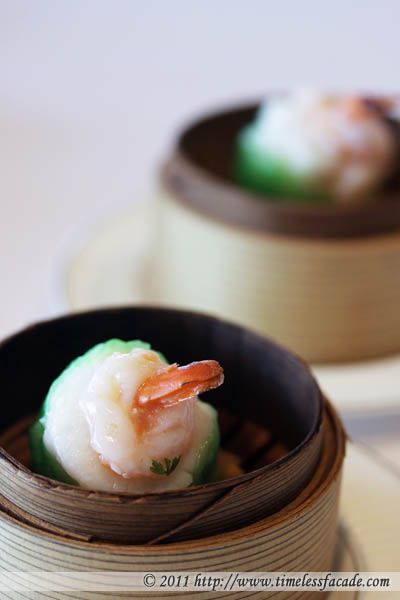 Steamed Lobster & Scallop Dumpling
If you were expecting a basket of 3 or 4 pieces of dumpling, you would be disappointed. It's 1 piece per order. But its huge. A thick slice of scallop sitting atop a crunchy, succulent piece of lobster and topped with a prawn, all wrapped up in a light green, mildly chewy skin - Good! But try not to eat it in one mouthful or the fishiness could prove to be a little overwhelming.


Baked Whole Abalone Puff
You get 1 piece per order for the abalone puff as well. In case you were wondering if the whole tart is filled with abalone, the answer is no. There is diced chicken mixed in with it but overall, the tart was excellent. The abalone provided a mild chewy texture with a nice savoury aftertaste while the chicken broke the monotony of just chewing on the abalone. And of course the tart completed the picture with its crusty shell imbued with an oven baked, buttery goodness.


Steamed Rice Rolls with BBQ Pork & Preserved Vegetables
One of the yardsticks of good dim sum, the
chee cheong fun
or 猪肠粉 had silky semi translucent skin that layered the sizable BBQ pork pieces with the preserved vegetables and drenched in mildly salty soy sauce. I liked the crunchy texture from the vegetables coupled with the chewy texture of the pork. Only gripe I had was that there were just too many layers, which made the whole rice roll a lot chunkier than I would have liked it to be.
Baked BBQ Pork Buns with Pine Nuts
This wasn't the usual BBQ pork buns that I was used to in Singapore. It was actually 菠蘿包 with a nice, sweet crusty top and lots of delectable BBQ pork filling that wouldn't drastically increase your sugar level. And in case you get bored with only eating pork, the buns have onion shreds in it as well for a mild deviation in taste and texture. I personally thought the pine nuts were great as well .
Lung King Heen Lobster Fried Rice
Bursting with
wok hei
with a muted peppery notes, this namesake fried rice came with a generous serving of lobster and moist rice grains. Bring a huge appetite for carbohydrates.
Lung King Heen Roast Chicken
Another namesake dish and an excellent one at that. Unbelievably crisp skin coupled with tender meat that oozed juices with every bite. The mildly sourish dipping sauce helped cut through the slightly excessive oil and greatly alleviated any nausea one might have from taking in too much oil.


Baked Portuguese Milk Custard Tartlets
Each tartlet came in bite sized portions with flaky pastry and a quivery smooth custard center that didn't come across as too sweet. Very good way to end off the meal if I may say. But the waiting time for this is 20 minutes so place your orders early if you are in a rush.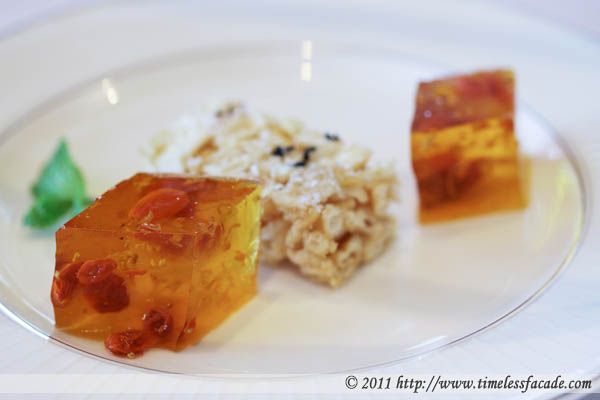 Complimentary Dessert
Even though we were already bursting at the seams with the plethora of wonderful food, our wait staff urged us to try this complimentary "signature" dessert. And I'm glad we did. The wolfberries had a grape like texture and when eaten with the chilled, quivery jelly, made for an interesting nibble. The cracker/peanut candy like pastry (for lack of a better word) in the middle of the plate gave the impression that it was really sticky but was unexpectedly fluffy and melt in your mouth!


Bill
We enjoyed our lunch immensely and at about 921 HKD or about $150 SGD, well worth the price. Service was decent but hardly befitting a 3 michelin star restaurant in my humble opinion. Our lunch stretched past the 2 hr mark and I'll definitely be happy to return, this time with an early reservation for window side seats of course.
Ambience:7.5/10
Service:7/10
Food:8.5/10
Value for money:7/10
Overall:7.5/10
Address: 4th Floor, Four Seasons Hotel Hong Kong
Contact: (852) 3196-8880
Opening Hours:
Lunch
Sundays and public holidays
11:30 am – 3:00 pm
Monday to Saturday
12:00 noon – 2:30 pm
Dinner
Daily 6:00 pm – 10:30 pm
Website: http://www.fourseasons.com/hongkong/dining/lung_king_heen