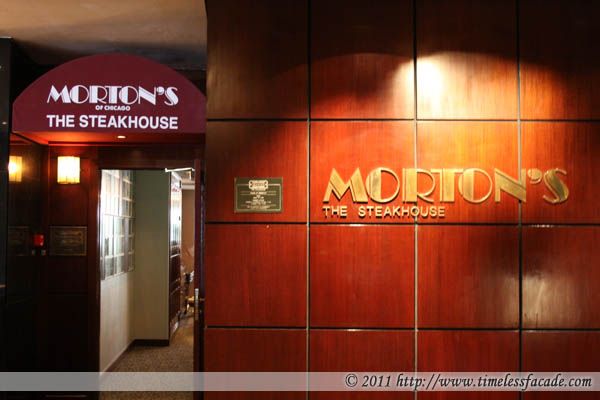 I decided to do something different during the recent F1 weekend. Instead of keeping miles away from the epicenter, I braved restrictive roads and major inconveniences to dine at Mortons, which had a special lunch seating only during this annual weekend.

Interior & Special Menu
As mentioned in my
previous entry on Mortons
, windows had been installed to allow for natural light to flood in, radiating the traditionally sombre main dining area. And what better time to see the place in a different light than in the afternoon, over a leisurely and decadent lunch?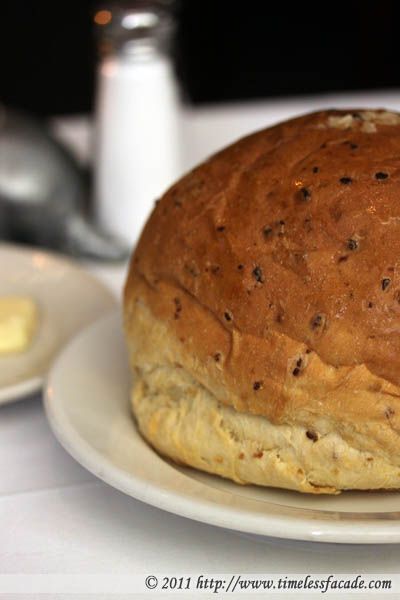 Onion Loaf
We carved out a small section of the delicious onion loaf for consumption and doggy bagged the remainder. Goes very well with chilled, smooth butter.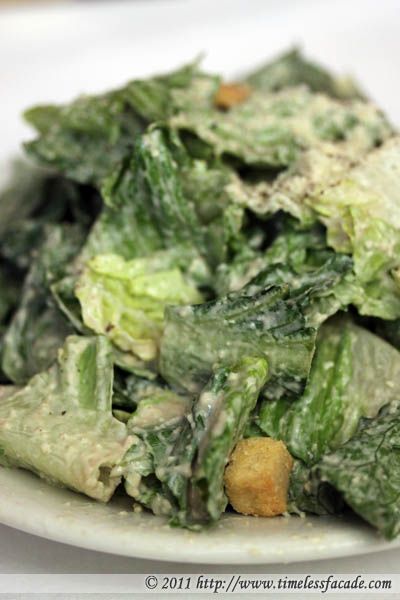 Caesar Salad
Fresh crunchy greens homogeneously tossed in classic caesar dressing and topped with fresh tasting croutons that didn't reek of rancid oil. Huge bowl so try to share.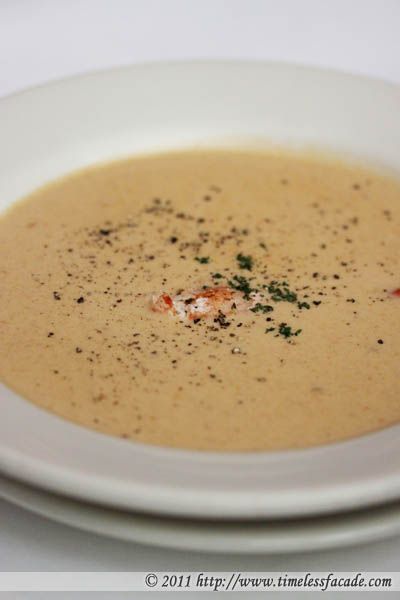 Lobster Bisque
The lobster bisque had a nice smoothness to it without coming across as too rich or creamy. The brandy taste is quite distinguishable so if you don't really like alcohol, you probably shouldn't order this. I applaud the freshness of the lobster but moan the measly portions (it's just 1 small piece of lobster). After all, it is $34.50++ a bowl.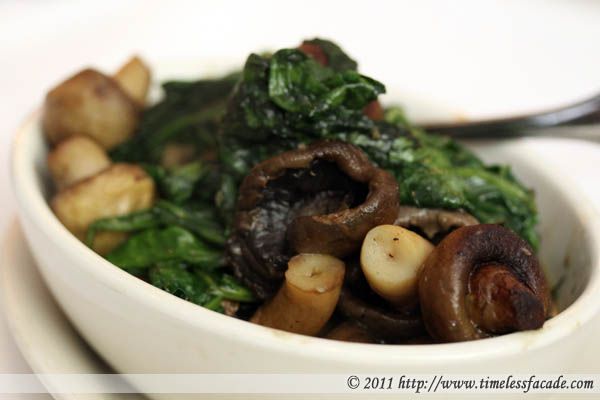 Spinach with Mushroom
Our mandatory greens for the meal. Plentiful mushrooms and spinach. So plentiful that we got sick of eating mushrooms after that. Good for 2-3 pax.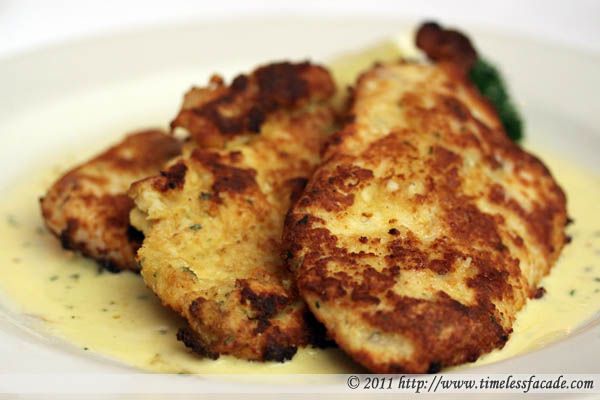 Chicken Christopher
Coated with a layer of egg and pan fried till a golden brown, the chicken christopher was actually quite tasty, especially when dipped in the creamy yellowish sauce that came across as light with a mild garlicky flavour. However too much of the chicken can be quite a nauseating affair. Read. Share it.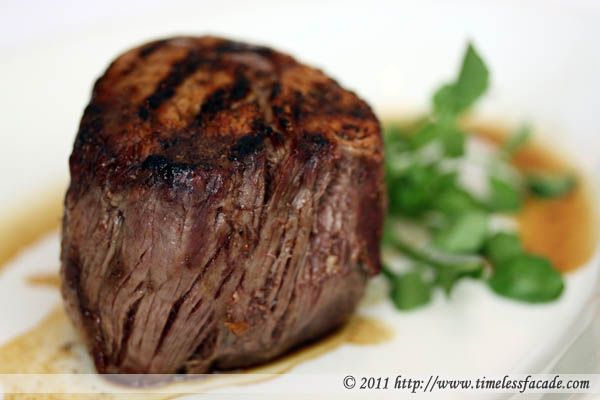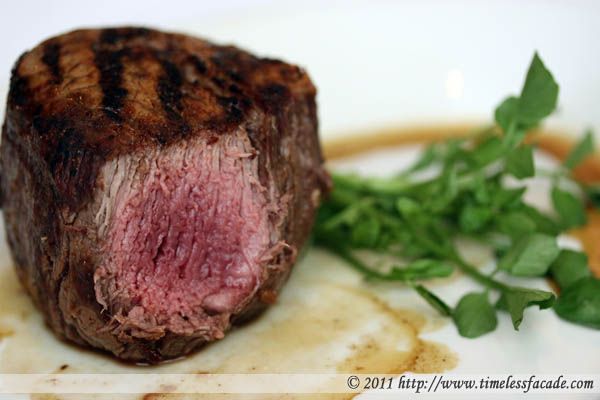 Fillet Mignon
It's been a while since I've had steak at Mortons, opting instead to go for their burger (standards have dropped!) during my last couple of visits. And I'm glad I decided to order my favourite cut this time round - the fillet mignon. Done up to a perfect medium rare yet a little charred on the outside, the meat was excellent - juicy and full of natural sweetness. What more can I ask for? Well, maybe seconds?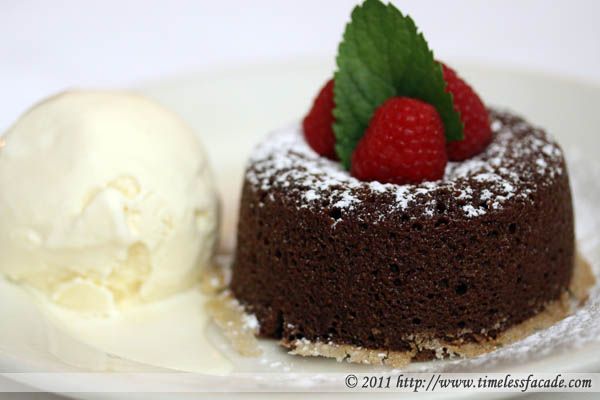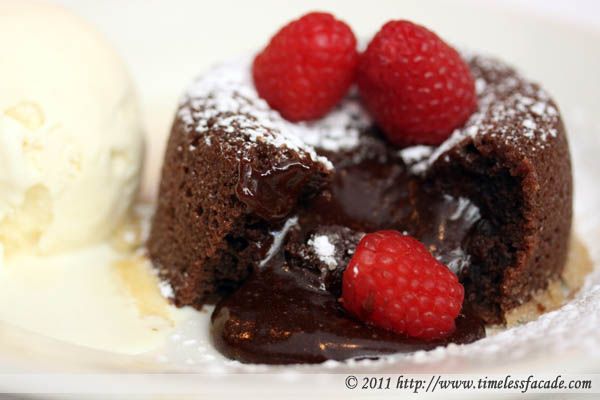 Morton's Hot Chocolate Cake
Luscious warm chocolate oozing out from a break in the crust and paired with a nice chilly scoop of vanilla ice cream made for a wonderful end to the meal.


Bill
As with any meal at Mortons, you can expect prices to be in excess of $100/pax, even for lunch. However, $246 for 2 pax was reasonable in my humble opinion and I'll definitely be happy to drop by again, be it for lunch or dinner. One thing to note though. The quality of food did seem better during lunch probably due to the lack of crowds so do lunch if possible.


Ambience:7.5/10
Service:8/10
Food:8/10
Value for money:7/10
Overall:7.5/10

Address: 4th Storey, Mandarin Oriental Singapore

Contact: 6339-3740

Opening Hours:

Bar
Monday - Saturday 5pm - 11pm
Sunday 5pm - 10pm

Dining Room
Monday - Saturday 5:30pm - 11pm
Sunday 5pm - 10pm

Website: http://www.mortons.com/singapore/