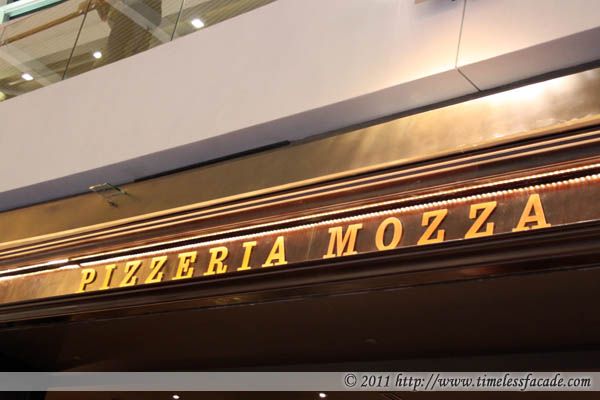 And we finally got a table at the highlyy sought after and much talked about Pizzeria Mozza after calling in almost a month in advance for reservations. Yet we were relegated to a most uncomfortable table in the pizzeria where seating was tight and with the POS (point of sale) system right behind us (or me to be more specific).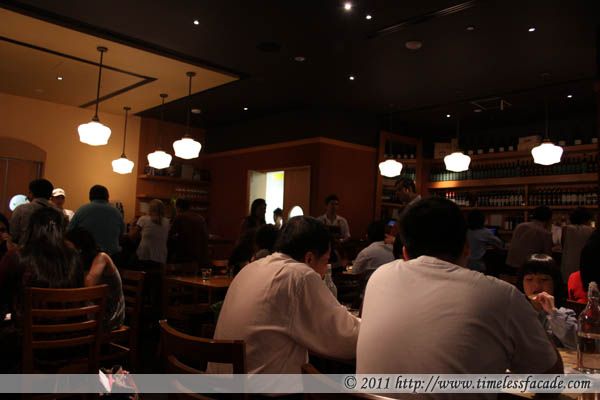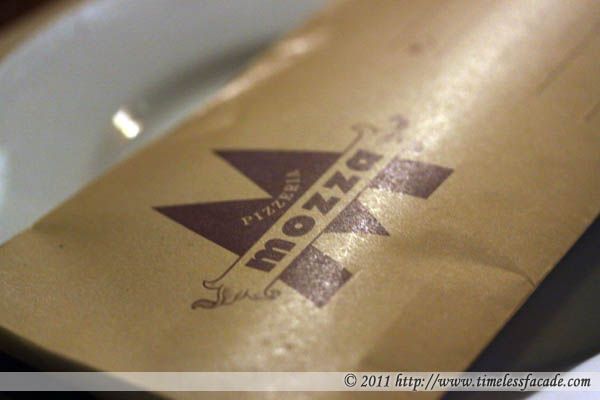 Interior & Cutlery Set
Conversation was almost non existent with shouting the preferred method of communication. Simply put, you had to shout about the din to have someone sitting a mere 2 metres away to actually hear you. I attribute that to the ridiculously loud pipe music. For crying out loud, I'm in a pizzeria, not a bar and I definitely don't appreciate literally yelling at people and being yelled at to get a conversation going. And with the whole place trying to do their part for the environment by saving on electricity bills, the whole place had the pub vibe going for them. But wait.. isn't it suppose to be a pizzeria?


Wings Diavola & Chicken Liver Bruschetta
I skipped the appetisers as I wasn't in the mood for chicken liver or wings.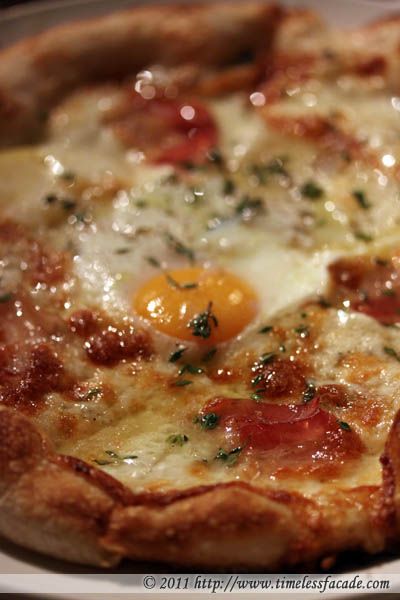 Potato Pizza
Egg, Bacon, Yukon Gold Potato & Bermuda Onions. Potatoes on a pizza? Double serving of carbohydrates? Seriously? But to give it credit, it was actually very decent as a whole. A hand full of toppings that synced well together on a thin and crisp yet chewy crust that gave my jaws a good workout (what do they put in there?!) .
Guanciale Pizza
Egg, Guanciale, Bitter Greens & Bagna Cauda. I've actually never tried guanciale (dried meat from pork cheeks) or bagna cauda (an Italian dip made from garlic, anchovies, olive oil and butter) and after tasting what this pizza had to offer, I am still clueless as to how both are suppose to taste like. Reason being, the bitter greens dominated my palate. And the whole pizza tended towards the "grassy" side. Most of us gave up after a slice each.
Meat Lover Pizza
Bacon, salami, fennel sausage, pancetta, tomato & mozzarella. With all the meat, I was hoping that this pizza would be a blast. But unfortunately, the converse turned out to be true. Very salty would probably be a good way to start off the description and the taste from the salami muscled its way in, overpowering virtually everything else. So essentially what you get is very salty salami on a bed of crisp but tough dough.


Bill
5 pax, $158. With 2 out of 3 of our pizzas almost hitting the $40 mark and not matching up in terms of quality and quantity, I'll definitely be hard pressed to find a reason to return. We were so disappointed that we didn't even bother ordering desserts. And the ambience definitely didn't help. This place is seriously over hyped in my humble opinion. Better pizzas at a more wallet friendly price can be found elsewhere.



Final Verdict:
Ambience:5.5/10 (I'm not a fan of noisy and cramp environments)
Service:7/10
Food:6/10
Value for money:5.5/10

Overall:6/10

Address: #B1-42/46, Marina Bay Sands

Contact: 6688 8522

Opening Hours: Daily: Noon - Midnight

Website: http://www.pizzeriamozza.com/Singapore/home.cfm