I haven't been back to Prego ever since their revamp and I thought that it would be good to pop by for lunch one day since the lacklustre Italian food at Bintan had me fixated on the notion of devouring a good pizza. And I was definitely hoping Prego would help with that.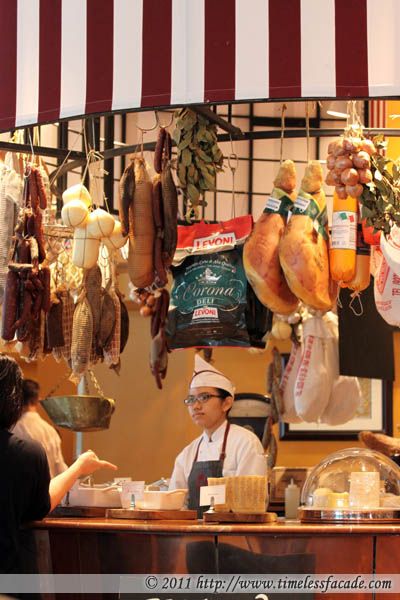 Interior
Honestly, the interior didn't spot as massive a makeover as I had expected. Everything looked pretty much the same save for a deli counter which I took a fancy to as it did seem quite quaint with tons of food stuff hanging all over. A pity I wasn't quite interested in what it had to offer.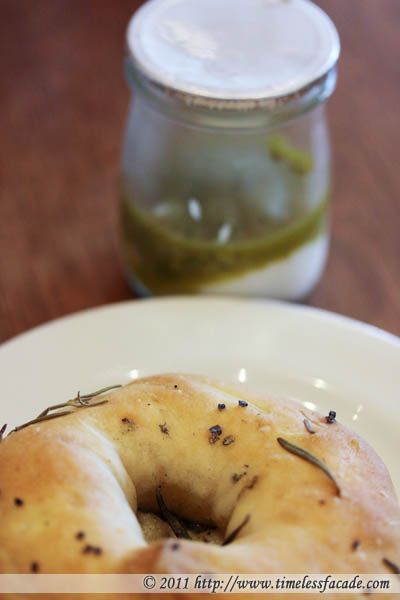 Complimentary Bread
Things got off to a great start with the complimentary bread, which came with a jar of what seemed like cream cheese with olive oil pesto. Delicious but the bread was a little too hard for my liking and could have been served warm for a better dining experience.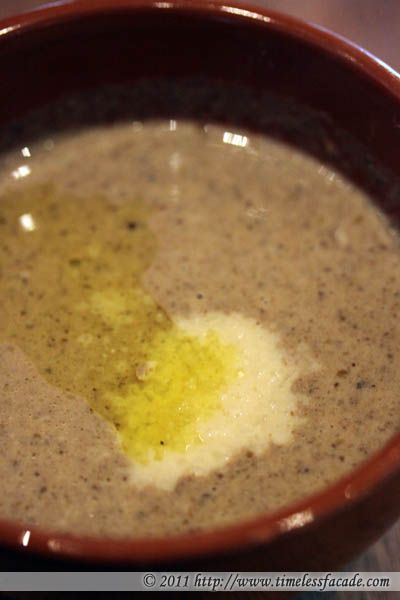 Mushroom Soup
The mushroom soup was part of the set lunch which was priced at $43++ for 3 courses (soup, main & dessert). To be honest, it was really fragrant from the woody aroma of the mushroom as well as the truffle oil. However, I did find it a little runny and the physical mushroom bits sorely lacking.


Mushroom Pizza
I don't quite remember the exact name of this pizza but it had bacon, wild mushrooms, egg, cheese on a light yet chewy hand pulled crust that was neither thick (think American style) nor thin (Italian style). A most welcoming compromise if you are dining with folks from both camps. I personally found the pizza quite good, with the ingredients relatively generous and melding well together. As an icing on the cake, the cheese was gooey and not the least bit overwhelming.


Tiramisu
The set lunch had this dessert as an option but ordering ala carte will nett you a slightly bigger portion (as per what you see in the picture above). But either way, presentation was sorely lacking - both servings of tiramisu looked like a mess . Taste wise was quite decent though. Light mascarpone cheese complementing the moist sponge which had an almost non existent alcohol taste and topped with what seemed like almond crumbles.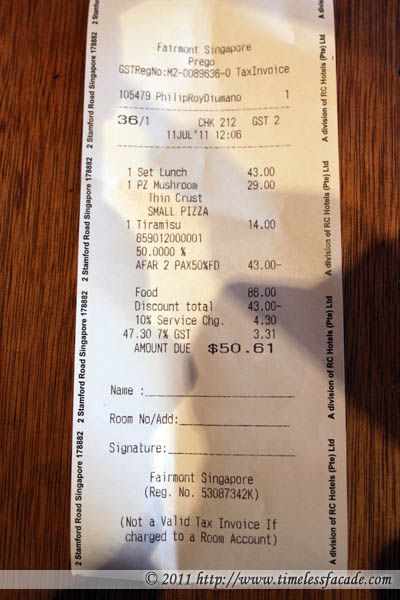 Bill
With a 50% discount, lunch for the both of us hovered around the 50 dollar mark, which was very reasonable for the amount of food we had - 2 mains, 1 soup and 2 desserts. However, I wouldn't say that food quality was top notch. It's decent at best and service honestly wasn't up to the mark. Our waiter seemed a little aloof and unapproachable. In short, we felt ostracized. Let's hope service picks up if I ever do return.
Ambience:7/10
Service:6/10
Food:6.5/10
Value for money:6/10 (without 50% discount)
Overall:6.375/10
Address: Level 1, Fairmont Singapore
Contact: 6431 6156
Opening Hours:
Breakfast: Daily - 6:00am - 11:00am
Deli: Daily - 6:00am to 10:30pm
Lunch: Monday to Saturday - 11:30am to 2:30pm
Pizzeria: Monday to Saturday - 11:30am to 12:30am
Dinner: Daily - 6:30pm to 10:30pm
Brunch Buffet*: every Sunday & selected Public Holidays - 12:00noon to 2:30pm
*Standard à la carte menu is also available after 2:00 pm.
Website: http://www.fairmont.com/singapore/GuestServices/Restaurants/Prego.htm