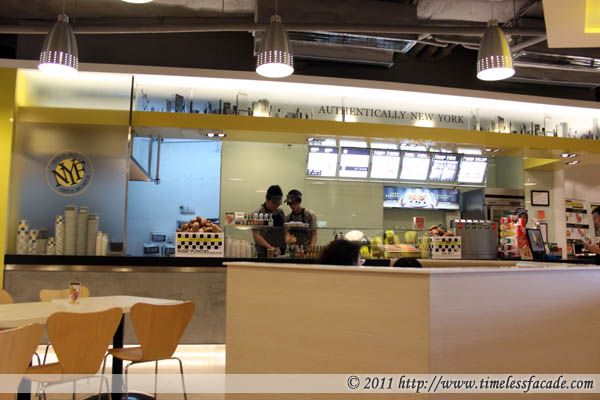 And the arduous trek to have a taste of my much loved "authentic" poutine after almost 10 years is finally over. I found 3 outlets of New York Fries (NYF) scattered all over Hong Kong during my recent visit. And even though I was really really stuffed from my lunch at
Lung King Heen
, I insisted on getting the largest serving of original poutine NYF had on offer.
The Original Poutine
The very basic poutine and my absolute favourite over all the other fancy variants with foie gras and the likes. Medium cut russet potatoes with skin intact that seemed a tad too soft, topped with copious amounts of cheese curds and delish brown gravy. As I tug at the fries and the warm gravy melts through the cheese curds, a gooey line of cheese stretches out before making its way into the deep recesses of my mouth. Very nice but I must say standards are a little lower than what I used to have in Canada. But this will have to do. For now. And don't expect cheap fries. A poutine set consisting of a large poutine, drink and a small salad will set you back 54 HKD, which is roughly SGD 13.
Ambience:NA
Service:NA
Food:7.5/10
Value for money:7/10 (All in the name of good poutine!)
Overall:7.25/10
Address:
Outlet 1 - Shop no. 1B, Ground Floor, The Peak Galleria
Outlet 2 - Shop no. F1, Level 4, Langham Place, Mongkok, Kowloon.
Outlet 3 - Shop 2602, Level 2, Gateway Arcade, Harbour City, Tsim Sha Tsui
Contact:
Outlet 1 - 2849 7968
Outlet 2 - 3427 9689
Outlet 3 - 3106 4686
Website: http://www.newyorkfries.com.hk/catalog/index.php