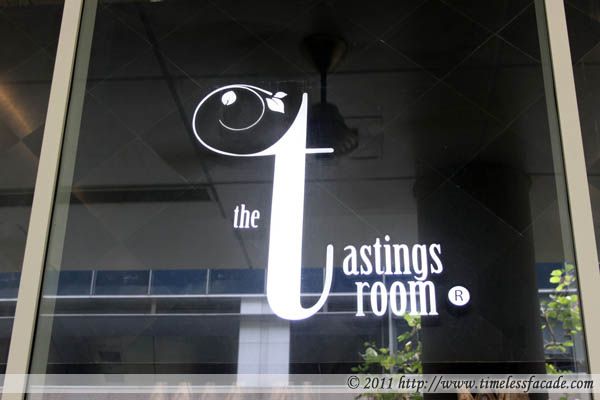 Had the opportunity to drop by The Tastings Room one Saturday afternoon by virtue of an invitation. This newly minted restaurant's selling point is that it has suggested wine pairings (by the glass or bottle, if you so wish) on the menu to go along with each individual food item as well as an extensive wine collection that wouldn't cost you an arm or a leg to sample. And it's helmed by Executive Chef Elvin Chew, the current president of the Singapore Junior Chefs Club (SJCC).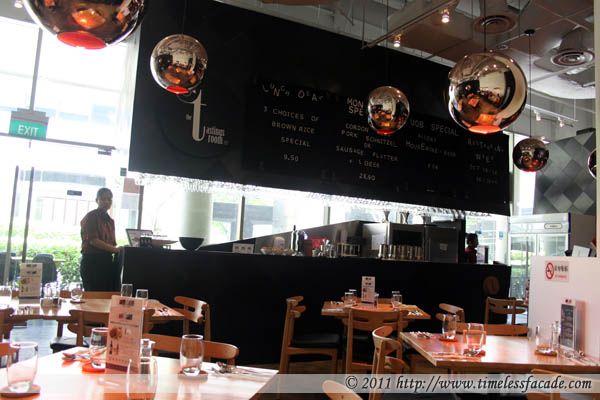 The Place & Menu
The Tastings Room is hidden along the perimeter of Marina Square, sandwiched between Qiji and a Vietnamese coffee house. Its location isn't what I would call prominent and it probably attracts more lunch time office crowds than weekend crowds in my personal opinion. The place is simply done up with a "cafeish" vibe and a seemingly well stocked wine cellar at one corner. Take the booth seats if you can.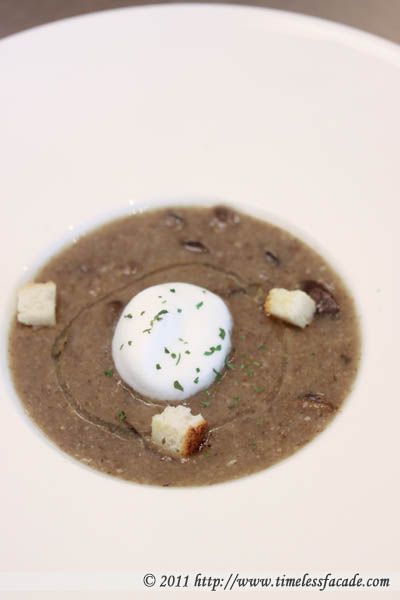 Truffle Mushroom Puree Soup ($8.90) & Smoked Vine Tomato Soup with Seafood ($9.90)
We started off with the mushroom soup, which had loads of mushrooms and a rather heady taste due to the inclusion of truffle oil. However it did seem a little watered down and lacked any real oomph I would have liked in a mushroom soup.
The tomato soup fared much better though. Light and not too tangy with a hint of smokiness coupled with morsels of fresh seafood. Rather appetising.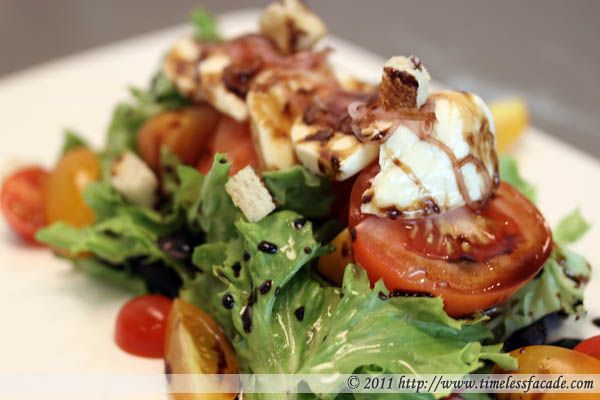 Heirloom Tomato Salad ($13.90)
Visually arresting with its vibrant colours but unfortunately didn't quite live up to expectations taste wise. The balsamic dressing was a little overwhelming while the buffalo cheese didn't come across as sufficiently soft yet firm.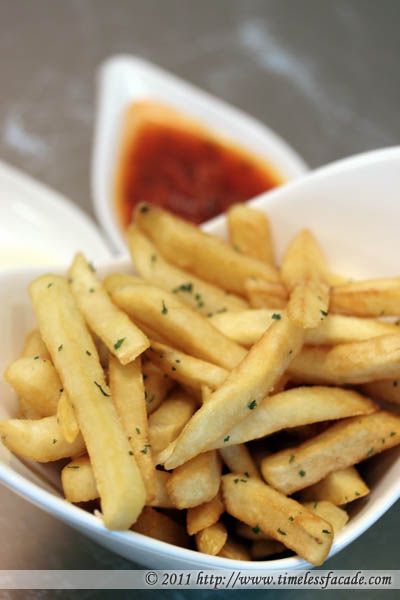 White Truffle Salted House Fries ($9.90)
Nice and thick with a nice strong smell and taste of truffle oil. Pity about the frying inconsistency. Some were done just right while others tended towards the charred side.


Egg Royale ($15.90)
I'm honestly not a big fan of smoked salmon, or any variant of salmon for that matter. However, the egg royale was surprisingly good. Well smoked salmon (still a little too salty for my liking though) soaked in rich and buttery hollandaise sauce, sitting on a well toasted piece of bread. Very good!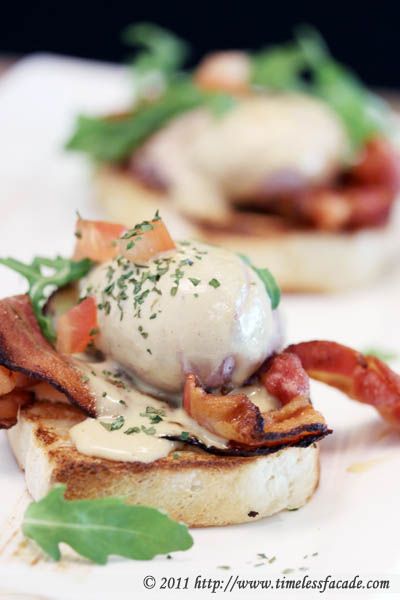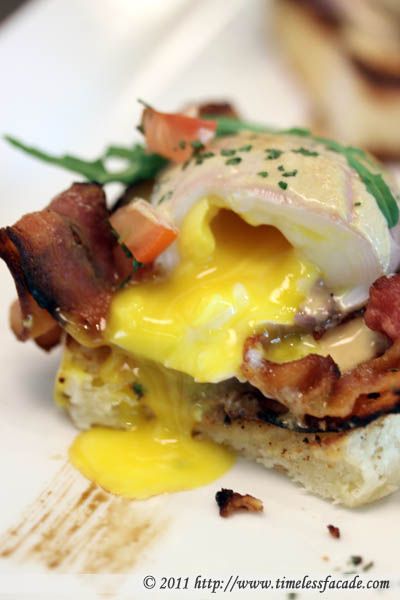 Poached Eggs in Red Wine Hollandaise ($16.90)
I loved the fact that the egg yolk was liquid but bemoan its tastelessness! However, the sauce more than made up for the flaw - buttery goodness that was so familiar and comforting. Add a well toasted bread to the list as well as crispy bacon and you get something which I wouldn't hesitate to order again (But please work on the poached egg).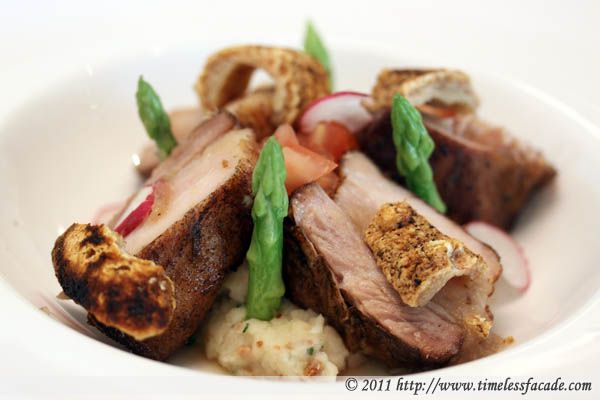 Sous Vide Pork Belly with Crackling Skin ($26.90)
Food preparation involving Sous vide, where food is vacuum packed in bags and cooked for a long period of time in a water bath, is seemingly the up and coming approach favoured by many professional restaurants in Singapore. The Tastings Room has hopped onto the bandwagon as well and to give it credit, the pork belly was good. Insanely crackling crispy skin coupled with tender but rather fatty meat for that heart stopping guilty indulgence. The rose wine apple sauce lent a gentle sweetness to the dish, which was rather refreshing in my humble opinion.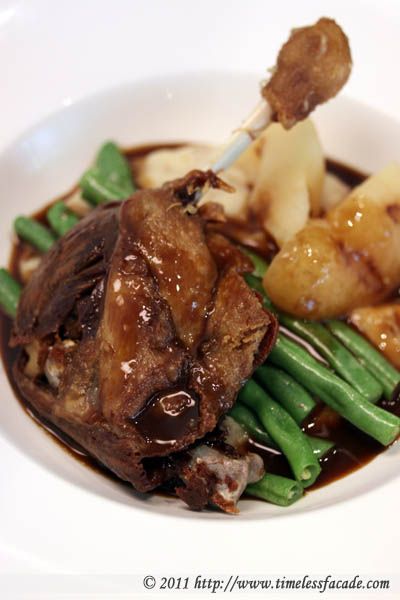 Confit of French Duck Leg (Price not available)
The duck confit came across as a little too dry and tough although the meat spotted a nice reddish hue. The sauce was a saver though - mildly sweet with tangy overtones. Overall still a decent dish.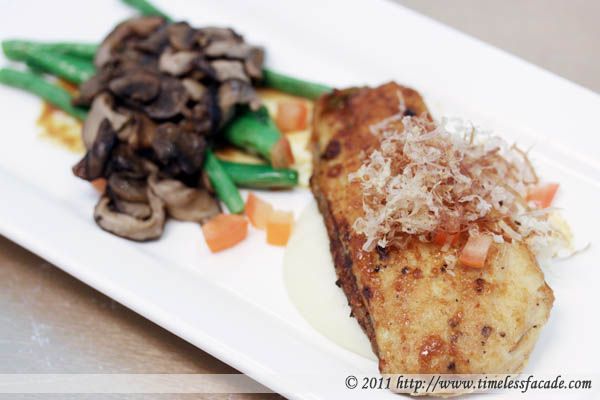 Miso Glazed Sea Bass ($25.90)
The sea bass tasted a little overcooked and had a strong miso taste (probably too strong!) on top of a mild peppery intonation. Not exactly my cup of tea but decent nonetheless.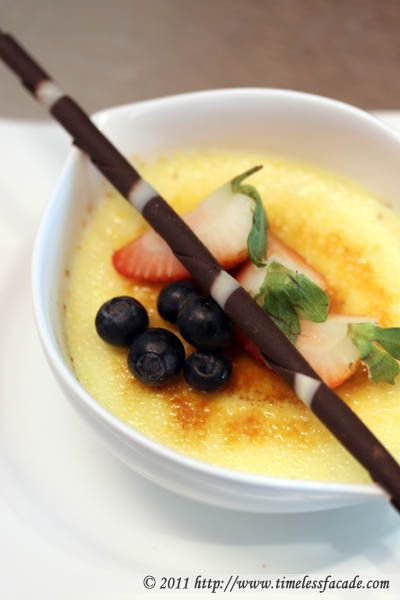 Vanilla Creme Brulee ($8.90)
We started our desserts with the vanilla creme brulee, which was less than ideal. The first thing that hit me when I took a mouthful of the pudding, was the strong egg taste. And it definitely didn't help that the layer of sugar was a tad too thin and came across as flimsy. The only consolation was that the creme brulee used real vanilla beans and not vanilla essence.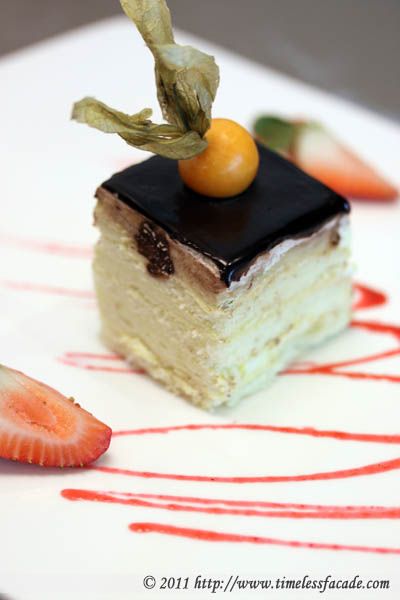 Chocolate D24 Durian Cake ($9.90)
I love durian but this dessert honestly didn't work for me. The durian, though rich and relatively fresh, was way too dominant in flavour and I couldn't make out any chocolate taste at all. The sponge was also a little too dry and I could make out ice chips in the durian puree, which definitely wasn't ideal.


Molten White Chocolate Fondant with Ice Cream (Price not available)
The white chocolate fondant wasn't quite what I was expecting as the texture seemed more like madeleines than your typical fondant. The oozing white chocolate was extremely sweet and the strong orange zest from the fondant itself wasn't enough to balance the sweetness out. The strawberries and blueberries did help a little though. Personally I didn't think that chocolate ice cream was a good pairing with the fondant. Rich chocolate + more chocolate just makes me queasy. Maybe vanilla would have been a better bet.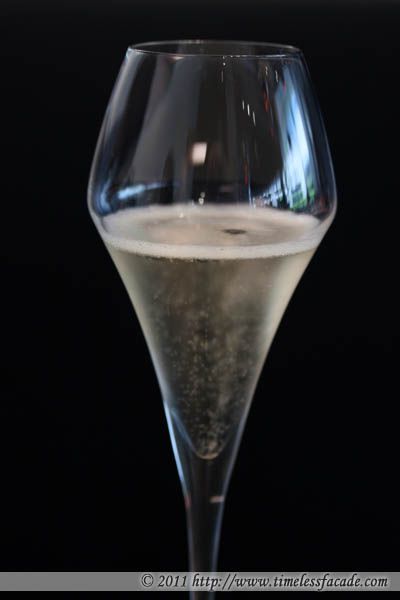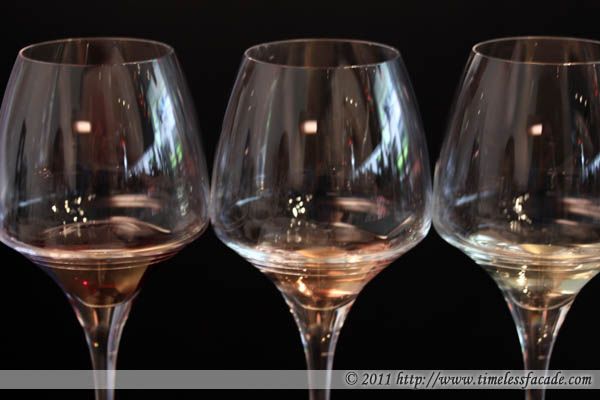 Wine Pairings
Overall, I appreciate the effort by The Tastings Room to allow consumers easy and affordable access to wine pairings with their food which would be good for novices like myself. However, the quality of food was a case of hits and misses and generally, the brunch dishes fared better. I personally wouldn't go back for lunch or dinner but would consider doing brunch. Prices fall flatly in the mid range and a 3 course dinner for 2 would probably cost in the vicinity of $120 - $150 (inclusive of tax) with a glass or two of wine each.
Thanks for the invite!
Ambience:6.5/10
Service:NA
Food:6.5/10 (7/10 for the brunch items)
Value for money:NA
Overall:6.5/10
Address: #01-08, Marina Square
Contact: 6338 1829
Opening Hours:
Sun–Thu: 10am – 10pm
Fri–Sat: 10am – 12am
Website: http://www.thetastingsroom.com/