Another long overdue post. Caught up with a couple of friends over dinner at Mong Hing, a Teochew restaurant at Keypoint and where I once had a
pretty good dinner
before.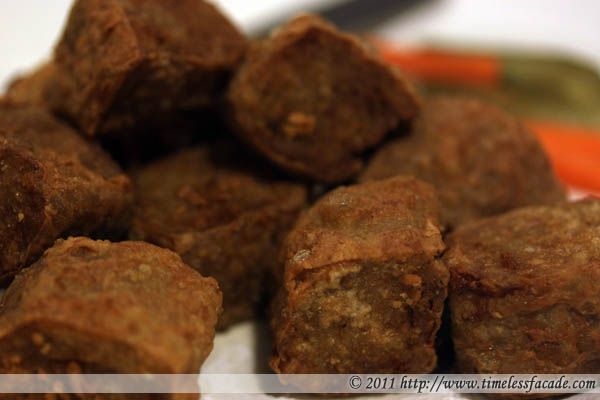 Prawn Rolls
The heh zhor was decent - Lean meat with pockets of fats and bits of prawn. Crisp but not too oily. Good for many bites, especially with the sweet plum sauce.


Homemade Beancurd
This certainly didn't look like beancurd, not with the circular shaped, golden brown exterior. And honestly it didn't quite taste like tofu. The texture was more like Thai prawn cakes, just a lot less dense and "fluffier" so to speak. Definitely not smooth and silky, the way I like it. The only giveaway was the taste, which had a distinctive beancurd taste. Although I like tofu, this is something I will definitely not order again.


Prawns with Deep Fried Pumpkin
At $24++ for 6 prawns and 6 pieces of pumpkin coated with flour and deep fried, this was a joke. The prawns were drenched in sweet and sour sauce, which masked the natural flavour of the prawns. Total waste of prawns. The pumpkin however, were sweet and not too bad as a filler.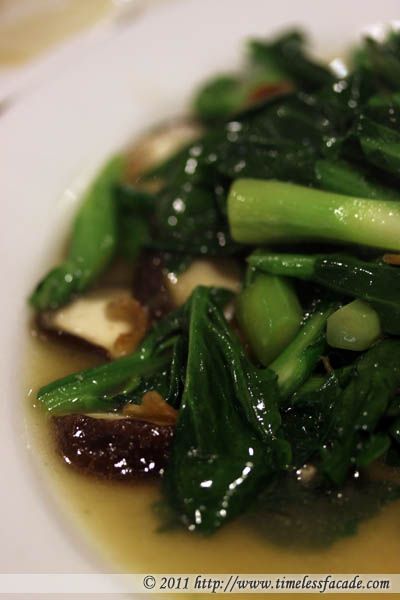 Stir Fried HK Kailan
Decent with a tinge of
wok hei
but lacking in dried sole fish. Wouldn't hurt to give a little more, would it?
Braised Goose
The goose was good - not too dry and well braised with the sauce not coming across as too salty.


Bill
We ended the meal with yam paste (
orh nee
) but I failed to get a shot of it. It was good but could have done with a little more fragrance. The infrequent bits of unevenness made for a nice smooth, yet inconsistent texture.
The 5 of us chalked up a bill of about $133. Not too expensive but quality of food seems to have dropped since my last visit. Maybe I should just stick to the likes of
Huat Kee
or
Liang Kee
or maybe I should give Mong Hing another chance.
Ambience:6.5/10
Service:6.5/10
Food:6.5/10
Value for money:6.5/10
Overall:6.5/10
Address: #01-18/19 Key Point, 371 Beach Road
Contact: 6223 4588 / 6538 2282
Opening Hours: 11am – 3pm, 6 – 11pm
Website: http://www.monghing.com.sg/