Breaking "tradition" to have our reunion dinner at Golden Peony this year instead of the de facto choice of
Imperial Treasure Cantonese @ Crown Plaza
, we were intrigued by the rather interesting fusion menu on offer and that proved a key determinant in skewing our votes towards Golden Peony.
The Place & Menu
The place isn't big and tables stretched out all the way along the lift corridor - something unheard of in any of the restaurants I've been. They probably want to capitalise on the CNY crunch and squeeze in as many tables as possible or to cater to guests who are staying at the hotel. Either way, I'm glad we didn't have to sit outside.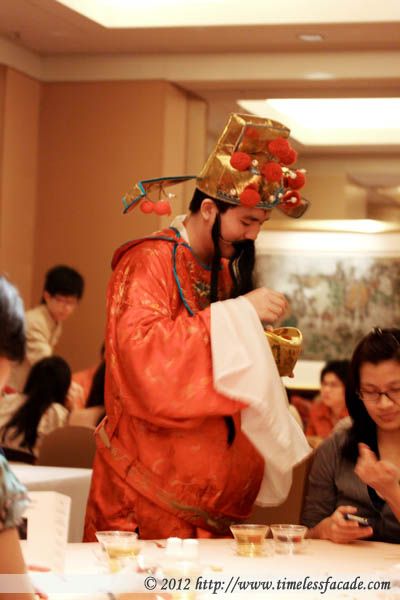 Our Evening's Entertainment
To be honest, this is the first reunion dinner I'm having that comes with live entertainment - a zither and erhu player as well as a cameo appearance by the God of Fortune who handed out gold chocolate coins and ingots (they tasted horrid though).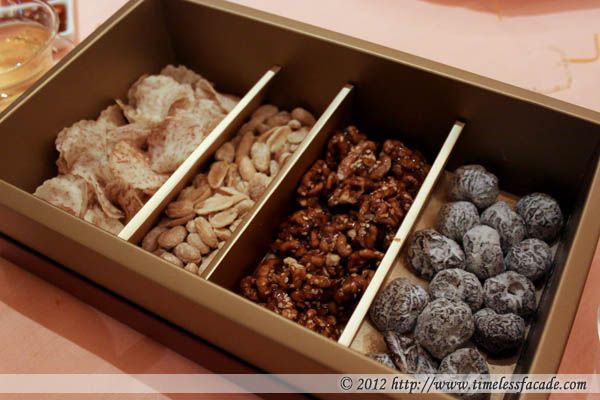 The Tidbits Box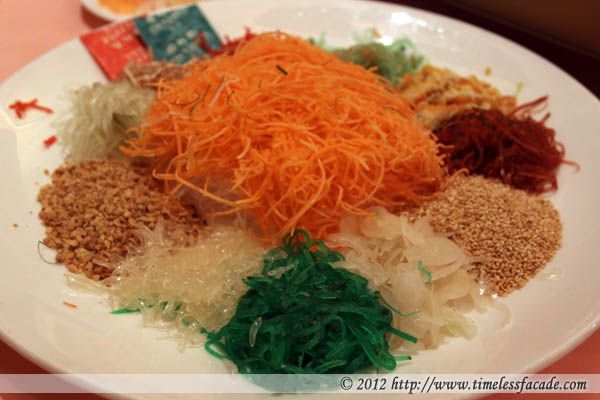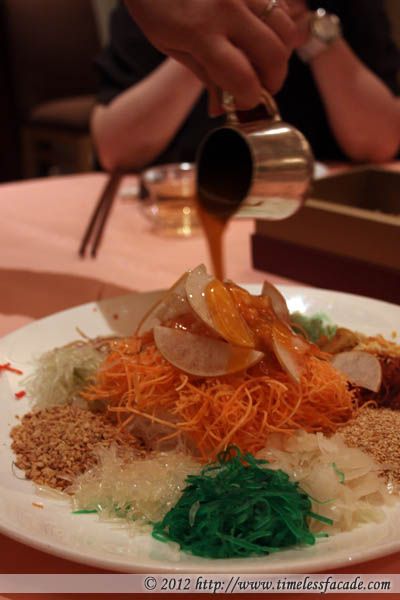 Fortune Lobster, Salmon & Snow Pear Yu Sheng
There is a small spoonful of lobster shreds that is mixed into the
yu sheng
but unfortunately I couldn't make out any of it after the frantic tossing. I personally thought that the slices of pear gave this dish a nice refreshing and crunchy twist to it. Also I loved the crackers (黄金) which had a fresh and deliciously crisp texture; no rancid oil taste that's for sure! All in all, one of the best
yu sheng
I've had in the last few years.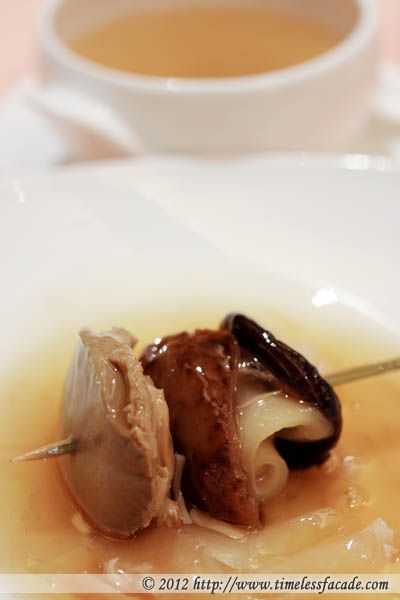 Mini Buddha Jumps Over The Wall
A classic Chinese favourite, the Buddha Jumps Over The Wall had the broth and the ingredients served separately, which allows you to decide how much broth you want with your abalone, shark's fin and all the other premium goodies. Although the abalone was sizeable and quite nicely prepared and the fins were of decent quality, I had an issue with the broth, which was tasty but overly salty.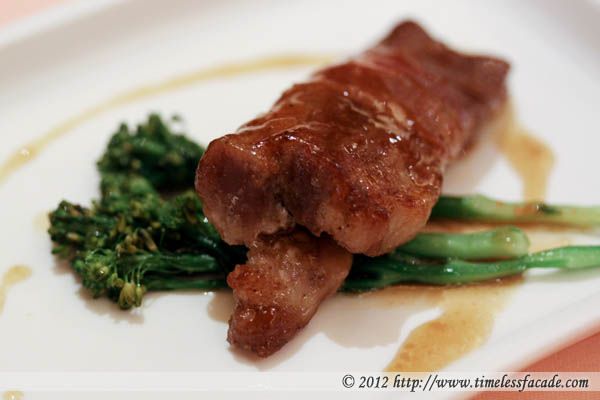 Baked Bacon Wrapped with Kurobuta Rib
Although I could make out the bacon, it didn't quite feature in the dish as much as I would have liked it to. That's not to say that I didn't like this dish as a whole though. The piece of Kurobuta pork was tender and moist with a mildly sweet and salty flavour from the garlic sauce. In short, a very well executed piece of
char siew
.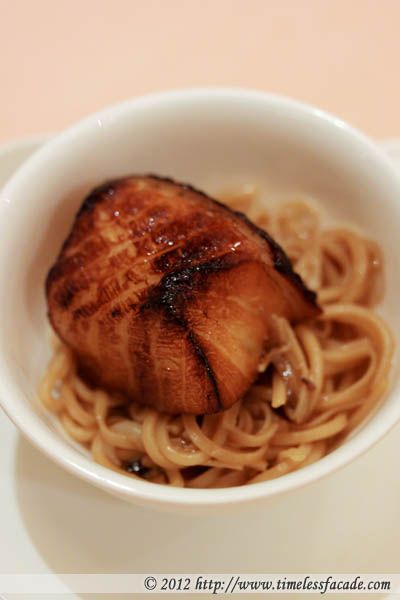 Baked Fillet of Sea Perch with Teriyaki Sauce served with Stewed Japanese Organic Ramen
I didn't quite take to either the baked sea perch or the organic ramen. The sea perch was bland and very nausea inducing due to its slightly sticky texture while the ramen was soft and limp. And where's the teriyaki sauce?!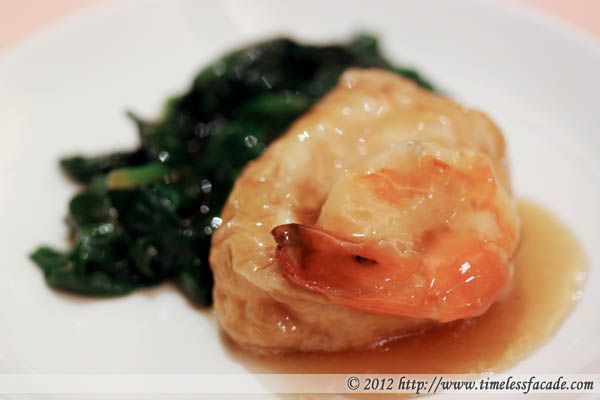 Braised 'Live' Prawn filled with Homemade Beancurd served with Baby Spinach
This dish was an absolute disaster. First of all, the prawn was tiny, unfresh, overcooked and had that sediment texture. Talk about 'live' prawn. Gosh. And to make things worse, the beancurd wasn't smooth and the accompany baby spinach tasted like it could do with a lot less salt.

Double Boiled Snow Pear with Longan and Papaya
& Golden Fried 'Nian Gao' with Sweet Potato and Taro
Any hopes of a nice sweet, chilled dessert went down the drain when I tried the double boiled fruit mixture. Honestly, it didn't work for me as I couldn't quite accept the sourish undertones. Reminded me of something turning bad or
chao sng
. At least the
nian gao
(年糕) was better. Crisp on the outside with a chewy and gelatine inside - nice and not coyingly sweet even when drizzled with the chocolate sauce. On a foot note, it is considered auspicious for Chinese to eat nian gao as it symbolises promotion year on year (年年高升).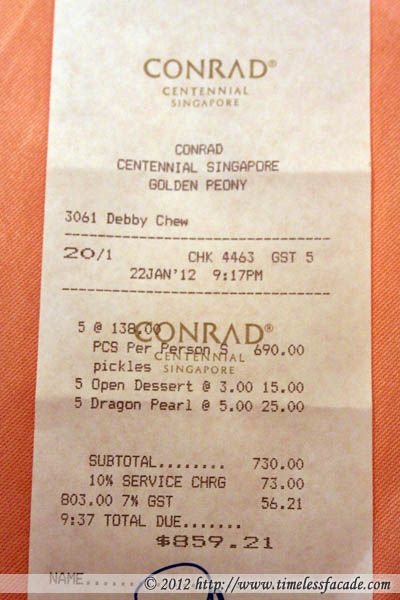 Bill
At $172/pax for a disappointing 6 course dinner, it is nothing short of a rip off. Service was good and I enjoyed the live music performances but that's where the compliments end. Quality of food, for the most part of it, was hovering around average and definitely not something I was expecting from a 5 star hotel restaurant. Definitely not a good way to kick start the lunar new year! Lesson learnt? Stick to the rigorously tried and tested - Imperial Treasure Cantonese @ Crown Plaza.
For my previous writeup on Golden Peony, see
here
.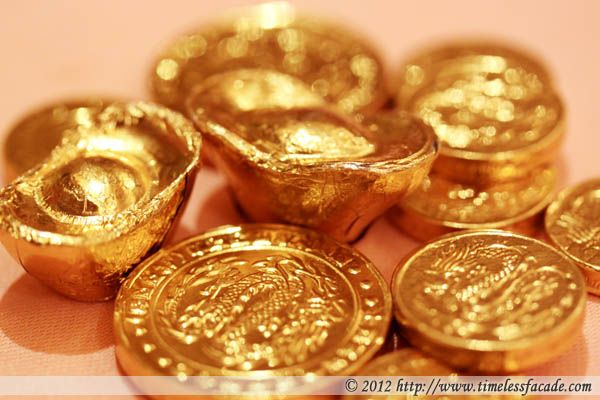 Have a prosperous 2012!
Ambience:7/10
Service:7/10
Food:6/10
Value for money:5/10 (I would have given a 2/10 if it wasn't CNY)
Overall:6.25/10
Address: 3rd Floor, Conrad Singapore
Contact: 6432 7482
Opening Hours:
Mon–Sat: 11.30am – 2.30pm, 6.30pm – 10.30pm
Sun: 10.30am – 2.30pm, 6.30pm – 10.30pm
Website: http://conradhotels3.hilton.com/en/hotels/singapore/conrad-centennial-singapore-SINCICI/amenities/restaurants-golden-peony.html