And yes, back once again for dinner at Imperial Treasure Cantonese Cuisine @ Crowne Plaza Hotel.
Appetiser
Double Boiled Shark Bone Soup
Big enough to share between 2 people, the shark bone soup was richly flavourful without coming across as too strong and nausea inducing. The layer of sediment on my tongue was also kept to a minimal, which was definitely good.


Sauteed Scallops with Italian White Truffle Oil
I might sound like a broken record but I just love this dish. Decent sized, perfectly sauteed scallops surrounded by luscious egg white and immersed in white truffle oil - a great combination of taste and smell. Polishing an entire plate by myself is definitely a walk in the park!


BBQ Platter
Not being content with just roast goose alone, I opted for the platter, which which with a selection of roast pork, BBQ pork and roast goose. The BBQ pork or
char siew
, came across as insipid at first but somehow or rather, the taste slowly grows on you and it actually tastes better without the sauce that was drizzled over the entire platter.
What can I say about the roast goose except that the meat was deliciously tender and moist under a layer of crisp skin without coming across as too gamy.
However the roast pork was a little disappointing. The skin wasn't as crisp as I expected and the memory of an oily aftertaste that came about after every bite is still etched in my mind. What has happened?!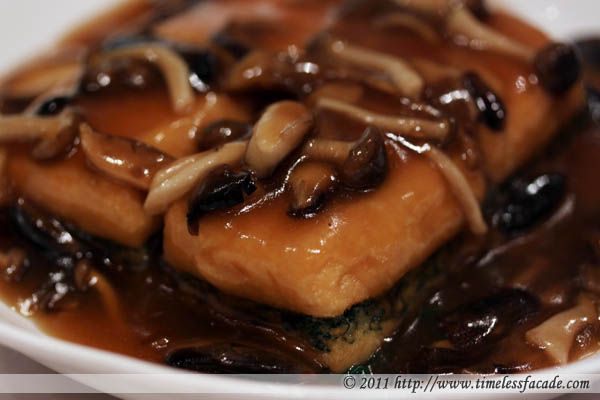 Sauteed Beancurd with Mushrooms
A staple in my diet, the smooth, silky beancurd had a nice savoury taste to it with a layer of dried spinach sandwiched in between. Topped with mushrooms for that additional woody flavour. Nice!


Durian Pudding
For desserts, we had the durian pudding - Chilled and rich with chunks of durian flesh in it. Nothing short of an excellent ending to our meal and a very fattening one at that.


Bill
I don't harbour any illusions that $130 for 2 pax is anywhere near cheap. But the food is worth it. And that's all that matters, isn't it?


Ambience:7.5/10
Service:7.5/10
Food:8/10
Value for money:7/10

Overall:7.5/10

Address: #01-02 Crowne Plaza Hotel, 75 Airport Boulevard

Contact: 6822 8228

Opening Hours:

Mon–Fri
11.30am–3pm, 6pm–11pm

Sat–Sun & PH
10.30am–3pm, 6pm–11pm

Website: http://www.imperialtreasure.com/