It is said that no trip to Taipei is complete without a visit to 2 of its iconic restaurants - Ding Tai Fung (鼎泰丰) and Kao Chi (高記). I skipped the former in favour of the latter as I didn't fancy queuing up just to eat pork dumplings (小笼包). And so a chilly Friday evening saw us at Kao Chi's 复兴南路 branch.


Interior
The interior is decidedly more posh than that of Shin Yeh, with plush fabric seats and a sombre inclination through the use of dark coloured flooring and fittings. And decidedly a little more "upclass" than
Shin Yeh
.
Pan Fried Bun (生煎包)
I had initially wanted to order pork dumplings (小笼包) but the waitress promptly informed me that Kao Chi was known for their Pan Fried Buns (生煎包) and so Pan Fried Buns it was. I'm not sure how it would have compared to the dumplings but the buns were seriously good. Soft fluffy dough with a crisp, deep fried base that enveloped a tender and juicy pork filling. Topped with sesame seeds. The 2 of us finished 10 buns with relative ease. Just watch out for the excessive oil.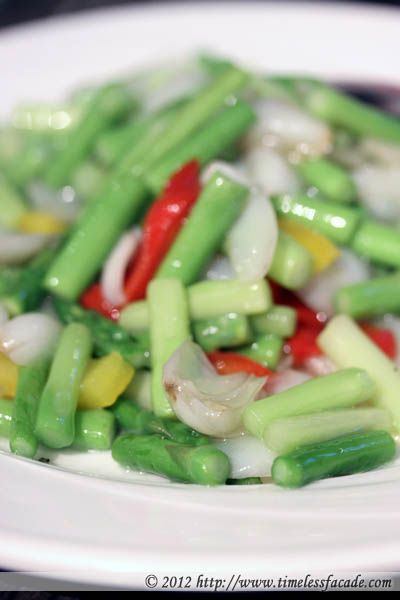 Asparagus with Lily Roots
This was one very oily and average dish. The asparagus were drenched in oil and rather bland.


Braised Chicken with Chestnut
A restaurant specialty, as earmarked in the menu, but falling drastically short in my humble opinion. The chicken chunks were tender but tasteless and the bland but very oily gravy didn't help matters. The only saving grace was the chestnut (lots of it!) , which had a nice natural sweetness to it.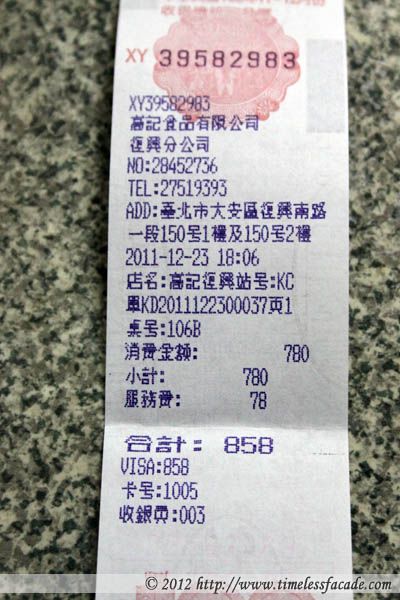 Bill
At 858 NTD (~37 SGD), dinner for 2 definitely wasn't expensive, quantitatively speaking. However food quality (with the exception of the 生煎包) was disappointing, to put it mildly. Maybe it's just a personal preference but I highly doubt I'll be back.


Final Verdict:
Ambience:7/10
Service:7/10
Food:5/10 (7/10 for the 生煎包)
Value for money:5/10
Overall:6/10

Address: No. 150號復興南路一段

Contact: 02-2751-9393

Opening Hours: 11:00-22:30 daily

Website: http://www.kao-chi.com/