Took time out on a weekday to have lunch at one of my favourite "value for money" lunch places - Ember. Much has been mentioned about Ember's food quality and reasonable lunch pricing to boot and I staunchly stand by that.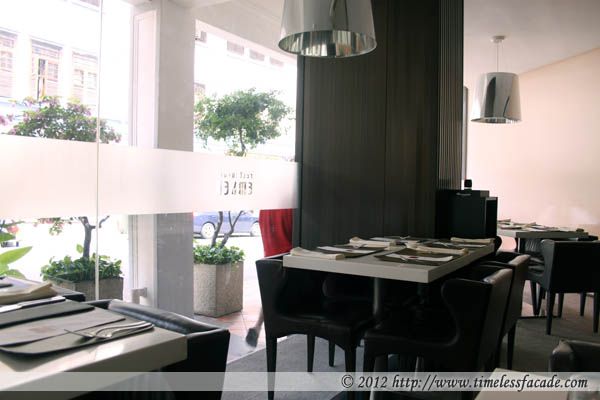 Interior
The interior hasn't changed since my last visit and is still as cramp as ever. If you are looking for a romantic and quiet night out with a date, you probably shouldn't go to Ember. At Ember, it's all about the food and the friendly service.


Complimentary Bread
As usual, I had seconds of Ember's wonderful complimentary bread - Aromatically crusty with a subtle cheesy aftertaste and served piping hot. Delicious! I would have gladly gone for a third serving if offered ;)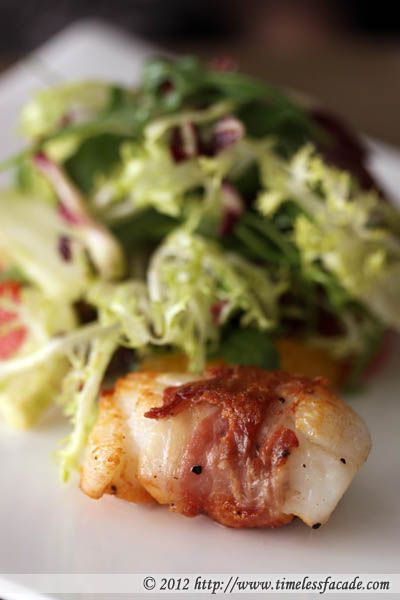 Pan Roasted Scallop with Parma Ham, Citrus and Tarragon Vinaigrette
The trio of smallish pan roasted scallops had a nice crust to it and so did the Parma ham that was wrapped around it. Lightly salted and peppered, it was juicy and flavourful but just a wee bit too soft in the center for my liking. Taste was spot on though.


Pan Seared Foie Gras with Caramelized Apples and Clove, Port and Raspberry Glaze
I simply love the overall taste and texture of this dish. The foie gras was quivery and smooth with a nice crisp top that spotted a light dash of salt. Semi crunchy apples at the base helped cut through the nausea while the glaze provided a tinge of sweetness. A perfect balance of flavours! I had to top up $6++ for the foie gras and it was well worth it.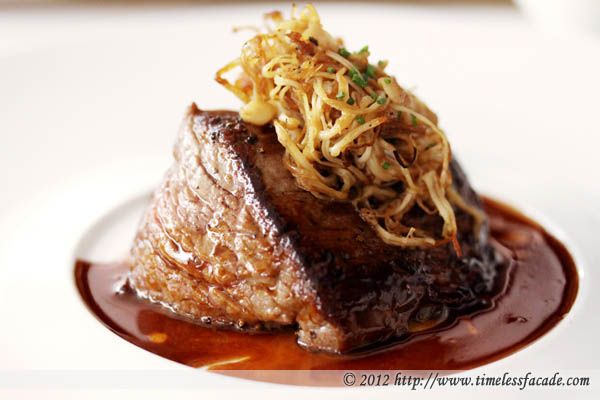 Pan Roasted USDA Prime Beef Tenderloin with French Fries, Merlot Reduction
Done a perfect medium as per my request, the tenderloin did seem a little soft even though I must commend it's excellent flavours. Topped with golden mushrooms (which is rather unconventional), it boasted a strong bovine taste coupled with a nice juiciness and sweet undertones from the merlot reduction. The side of flour coated fries were average but I thought that the dipping sauce was worth a mention. What's interesting about it is that you get a spicy kick at the back of your throat only towards the end.


Pan Seared Chilean Seabass with Mushroom & Smoked Bacon Ragout, Truffle Yuzu Butter Sauce
What could be better than a smooth and silky piece of fish with a crisp golden top, sitting on a bed of mushrooms and bacon immersed in deliciously creamy sauce? Nothing I say, not even the beef tenderloin! And that's coming from a beef lover.


Crispy Cinnamon Apple Pie with Homemade Ice Cream
This definitely didn't look like any apple pie that I've seen, looking more like a humongous and elongated piece of samosa. Appearances aside, the apple pie was stellar, to say the least. Crackling crispy filo pastry filled with lightly tart yet sweet apple cubes, topped with crumble and served alongside rum & raisin ice cream and a spoonful of honey. Delicious!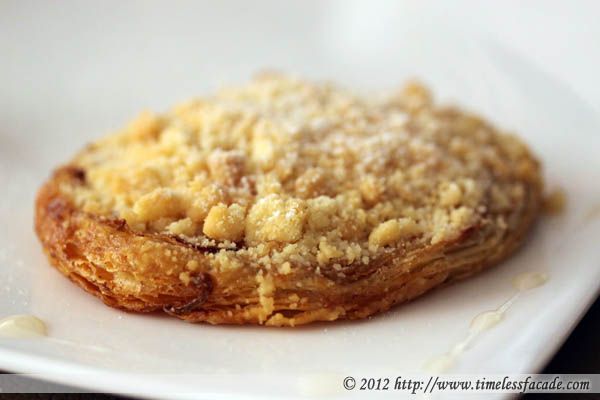 Crispy Caramelized Pear Tart with Homemade Baileys Ice Cream
Yet another delightful dessert. The tart was flaky with a nice crunch (very much like croissant!) and filled with sweet, thinly slices of pear. Topped with crumble and served with baileys ice cream. Simple yet excellent.


Bill
A wonderful lunch cost the 2 of us to the tune of $100 and while I wouldn't call it cheap, it was worth every single cent. Service was good but the kitchen did seem a little slow at times, probably due to the packed restaurant. But I'm not complaining. The food is consistent and that's what's important. I'll definitely be back for more. In fact, at the point of writing, I already have.
Final Verdict:
Ambience:7/10
Service:7.5/10
Food:7.5/10
Value for money:7/10
Overall:7.25/10
Address: Hotel 1929, 50 Keong Saik Road
Contact: 63471928
Opening Hours:
Mon-Fri:
Lunch: 11.30am - 2.00pm
Dinner: 6.30pm - 10.00pm
Sat:
Dinner: 6.30pm - 10.00pm(Closed on Sundays)
Website: http://www.hotel1929.com/