Was in Taipei for a holiday so dropped by Shin Yeh (欣葉) for lunch since I had heard so much about it and there is even an outlet in Singapore (which I have never tried). Reservations are definitely necessary for the 南西店 or any of the other outlets for that matter especially on weekends. Trust me on this as a queue had formed outside of the restaurant even before it opened for business on a Sunday afternoon.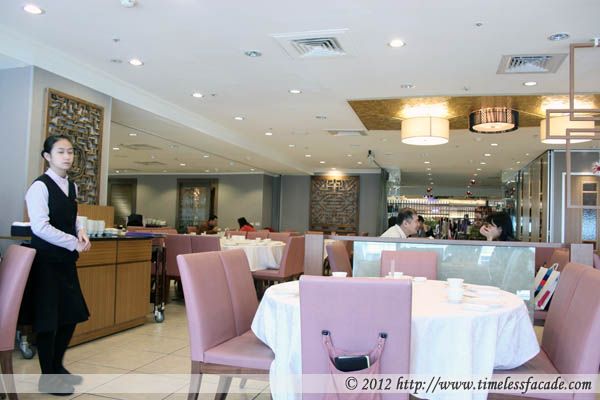 Interior & View
The interior was nothing to shout about, coming across as a typical middle class Chinese restaurant. Ditto the view, which at 10 floors up, showcased nothing but scruffy looking buildings. But I still like a window seat. Beats having no view at all right?


Stir Fried Pea Shoots
This dish of pea shoots (豆苗) was a simple stir fried dish that came across as rather bland and a little oily. But I like it for its crunchiness.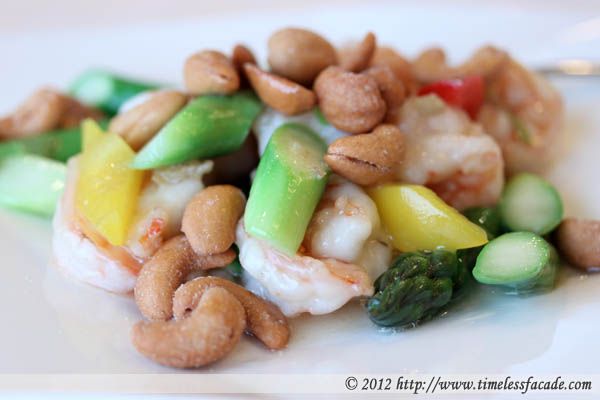 Prawns with Cashew Nut
The star of this dish was ironically the cashew nuts, which were nicely crunchy and sweet from the sugar dusting. The prawns on the other hand, were limp and not exactly very fresh. At least the asparagus was decent!


Braised Chitterlings
I'm a big fan of chitterlings and these were suitably plump with a nice mildly chewy texture. Well braised with minimal offal smell and taste and best eaten with the accompanying preserved dried vegetable. However it did get a little too sweet after a while. Watch out for the high cholesterol as well.


Three Cup Chicken (三杯鸡)
Although originating from Southern China, 三杯鸡 is an extremely popular dish in Taiwan and derives its name from the 3 cups of sauces that is used to cook this dish - soy sauce, sesame oil and rice wine. And I'm glad to say that Shin Yeh's rendition was quite good! Although the chicken was too tough for my liking, the flavours were wonderful. A tinge of spice, sweetness and saltiness all in one. Just be careful of the bone fragments, which did mar the experience quite a bit.


Mochi
Some say that the best things in life are free. And yes, the complimentary mochi was nice and chewy with a generous coating of fine peanut and sugar. Great (but grossly inadequate) end to the meal.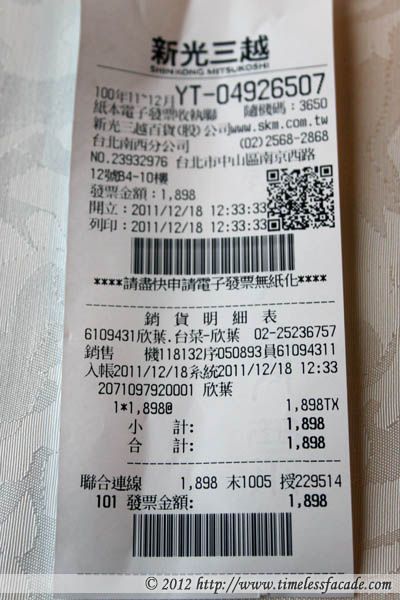 Bill
I wouldn't say 1898 NTD (~82 SGD) is cheap or reasonable for a 2 pax lunch. Especially when food quality wasn't quite up to expectations and portions weren't exactly huge (we polished off all 4 dishes without much difficultly). Service was efficient but the whole place was packed and very noisy. Definitely not some place I would ever want to step into again - well regarded or not.



Final Verdict:
Ambience:6.5/10 (way too noisy)
Service:7/10
Food:6/10
Value for money:6/10
Overall:6.375/10

Address: 8F, No. 12, Nanjing W. Rd., Zhongshan Dist., Taipei City

Contact: 886-2523-6757

Opening Hours: 11:30-22:00 daily

Website: http://www.shinyeh.com.tw/English_web/about.php