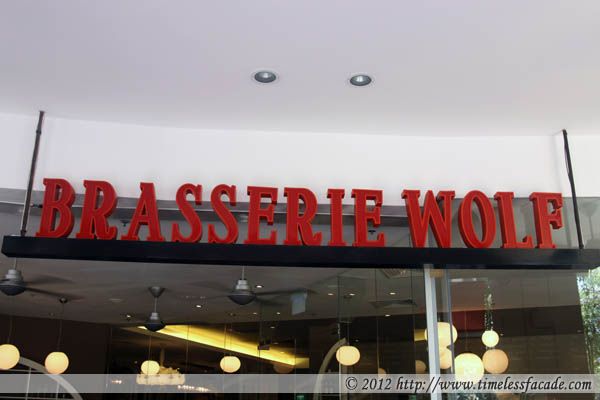 We were at Robertson Quay on a Saturday afternoon and we were hungry. Brasserie Wolf beckoned with its crowd free premises so we settled for it.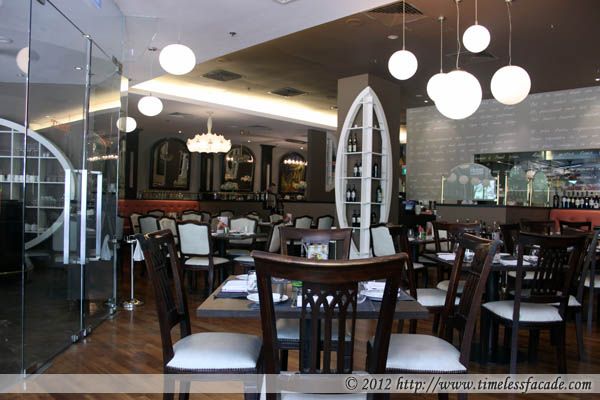 Interior
It was a warm day and the sufficiently cooled interior provided a nice respite from the heat and away from the al fresco crowds that littered the establishment next door. The setting is decidedly modern with splashes of retro, depending on which area you sit at.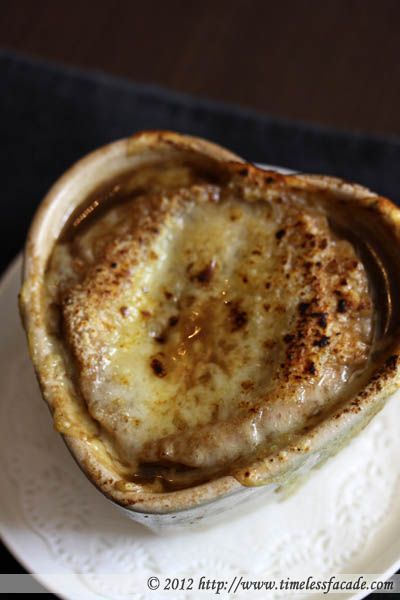 Traditional French Onion Soup
I liked the richness of the soup but did find it a tad too sweet. The gruyere cheese and toast was great though, with its gooey-ness and mildly charred undertones. Great way to warm up the belly! And if you noticed, the serving bowl is in the shape of a heart. Perfect for those romantic dinners eh?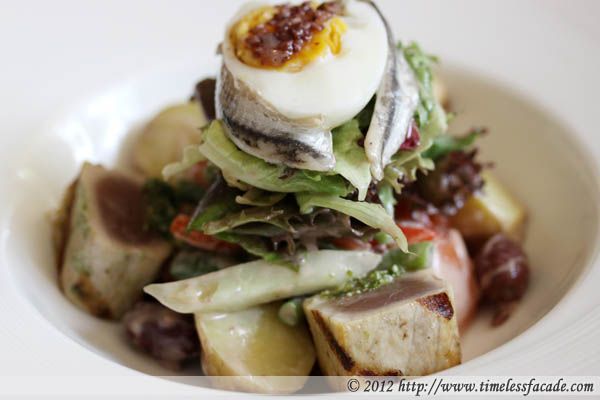 Traditional Nicoise Salad
The aesthetics were pleasing and the greens were fresh and crunchy. But I didn't quite take to this dish due to my personal opinion that the grilled tuna was overly fishy. I did like the texture though.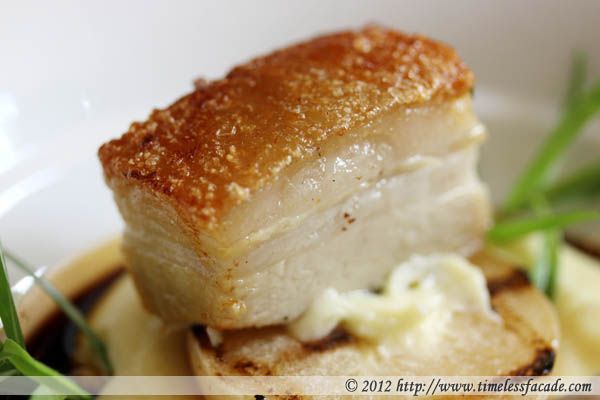 Pork Belly
"Extremely fatty" was the first thought that popped into my mind when I had a glimpse of the pork belly. Never mind that it was tender or that the sauce gave it a unique oriental feel (tasted like it had hoisin sauce in it). I just couldn't bring myself to stomach (and savour) that proportionally imbalanced piece of pork, not with the skin mildly crispy and sticking to my teeth with every bite.


USDA Prime Sirloin
The sirloin was more well done than medium well and thus the meat came out a little too dry and tough for my liking. But I did like the natural bovine flavours and the pinch of salt seasoning. What I particularly liked about this dish was the shoestring (irony!) fries and the dip. Free of any rancid oil taste and dipped in creamy goodness with nuances of spring onion - tasty!


Steamed Toffee and Date Pudding
I fell in love with this dessert at
Marmalade Pantry @ Palais
some years back. And seeing that Brasserie Wolf served this dessert as well, I decided to take my chances. It wasn't half as good as the one as I had at Marmalade but it was decent. The pudding was much less compact and had a spongy, cake like texture. Topped with a scoop of vanilla bean ice cream, the whole combination wasn't overly sweet but sans the toffee sauce, it was reminiscent of steamed cupcakes (发糕). Well, the taste at least.
Bill
With the palate discount of 50%, 2 of us forked out close to $70 for a filling but not entirely gratifying lunch. Food quality hovered a notch above average but service was decent. Coupled with the lack of crowds, I might just be enticed to pop by again for a quiet meal if I happen to be in the vicinity.
Final Verdict:
Ambience:7/10
Service:7/10
Food:6.5/10
Value for money:5.5/10 (without the 50% discount)
Overall:6.5/10
Address: The Pier at Robertson #01-13
Contact: 6835 7818
Opening Hours:
Lunch from 12 noon – 2.30 p.m
(Mon – Fri, All day on Public Holidays)
Dinner from 6 – 10.30 pm (Sun –Thurs),
Fri, Sat & Eve of Public Holidays 6 – 11 p.m.
Website: http://esmirada.com/restaurants/brasserie-wolf/location-brasserie-wolf/