This is a long overdue post dating back to mid Dec 2011. Tried out a "new" dining concept at the invitation of Sauce Bar (under the Butter Factory group) one Saturday evening. The idea is pretty simple. Have a BBQ sans the mess and the smell. What Sauce will do is provide you a platter of cooked food (ie. chicken, sausages, fish and sides of fries, whipped potato), served on a small BBQ pit with a small flame beneath to keep your food warm. So you get BBQ food and "environment" so to speak, without all the trouble.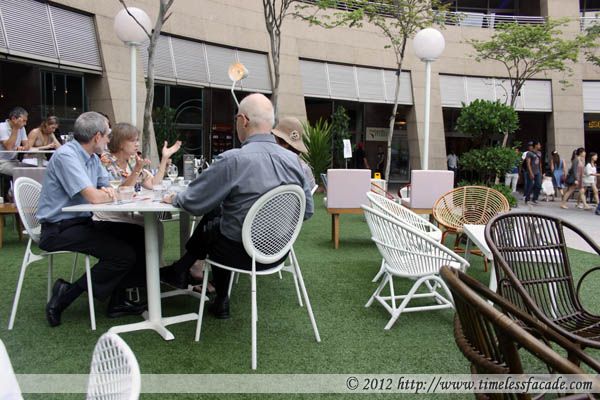 The Place
Sitting on a bed of astro turf with a view of the fullerton bay area can be quite a nice experience provided the weather is forgiving. For those who are worried about the tropical heat, there are powerful fans in place to minimize any discomfort. But honestly it still felt a little warm after a while.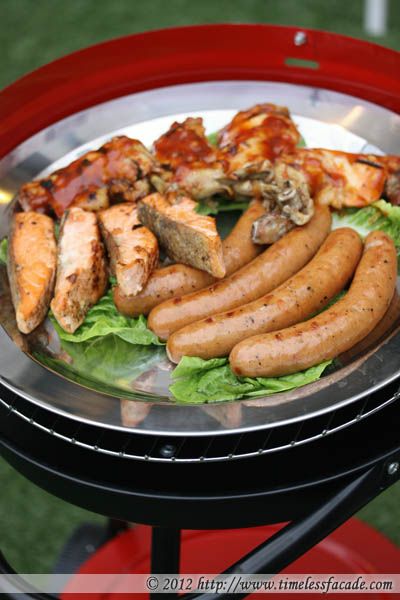 The Food
To be honest, I don't think the food tasted like it had been BBQed the traditional charcoal way as the smokiness seemed to be lacking. Quality wise, I would say it hovered around the average mark with none of the food really standing out. I like the concept but it would probably take better food for the concept to fly in my humble opinion. Thanks for the invite!
Final Verdict:
Ambience:7/10
Service:6.5/10
Food:6/10
Value for money:NA
Overall:6.5/10
Address: #01-10/12 Esplanade Mall
Contact: 6837 2959
Opening Hours:
Sun–Thu: 5pm – 1am
Fri–Sat & PH Eve: 5pm – 2am
Website: http://www.saucebar.com.sg/