After a
6 month hiatus
, we decided to revisit an old friend, Mortons, to see if anything had changed ever since its acquisition by
Landry's
in Dec 2011. Honestly I'm not very familiar with the Landry's brand name but apparently they are huge and own brands like Rainforest Cafe, Bubba Gump and the likes - not exactly brands that are synonymous with great food in my humble opinion.
Complimentary Bread
The complimentary onion loaf had shrunk considerably and when queried, our waiter explained that customers had feedback that the loaf was way too big and they had issues finishing their mains/desserts. (Those customers obviously didn't know about the doggy bag service for the bread. Haha) Size aside, the bread was noticeably dryer with reduced onion aftertaste. First signs of a drop in quality?
Macaroni & Cheese
Mac & Cheese is back on the menu! Well, not "formally" yet but you can ask your server about it. I didn't think it was that great actually as the cheese came across as bland and without much depth, rendering the bigger than usual macaroni tasteless and disappointing. And as with all cheese dishes, this was induced nausea big time. So please share.
Chicken Christopher
3 generous pieces of nicely breaded, tender meat with a creamy aftertaste - Very nice! However as with most other dishes at Mortons, it's good to share or else the nausea will get to you.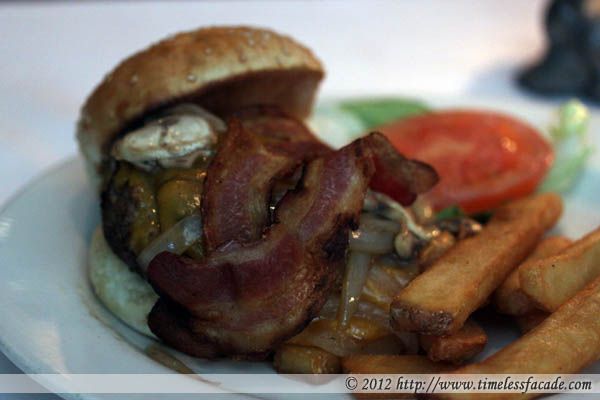 USDA Prime Burger


I had the prime burger with the works (bacon, cheese, mushrooms) and honestly, the meat was a little overdone from my order of medium well. Fortunately, it managed to stay tender and juicy with a nice beefy taste. The fries were plump and moist and a most sinful indulgence to help fill me up. The buns could do with a little butter though.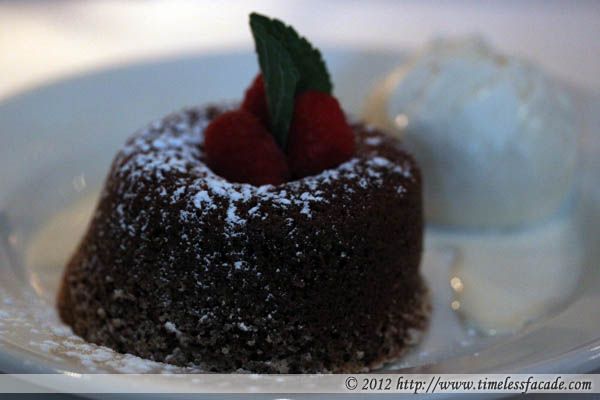 Morton's Hot Chocolate Cake
The 20 minute wait was still worth it for the legendary hot chocolate cake. Decadently sinful with sweet, oozing molten chocolate relished with a huge scoop of vanilla ice cream. Perfect way to end off the meal!
Bill
Total bill for the evening stood at a mere $42 (with a $100++ discount). Service was great and I got my favourite table to boot! Has being acquired led to a drop in overall quality at Mortons? It's still early days but if the mac & cheese and onion loaf is anything to go by, that prospect is looming in the not so distant future.


Ambience:7.5/10
Service:8/10
Food:7/10 (6/10 for the Mac & Cheese)
Value for money:7/10
Overall:7.3/10

Address: 4th Storey, Mandarin Oriental Singapore

Contact: 6339-3740

Opening Hours:

Bar
Monday - Saturday 5pm - 11pm
Sunday 5pm - 10pm

Dining Room
Monday - Saturday 5:30pm - 11pm
Sunday 5pm - 10pm

Website: http://www.mortons.com/singapore/