Made the trip down to the CBD area to have dinner at Rama Thai one Sunday evening. Our previous meal there ended on a high note so we were definitely eager to return.


Claypot Shark's Fin with Crab Meat
As the name of the restaurant suggests, Rama Thai specialises in sharks fin. And the claypot fins were good. Although a tad smaller than what we had previously, the fins were still

sizable

and simmered in a savoury, not too starchy broth with crab meat and crunchy beansprouts for companion.
Bamboo Clams
At $10++ a pop, I'm not sure the clams were worth it. Sure, they were quite a size and tasted decent, topped with garlic and vermicelli. But somehow there seems to be a disparity in quality and price.
Prawn Cake
I thought this was average as the prawn taste wasn't dominant and honestly the whole thing was just bland paste.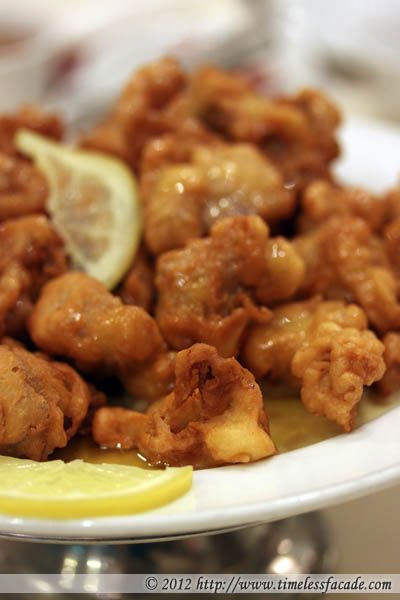 Lemon Chicken
This dish was a joke. The chicken was coated with a ridiculous amount of flour so much so that biting into a piece was akin to chomping down on deep fried flour. If it makes things any better, at least the flour was crisp and the lemon sauce, tangy.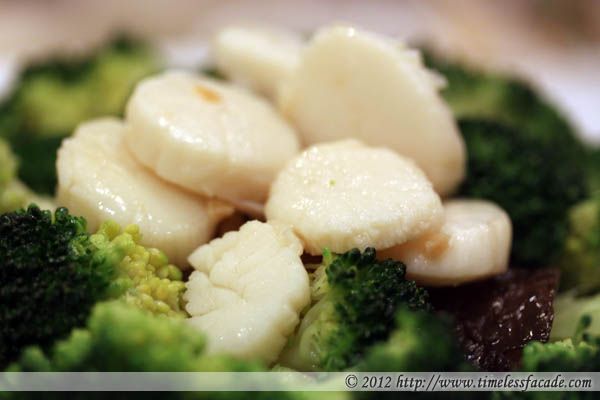 Stir Fried Broccoli with Scallops
A most simple yet appetising dish of greens. The broccoli was imbued with a subtle wok hei and came across as crunchy and well stir fried. The scallops were a little soft though.
Baked Crab Vermicelli
This was reminiscent of what I had at Thai Village sometime back. And just for the record, I love Thai Village's rendition. Rama Thai's offering wasn't too shabby though. The vermicelli was fragrant with peppery nuances but overly dry whilst the crab meat was sweet and satisfying. Would have liked a little more gravy please.
Deep Fried Squid
The only thing I liked about this dish was the cashew nuts that came alongside. The squid itself was lost in the thick layer of breading flour but at least the sauce had a little sweetness and spiciness to it. Very average.
Bill
I'll be the first to admit. The food we had this time round wasn't as stellar as what we had
the last round
. Could it be an indication that Rama Thai's standards are dropping or that we should have just stuck to the tried and tested dishes? I guess I'll only know on my next visit. If I ever return, that is.
Final Verdict:
Ambience:6.5/10
Service:7/10
Food:6.5/10 (lemon chicken & fried squid at a lowly 3/10.)
Value for money:5/10
Overall:6.25/10
Address: 81 Tanjong Pagar Road
Contact: 62226626
Opening Hours: Daily 1130am - 230pm (Lunch), 6pm - 10pm (Dinner)
Website: http://www.ramathai.com.sg/