Popped by Chinois by Susur Lee one Saturday afternoon for a quick dim sum fix since we had errands to run in the vicinity. Honestly, I've heard so much about Chinois while it was at Orchard Parade Hotel but never really got down to trying it. And now with the move to Resorts World Sentosa, Chinois has tied up with famed Canadian chef, Susur Lee, to up its offering a notch. What I find ironic (and hilarious) is that I've lived in Toronto for quite a few years but have never tried Susur lee's famed restaurant, Lee. And yet, I'm doing so in Singapore. Duh!


The Place & Menu
Chinois is hidden in a scheduled corner of Hotel Michel, past the concierge and just after the washrooms. There, a life sized decal of Chef Susur Lee greets you from the huge glass panel that fronts the restaurant. Decked out mainly in black with a few window tables that allow you a view of the activities outside, Chinois exudes an understated elegance that is common place in quite a fair bit of modern Chinese restaurants nowadays.

Cheese Burger Spring Roll
I had heard so much about the Cheese Burger Spring Rolls and it was imperative that i tried it. Interestingly, the spring rolls tasted exactly like a normal cheeseburger that you would get in a fast food joint, albeit with a crisp exterior instead of fluffy buns. For a more "authentic" taste, don't forget the mustard! Be sure to share though as the oil does get to you after the second roll.


Duo BBQ Pork Bun
As the name suggests, you get 2 variants of BBQ pork bun - 1 steamed and 1 deep fried. I personally preferred the greasier version as the bun had a soft and almost smooth texture coupled with a nice crisp exterior. The BBQ pork didn't come across as cloyingly sweet as well. Ditto for the steamed version, which boasted a nice fluffy but marginally thicker bun.


Steamed Beancurd Skin Rolls with Crab Roe
Although I am not exactly a fan of steamed beancurd skin (I prefer the deep fried ones), this was honestly quite decent with a tinge of spiciness, presumably from the crab roe sauce. And the skin had bits of crispiness along the edges with fresh pieces of shrimp stuffed within.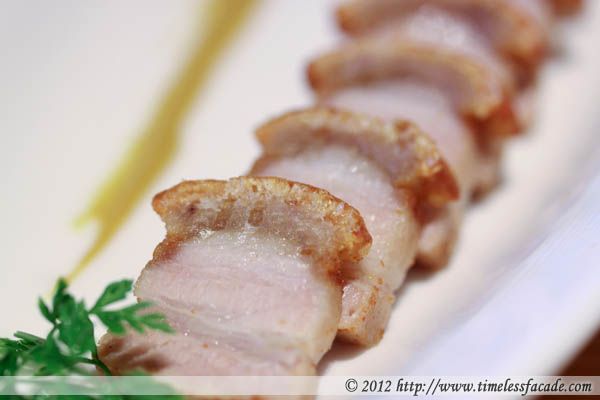 Kurobuta Pork Rib with Vinaigrette
This is definitely not the best roasted pork I've had but it's still pretty good. Crackling crisp skin belying a nice fat to pork ratio. Only minor gripes I had were that the skin was a little too thick for my liking and the meat wasn't salty enough. Best eaten with the accompanying plum sauce.


Baby Abalone Siew Mai
The baby abalones didn't quite feature in the overall taste of the siew mai, which was a little too salty for my liking. Well at least the usage of fatty meat was kept to a minimal which helped keep the nausea at bay.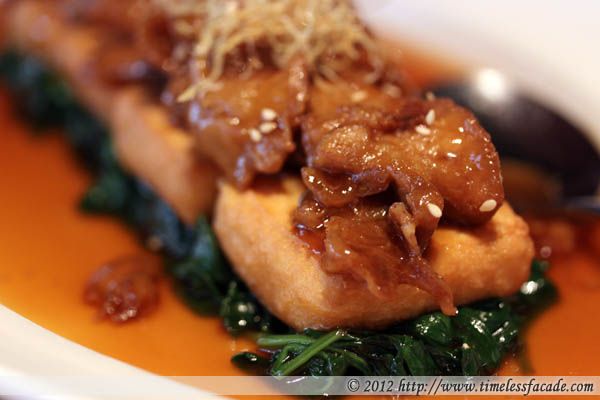 Homemade Beancurd with Monkey Head Mushrooms
As much as I love beancurd, I would be hard pressed to rate this dish anything more than slightly above average. Don't get me wrong. This dish isn't bad. In fact, it is technically very sound and checks most of the boxes. However the beancurd, though silky smooth, lacked the savoury taste that I personally use to differentiate between good and excellent. Also, it is the first time I've trying out monkey head mushrooms and honestly, I didn't quite take to the somewhat limp texture. So it all boils down to personal preference I guess.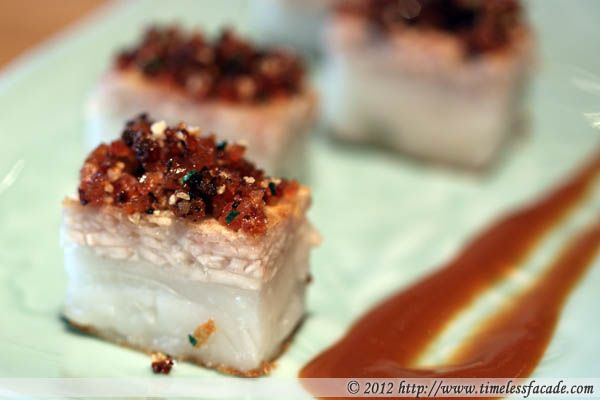 Pan Fried Carrot Cakes with Preserved Meat
Now this was interesting. At first glance, each individual piece of carrot cake looked like a piece of roast pork sitting on it's head. However pop one into your mouth and be pleasantly surprised by its smooth texture and that of the crisp preserved meat which acted as a nice contrasting counterbalance.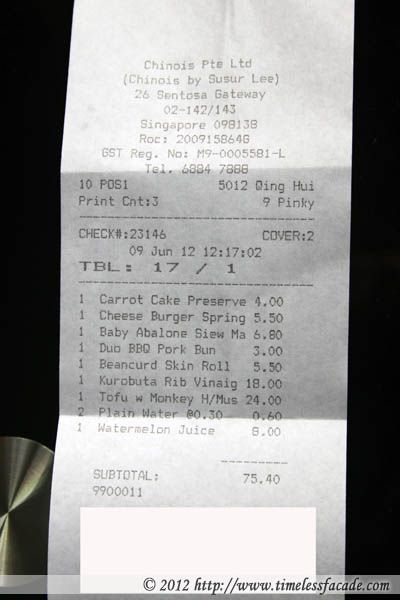 Bill
The total bill (without discount) for 2 came up to about $89, which is by no means cheap but hey, it's at Resorts World Sentosa and food quality is decidedly above average overall. Throw in good service and a 50% discount and I'll definitely be dining at Chinois again.
Final Verdict:
Ambience:7.5/10
Service:7.5/10
Food:7/10
Value for money:6/10 (without 50% discount)
Overall:7/10
Address: #02-142/143 Hotel Michael, Resorts World Sentosa
Contact: 6884 7888
Opening Hours
Lunch: 12.00pm - 3.00pm (Last order 2.30pm)
Dinner: 6.30pm -10.30pm (Last order 10.00pm)
Website: http://chinois.com.sg/