Hua Ting was a relatively last minute choice for a mid week catch up session with a couple of old friends. The place hasn't changed one bit and still looks like it could do with some restoration works to keep it up to date.
One of Hua Ting's signature dishes, the roast duck - tender and juicy with a mild sugary sweetness to it. But the skin wasn't as crisp as I remembered it to be. Still very decent though but standards seem to have dropped.
Stir Fried Pea Shoots
The pea shoots (豆苗) came fried with garlic and were a little on the oily side. I've definitely had better.
Emerald Beancurd with Scallop
In all honesty, this sounded like a great combination. But reality is often cruel. On one hand, the beancurd was soft and silky with a nice savoury aftertaste. On the other hand, the scallop seemed to be coated with a flour like substance that messed everything up, rendering the scallop soft with a gelatin/kueh like texture. Flavour wise was still decent though.
Prawn Done in 2 Ways
1 prawn was coated with egg yolk, the other had wasabi doused over it. To be fair, both prawns were huge but a tad soft (probably a little under cooked). However the wasabi tasted rather watered down and creamy. Ditto that for the egg yolk as well, coming across as bland and lacking in the savouriness and saltiness that I personally like.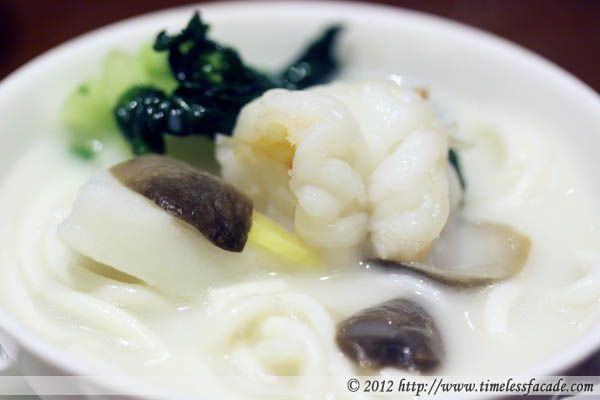 Seafood Fish Noodles
I am quite a huge fan of fish paste noodles and although Hua Ting's offering used to be quite good, just like the roast duck, standards have slipped. The shark bone soup just wasn't rich enough and the noodles didn't quite have bite. To give it credit, the seafood was fresh though. Just a gauge on portion sizes. The 6 of us ordered a large and each of us managed a small, albeit respectably full bowl of noodles.
Bill
After a 15% discount, 6 of us chalked up a bill of about $291, which isn't that bad really. But food quality wasn't quite up to expectations. Service was still good though but not good enough for a revisit. How Hua Ting is often nominated for the best restaurant award still deludes me. On a good day, Hua Ting's food is above average. On a bad day, food hovers around average. Am I missing something here?


Final Verdict:

Ambience:7/10
Service:7/10
Food:6/10 (7/10 for the duck)
Value for money:6/10

Overall:6.5/10

Address: 2nd Floor Orchard Hotel, 442 Orchard Road

Contact: 67396666 or 67343872