I came across a couple of strong recommendations about the burgers at 2 Blur Guys so with an unintentionally free Saturday morning, we decided to give it a shot. Apparently the place is helmed by Chef Jimmy Chok, who used to be from Bistro Soori.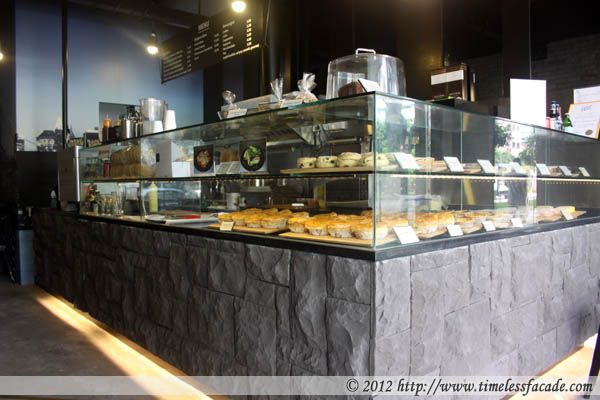 The Place
The shop occupies a tiny unit along the fringe of Orchid Hotel and is easy to miss because of its unassuming decor. So keep a look out for it. Seats are a premium at the place and you are looking at probably 5-6 two person tables tops. That's about 12-15 people. Talk about uncomfortable dining.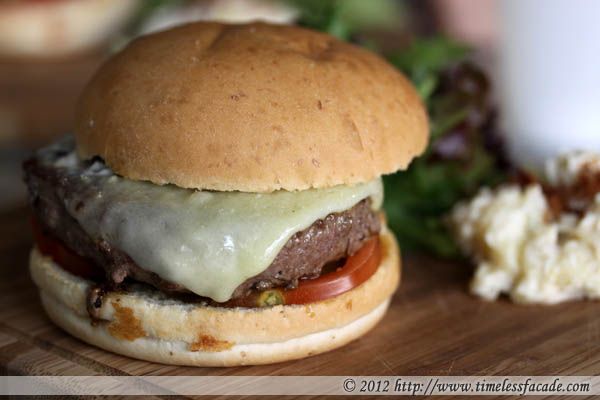 Prime Beef Hamburger
The highly raved about prime beef burger. To be be honest, I thought it was average at best. The patty had plenty of fluids but the meat was chopped way too fine (machine perhaps?), which resulted in a dry, unsatisfying texture. To compound matters, the patty was seriously lacking in brovine flavour - a definite must for a good beef burger in my humble opinion. Don't even get me started on the buns, which were insipid and tasted like off the shelf stuff. However, I did like the gruyère cheese and truffle mayo, though I did think that they could be a little more generous with the truffle mayo. Oh and did I mention that the burger was small aka fillet o fish size?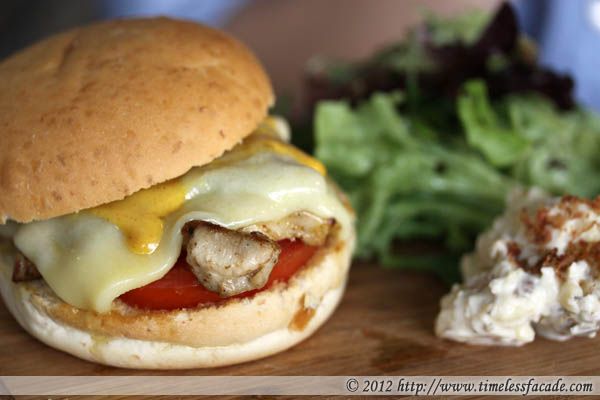 Grilled Spice Chicken Burger
I didn't quite take to this burger as well as the thigh meat was a little too oily for my liking. I could make out some form of asian/indian spice (special spice mix according to their website) which didn't quite sit well with the curry mayo sauce in my humble opinion. It made the whole burger feel extremely greasy and I felt uneasy after finishing it.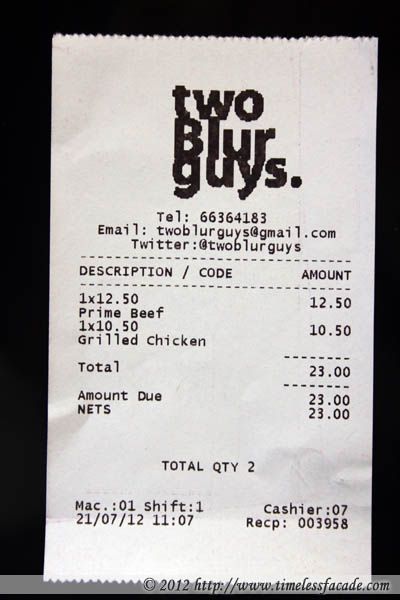 Bill
What can I say? $23 nett for 2 burgers isn't really that expensive if you take it quantitatively. But quality was average at best and portions weren't exactly generous. I don't know about you but sorry, I definitely won't be back.


Final Verdict:

Ambience:6/10
Service:7/10 (no service charge but friendly enough)
Food:5.5/10
Value for money:5.5/10

Overall:6/10

Address: 1 Tras Link #01-13, Orchid Hotel

Contact: 6636 4183

Opening Hours: Mondays to Saturdays – 11am to 9.30pm

Website: http://twoblurguys.com/