As luck would have it, we found ourselves at RWS once again and decided to drop by Chinois for some quiet time (and food!) on a Saturday afternoon. It was probably one of the few places that wasn't jam packed with visitors and we were (un)lucky to snag a window seat (do know that your back is clearly visible from the outside of the restaurant if you sit next to the window).
Kurobuta Pork Rib with Vinaigrette
We started off with the customary roast pork dish and I must say that some pieces were a little too fatty for comfort this time round. I liked the crisp skin and moderate quantity of salt though.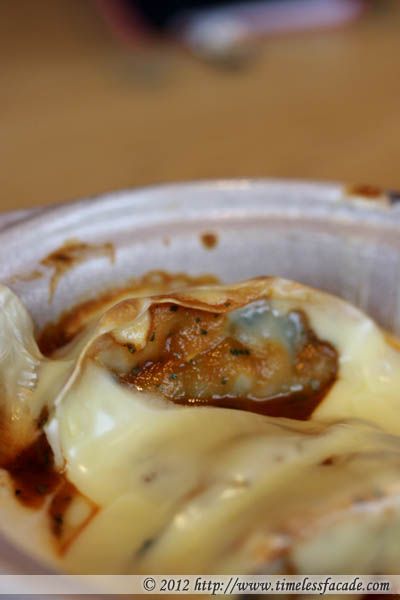 Oven-baked "San Xian" Gyozas with White Wine Cream Cheese Sauce (白汁芝士三鲜锅贴)
I'm no big fan of gyoza so naturally I didn't quite take to this dish, although I must admit that it was quite different from what I had expected. The gyoza was soft and dipped into a concoction of cheese and tomato sauce. And honestly, that was all I tasted. Not a bad combination I must say... with bread that is.


Tofu with Crab Meat
This was a simple yet delicious dish. The tofu was mildly savoury and silky, drenched in a not too starchy gravy that boasted copious amounts of shredded crab meat and roe. And then there are the obligatory stalks of vegetable of course.


Braised Boston Lobster with Homemade Noodles
At the time of my visit, Chinois had a promotion for this dish as well as a couple of their signature dishes going at only $18++ - apparently a "very good deal" as our waitress candidly put forth. And I took her word for it. The truth be told, the noodles were a little too sweet (from the black sauce) for my liking. That aside, I appreciated the springy texture of the noodles and the fresh (and generous!) serving of fresh lobster.


Ramen with Live Prawn and Minced Meat Sauce
This was essentially 炸酱面 but with the addition of prawns. The noodles were springy while the accompanying meat sauce had a tinge of spice in it, making for a rather appetising eat. And not to forget about the huge duo of fresh, crunchy prawns that straddled both ends of the noodle roll. Simple yet satisfying.


Bill
After a 50% discount, the bill for lunch came to a very manageable $65 for 2, inclusive of drinks. Food quality was decent and ambience, relatively good. Service, though professional, could be a little less uptight, seeing that RWS is a family destination after all? One question perhaps. What's the point of a smart casual dress code when lots of people still turn up in shorts and flip flops?
See my previous entry on Chinois
here
.
Final Verdict:
Ambience:7.5/10
Service:7.5/10
Food:7/10
Value for money:6/10 (without 50% discount)
Overall:7/10
Address: #02-142/143 Hotel Michael, Resorts World Sentosa
Contact: 6884 7888
Opening Hours
Lunch: 12.00pm - 3.00pm (Last order 2.30pm)
Dinner: 6.30pm -10.30pm (Last order 10.00pm)
Website: http://chinois.com.sg/