Lunch was a most pleasant affair at Ember , especially when the both of us had the day off to slowly indulge at our own leisure. No dreaded after lunch meetings, no flights to catch. Nothing.
Complimentary Bread
Although I had the urge to go for third servings of this wonderfully delish bread, restraint was key in view of my exploding waistline. But if your stomach can afford it, don't be shy.


Pan Roasted Scallop with Parma Ham, Citrus and Tarragon Vinaigrette
Fresh greens doused in vinaigrette and served with lightly peppered/salted pan roasted scallops wrapped in parma ham. Simple yet appetising. If only they did something about the softness of the scallop. As far as scallops go, I still prefer the one at
Mortons
though.
Pan Seared Foie Gras with Caramelized Apples and Clove, Port and Raspberry Glaze
Quivery foie gras with a little salt crunch at the top, balanced out by semi sweet apples and raisins that helped to counter any nausea. Nice! I don't suppose I should be having too much of it though, for health reasons.


Pan Roasted USDA Prime Beef Tenderloin with French Fries, Merlot Reduction
Although I had requested for medium, the steak came a little overcooked - more like medium well really. But the flavours and texture were still intact so no complaints. The topping of mushrooms did seem a little dry this time round but thankfully the merlot reduction sauce managed to patch that up a little.


Marinated Cod with Black Miso, Sweet Peas and Herbed Potatoes
Although we have been to Ember quite a fair bit, this ever popular cod dish always proved elusive. But not this time. Being the first guests that afternoon, we promptly "reserved" a serving. Imagine our glee when we overheard a waitress informing another table that cod was out for that afternoon. But truth be told, it wasn't as fantastic as I had anticipated. Expectations are a killer I guess. Sure, the flesh was flaky and sweet with a smooth oily tinge but it was just so.... pedestrian, if I may say. Very much like the frozen cod fillet that my family usually has for dinner. I'll probably just stick to the
Chilean Seabass
next time.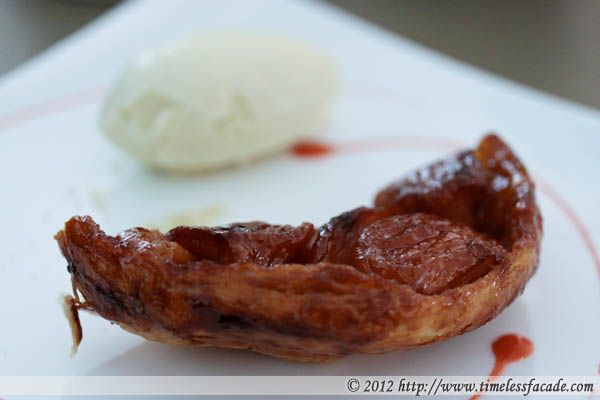 Apple Tarte Tatin with Vanilla Bean Ice Cream
You need a minimum of 2 pax to order this dessert and after much deliberation, we decided to keep faith with Ember and take the plunge. And it turned out pretty well. The crust was flaky and topped with sizable apple slices that spotted a nice caramel sheen. I did find the caramel a little too thick for my liking though (sticks to your teeth!). Best eaten immediately upon serving and with the vanilla bean ice cream of course.


Bill
At a mere whisker above the century mark for a wonderful 2 pax lunch, Ember has truly cemented its status as one of my favourite lunch venues.
Final Verdict:
Ambience:7/10
Service:7.5/10
Food:7.5/10
Value for money:7/10
Overall:7.25/10
Address: Hotel 1929, 50 Keong Saik Road
Contact: 63471928
Opening Hours:
Mon-Fri:
Lunch: 11.30am - 2.00pm
Dinner: 6.30pm - 10.00pm
Sat:
Dinner: 6.30pm - 10.00pm (Closed on Sundays)
Website: http://www.hotel1929.com/