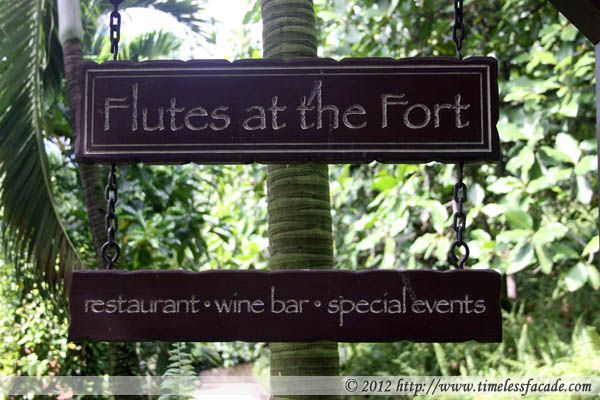 We were itching for a nice brunch place without your usual weekend crowd and decided on Flutes, having dined there for dinner
a couple of years back
(when Francois Mermilliod, owner and chef of
Absinthe
, was still head chef).
The Place
Dining in the day offers a much better view of the lush greenery surrounding the restaurants as compared to dining at night. It also gives a notion of serenity and escapism from the hustle and bustle of the outside world. But maybe it's just self delusion. Haha.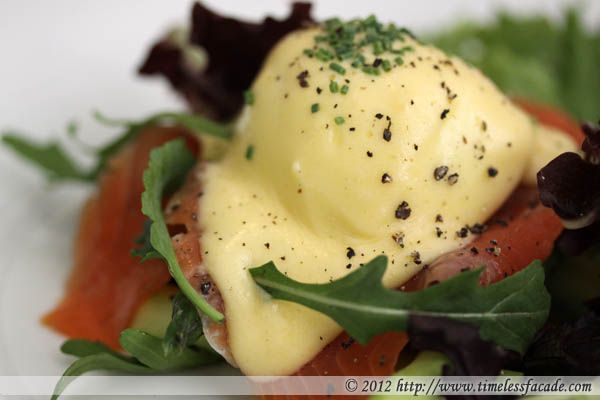 U.S. Asparagus with poached egg, smoked salmon, hollandaise sauce
Both of us started off with the asparagus with poached egg and smoked salmon which was honestly quite decent though the asparagus did come across as a wee bit too soft. I did appreciate the buttery aftertaste though. Another gripe I had was that the poached egg wasn't runny enough but at least the hollandaise sauce had a nice savoury kick to it.


Beer Battered Snapper with fries, mixed leaf, malt vinegar or tartare sauce
I'm no fan of fried fish, especially those that come coated with flour and deep fried. But I must say this was quite palatable. The fish wasn't exactly very sweet but the flesh was firm without the flour being overly thick. And there was a tingling beer aftertaste. Best eaten with a dash of lemon and tartar sauce.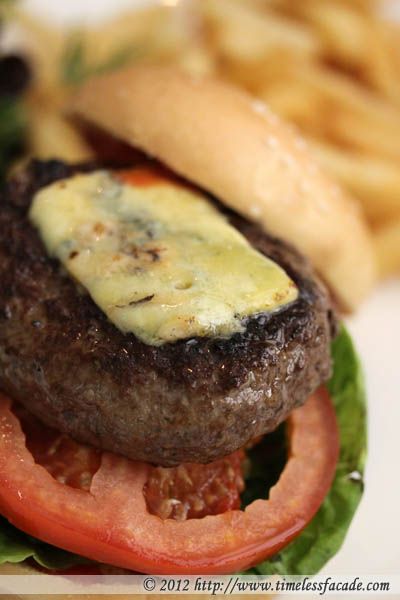 Beef Burger with sunny-side egg, lettuce, tomatoes, mustard, kikorangi
I happened to be in a burger mood that day so naturally I perked up when I saw it on the brunch menu. I wouldn't say it was great but it was decent enough to satisfy a craving. The patty was a little overdone (read. Dry) but surprisingly flavourful. I could make out the unevenness in the patty so it was likely to have been hand chopped. I did think the buns could have been toasted a little longer though.


Earl Grey Crème Brûlée with black sesame ice-cream, strawberries
Aesthetics (or lack of) aside, the creme brulee sported a nice thin layer of burnt caramel atop smooth, earl grey tinted custard. The scoop of black sesame ice cream was seriously quite a turn off especially when it started to melt but to be fair, it was quite rich and probably more suited to people who like black sesame. Tar anyone?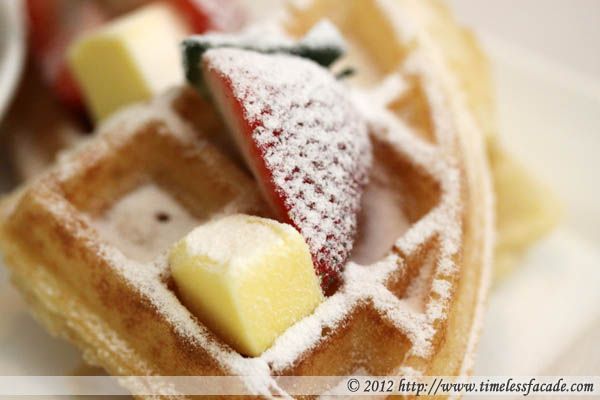 Belgian Waffle with strawberries, fresh cream, butter and maple syrup
To round up, we had the belgian waffles, which were light but nothing exceptional. Served up with butter cubes and rather diluted maple syrup. Disappointing.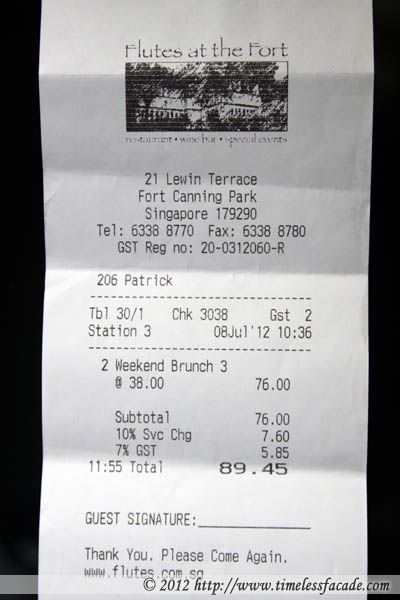 Bill
A peaceful brunch for 2 cost us to the tune of about $45/pax. Standards seem to have plummeted since the departure of Chef Mermilliod. I probably won't be back unless food quality picks up.
Final Verdict:
Ambience:8/10
Service:8/10
Food:6.5/10
Value for money:5.5/10

Overall:7/10

Address: 21 Lewin Terrace, Fort Canning Park
Contact: 66338 8770

Website: http://www.flutesatthefort.com.sg
Reminiscing the good old days... a shot from my previous visit.