Red eye flights are the worst, especially if you are flying cattle class (yes, even if you are flying SQ and have managed to snag the emergency exit seats). That explained our less than enthusiastic (dishevelled would probably be more apt) appearance as we dropped by C Restaurant for lunch on a beautiful Thursday afternoon.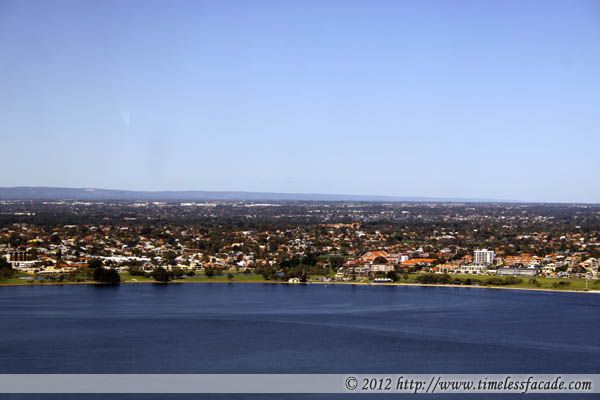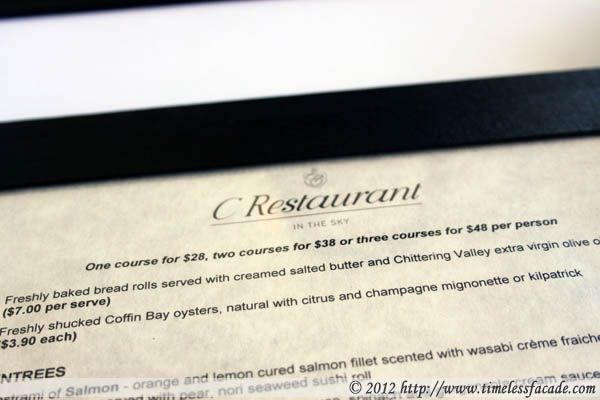 The Place & Menu
Perched on the 33rd floor of St Martin's Tower, C Restaurant offers a 360 degree birds eye view of its surroundings through floor to ceiling windows and made possible by slowly revolving at an angle of approximately 8 degrees per min (1 whole revolution per 45 mins). Perth is a relatively low rise area so 33 stories up is really quite high up. Sounds pretty much like Prima Tower in Singapore eh?

The interior is simply done up with cream leather backed chairs and white linen tables. When the view is this good, interior decorations aren't necessary. One gripe though. The table did seem a little too low for comfort. Either that or the chairs were a little too high. And the restaurant could do well to space the tables a little further apart from each other. It was honestly a little squeezy with the table behind us being occupied.

The lunch menu is simple. 1 course at AUD28, 2 courses at AU38 and 3 courses at AUD 48. No prizes for guessing which one I went with although I must say that I was mildly disappointed at the options my dining partners chose. But I digress.


Bread
I experienced a mild culture shock when I learnt that there was no complimentary bread. We had to pay AUD 7 for a small plate of them. Money aside, the bread was insipid though served warm. Can't say I enjoyed it even though I was close to starving. Maybe it was the 7 bucks.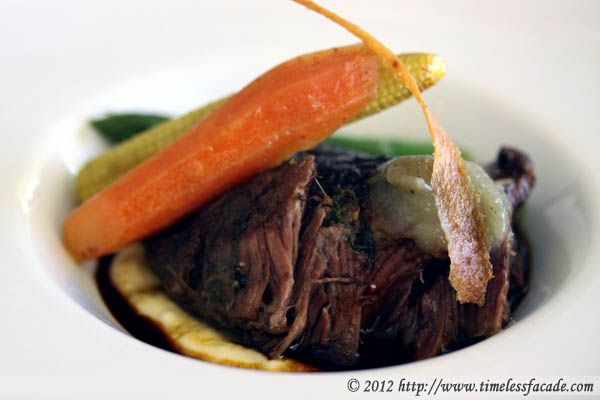 Braised Black Angus beef cheeks, parsnip puree, market vegetables, aubergine caviar, parsnip crisp
For starters I had the Angus beef cheeks, which came across as tender but lacked the bovine sweetness that I liked. And presentation wasn't exactly stellar, if I may comment.


Homemade potato gnocchi with a Napolitana sauce, spinach and gorgonzola cream sauce; roasted tomatoes garnished with a glazed parmesan cheese crust
This dish had a nice creamy base sauce with a beautiful glazed cheese crust but was let down by the softer than expected gnocchi. Overall decent but definitely nothing to shout about.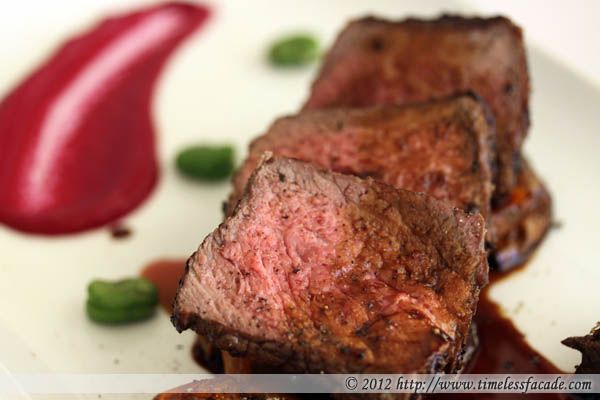 Char-grilled Black Angus sirloin, braised Wagyu terrine, honey roasted sweet potatoes, broad beans, beetroot and horseradish puree, Madeira jus
This wasn't my order but I managed to steal a bite off it. The sirloin was done to a perfect medium and boasted great flavours with a peppery aftertaste from the Madeira jus. Portions did seem a little smallish though.


Margaret River Wagyu sirloin (220g), parsnip puree, market vegetables, creamed morel jus
I had to top up AUD25 for this and in all honesty, it probably wasn't quite a wise choice, especially in comparison to the Black Angus Sirloin. I had the wagyu done medium as well but it seemed a little drier than the sirloin and the marbling didn't really seem that all great. But to give it credit, I liked the crisp bits along the edges as well as the light touch of salt and pepper seasoning.


Grilled Atlantic Salmon served with herb gnocchi, slow roasted tomatoes, watercress, beurre blanc
The salmon was the catch of the day and though I didn't get to try it out, two of my dining companions rated it as average. They did seem to like the herb gnocchi though.


Crunchy chocolate and cherry kirsh compote
I rounded off my lunch with a crunchy chocolate and cherry kirsh compote. It was basically rich chocolate mousse sitting atop a mildly crunchy chocolate biscuit like base and circled with cherry kirsh compote. Decent ending to the meal but no wows there.


Bill
Together with 3 sides and 2 bottles of still water, lunch for the 4 of us came up to about AUD 220 (approx.SGD 290), which doesn't quite correlate to the quality and quantity of food in my humble opinion. On hindsight, there is definitely much better food to be had in Perth at a lower cost. But of course the view and company is unbeatable. And the
smugness
notion of having a leisurely lunch during a workday makes it all the more enjoyable. ;)
Final Verdict:
Ambience:8/10 (great views but uncomfortable seat/table height)
Service:8/10
Food:6/10 (7/10 for the sirloin)
Value for money:5/10
Overall:6.75/10
Address: Level 33, 44 St Georges Terrace Perth (located in between Barrack St & London Court)
Contact: (+61) 08 9220 8333
Opening Hours:
Mon - Fri: 11am - late
Sat-Sun: 12pm - late
Website: http://www.crestaurant.com.au/