It was a downcast Sunday morning and the drive from Pemberton to Manjimup's famous Wine & Truffle Co was fraught with hiccups due to our mix up over the opening hours and the inability of our GPS to find the place. Read.
Ulu
. But we still made it.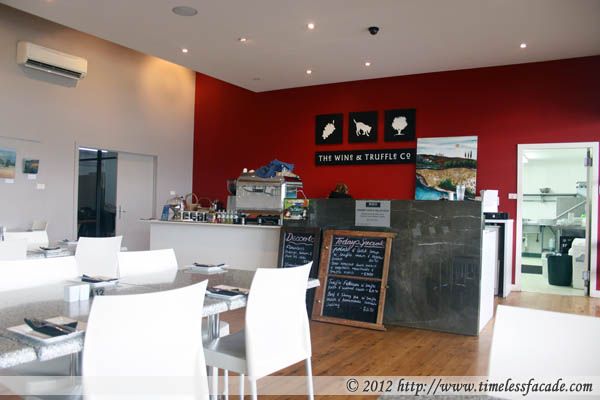 The Place
Located somewhere along the relatively isolated Seven Day Road, a 15 minute drive away from the sleepy town of Manjimup, The Wine & Truffle Co honestly didn't look like much from the outside, coming close to what I would call an enlarged tin shack. The cafe (renamed Cucina Tartufo as of 1st June), however, boasts a cheery red wall and views of a pond and an expanse of greenery (which I assume would offer a better view in spring or summer). And if you are interested in buying any wine or truffle products, the adjourning room offers those for sale.
Hazelnut Bread
I recall paying something around the range of AUD 14 for the hazelnut bread but I'm happy to say that it was worth every cent. The bread itself isn't made in house but sourced from the manjimup bakery and served up with truffle butter and a generous scoop of "black gold" (finely chopped black truffle in olive oil). Crusty with nuances of hazelnuts and bits of the nut embedded within the chewy folds of the bread - very much like an unsweetened version of Ferrero Rocher chocolates. Equally delightful was the smooth truffle butter, though I personally thought the accolade of pièce de résistance belonged undoubtedly to the black gold, which was earthy with a woody fragrance and a beautiful truffle aftertaste. Absolutely delicious!


Oven Roasted Duck Breast
Mildly crisp skin coupled with tender and juicy flesh and bearing a salty undertone. Very good. In case you are wondering, the truffle in this dish came in the form of the truffle mash, which was smooth and wonderfully fragrant. However I still think that the mash could do with a little more truffle :P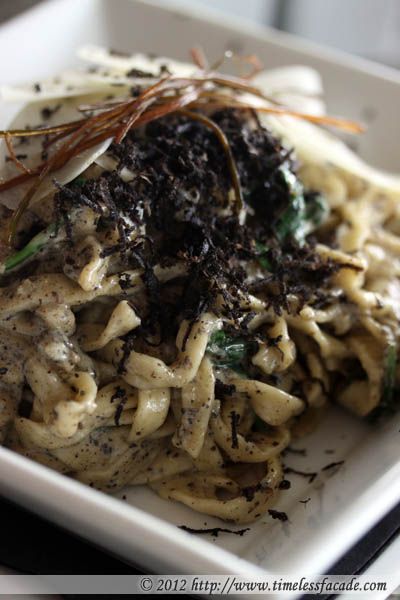 Truffle Fettuccine in Truffle Paste and Walnut Sauce
I heeded our friendly waitress's recommendation and went with the truffle fettuccine. On hindsight, it proved to be an excellent choice, even more so than the duck breast. Although the fettuccine could have been a little firmer, the deal clincher was none other than the excellent combination of truffle paste and walnut sauce. Creamy and fragrant with tiny bits of walnut in the mix. Topped with slices of Parmesan and a generous sprinkling of truffle strands. Simple yet delicious!


Bill
The total bill came up to AUD 77.50 or about SGD 100, which was well worth the money in my humble opinion. Sure, the location isn't quite along the touristy track but its well worth the short detour from Pemberton if you are driving downwards to Albany or back up to Perth City. For those who wish to take your understanding of truffles to a deeper level, The Wine & Truffle Co offers truffle hunts from 1st June to 31st Aug every year. Try it, it promises to be fun! ;)


Final Verdict:
Ambience:6.5/10
Service:7.5/10
Food:8/10
Value for money:8/10 (truffles are expensive!)

Overall:7.5/10

Address: Lot 490 Seven Day Road, Manjimup

Contact: (08) 9777 2474

Opening Hours: 10am - 330pm (Thurs - Sun and Mondays during long weekends)

Website: http://truffleandwine.com.au/truffle-cafe