It was a beautiful morning with the sun high up in the sky, keeping the incessant drizzle at bay. And armed with a recommendation, we hopped just around from where we were staying to have breakfast at Vancouver Cafe & Store.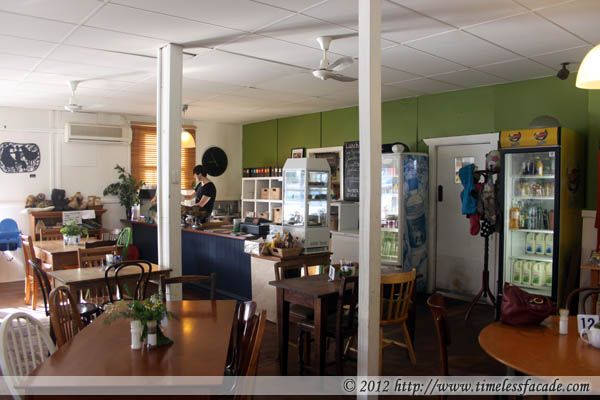 The Interior & Menu
Occupying a corner unit at the intersection of Vancouver and Melville Street, the cafe looks like any of its neighbours, save for a huge sign that says "Vancouver Cafe & Store". The interior is simply done up with lots of wood and has a very relaxing/retro vibe about it, with old school furniture and little pieces of art adorning the wall (they are for sale by the way!). Ordering is simple. You place your order at the counter, pay for it and it will be delivered to your table.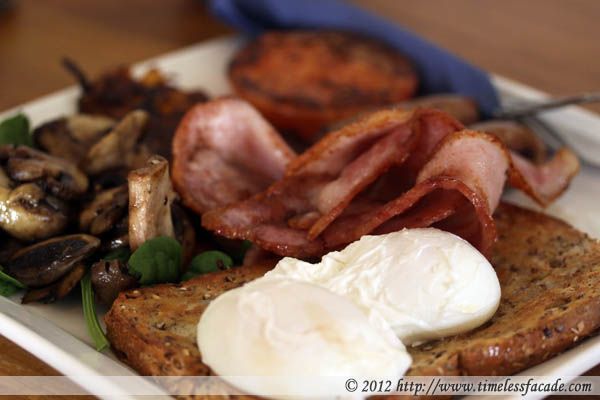 Mega Breakfast
Contrary to what the name suggests, portions weren't as hearty as I expected but still big enough to fill the tummy of a relatively big eater. Served up with pumpkin, onion and potato rosti, spinach, mushrooms, toast, chipolatas, poached (or scrambled) eggs and bacon. The mushrooms were well sauteed and came with a hint of butter while the rosti was lightly sweet with a mildly burnt aftertaste. No complaints about the creamy poached eggs or the bacon, save for the fact that it was a little too oily. Overall a decent dish but I wouldn't go so far as to recommend it.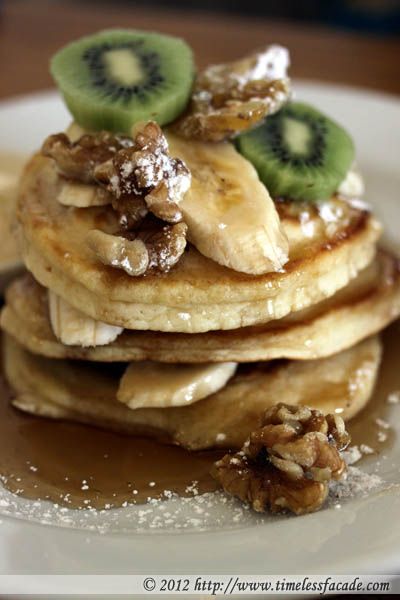 Pancakes with Bananas
The pancakes were thick but a little too dense for my liking and topped with bananas, kiwi slices, maple syrup and walnuts with candied edges. Decent and a carbohydrate laden way to start off your morning!

With a hot chocolate, the total bill came up to about AUD 44 - nothing too expensive by Aussie standards but food quality isn't that great in my humble opinion. The only thing this cafe has going for it is it's friendly staff and quaint little shop ambience.

ps: The cafe had a few flies buzzing around towards the end of winter. I wonder how is it like in Summer.


Final Verdict:
Ambience:7.5/10 (quaint)
Service:7.5/10
Food:6/10
Value for money:6/10

Overall:6.75/10

Address: 65 Vancouver Street Albany WA 6330

Contact: (08) 9841 2475

Opening Hours: Breakfast & Lunch, Mon - Sunday. Dinner only on Thursday.