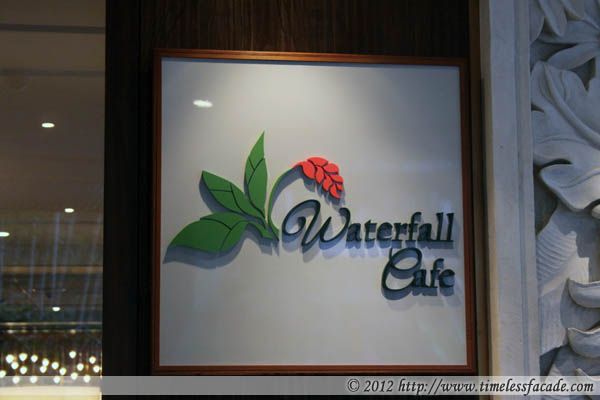 Had an invitation from the good folks at Shangri-La to try out their revamped dining outlet, Waterfall Cafe, on a weekday evening. Helmed by Chef Stephane Cocu, who has had stints with several Michelin star restaurants in France and the United States, the eatery promises healthy yet creative dishes inspired by Mediterranean flavours.
Interior
Located at the recently renovated garden wing of the hotel, Waterfall Cafe boasts lush greenery and a koi pond at it's entrance, opening up into a rather homely interior with an open concept dessert counter and comfortable sofa like seats. The place honestly looks more like an upclass coffee house than a restaurant.
Complimentary Bread & Cheese Puffs/Cheese Sticks
The complimentary bread was nothing to shout about but the cheese puffs and sticks (more like slices really) deviated from the norm of just serving bread and thus deserves a mention. The puffs were slightly hardened with a nice lingering taste of cheese whilst the sticks were reminiscent of curry puff sans the spiciness. Pretty good stuff I must say.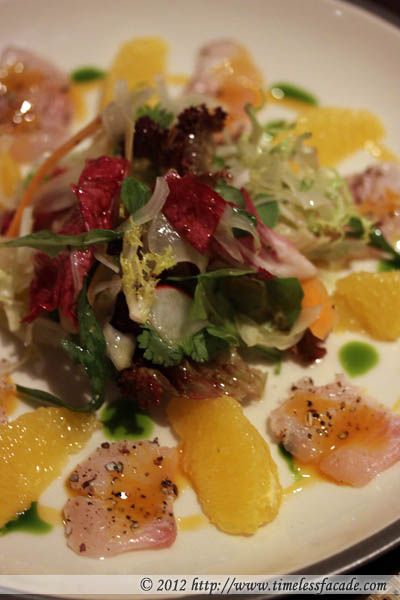 Seabass Carpaccio
The seabass was firm but any taste of the fish was overwhelmed by the sprinkled ground pepper and the tartness of the orange slices. A little underwhelming honestly.
Watermelon Salad
I am a fan of watermelon so what's not to like about fresh, crunchy prawns (with a tinge of balsamic vinegar sprinkled over the greens) coupled with sweet and juicy watermelon? But honestly, this is a really simple dish that can be whipped up at home.


Seared Sea Scallops in Hazelnut Crust
Scallops coated with grounded hazelnut. An interesting combination if I may say. I personally liked how the whole thing worked out with the nutty flavours and crunch complementing the sweetness of the scallop. What I didn't appreciate was that the scallops were a little too soft in the middle and should have been sliced a tad thinner.
Coconut Panna Cotta with Strawberry Confit
This dessert was very smooth, almost like thickened cream and bounded by strawberry confit. So much so that I couldn't taste the coconut. Definitely not my cup of tea.
Lemon Curd Tart
I found the lemon tart a little too sticky for my liking but appreciated the tartness of it in alleviating the nausea from sweet desserts overload.
Lychee Soup
Although this was probably the healthiest of all the desserts, with all the fruits, the "soup" struck me as a tad too artificially candied for my liking. I gave up after the second mouthful.
Trio of Chocolate Mousse
Now this dessert was right up my alley. Smooth mousse coupled with bits of crumble and lightly bitter sans the overwhelming sweetness that usually plagues chocolate desserts.
Fig Tart with Bourbon Vanilla Ice Cream
The fig tart, thought crusty, lacked the oven baked taste that I personally prefer. And it didn't help matters that I have a mild dislike for fig and that the vanilla ice cream was..... normal.
Flourless Chocolate Cake
This looked almost like the ubiquitous chocolate fondant but it wasn't. It was a very rich, flourless chocolate cake with a very soft texture and no molten center. Nice but can't say I prefer this over a chocolate fondant though.
All in all the meal had a few highlights but food quality generally waded in the average to slightly above average zone in my humble opinion. I did like the ambience though and that, together with a couple of the dishes, might just entice me back for a revisit.
I would also like to take the opportunity to thank Shangri-La for their invite.
Final Verdict:
Ambience: 7.5/10
Service: NA
Food: 6.5/10
Value for money: NA
Overall: 7/10
Address: Level One, Garden Wing, Shangri-La Hotel
Contact: 6213 4138
6.30am - 11am
11am - 12noon
3pm - 6pm
12noon - 4pm (Sunday)
12noon - 3pm
6pm - 10.30pm (Monday to Saturday)
Website: http://www.shangri-la.com/singapore/shangrila/dining/restaurants/waterfall-cafe/