Our Sydney trip wouldn't have been complete without a meal at one of Australia's most critically acclaimed (and awarded) restaurant, Quay. Ranked 29th on the coveted San Pellegrino World's 50 Best Restaurant's list and Australia's best restaurant for the third year running, Quay is helmed by the talented Chef Peter Gilmore, who has been featured in the Australia MasterChef competition .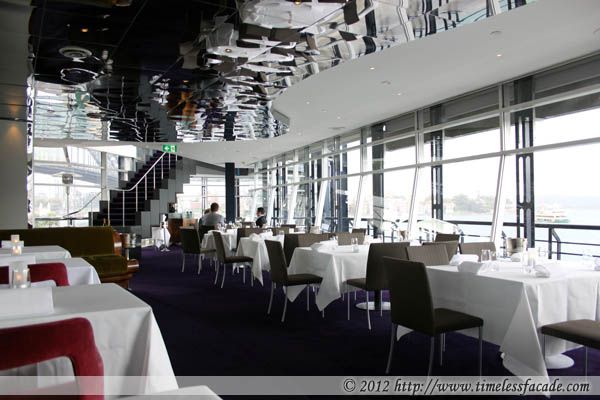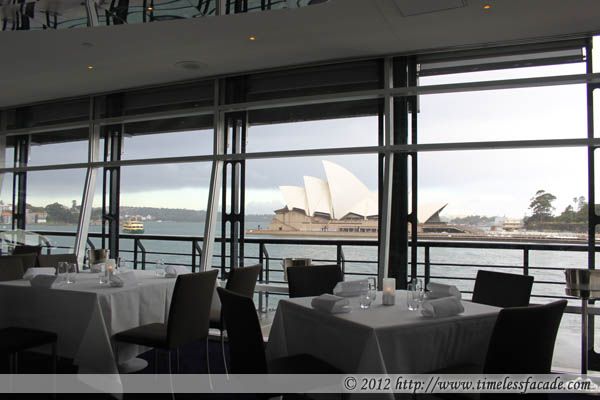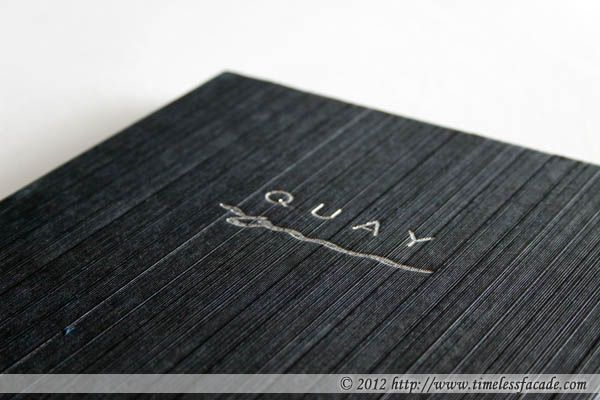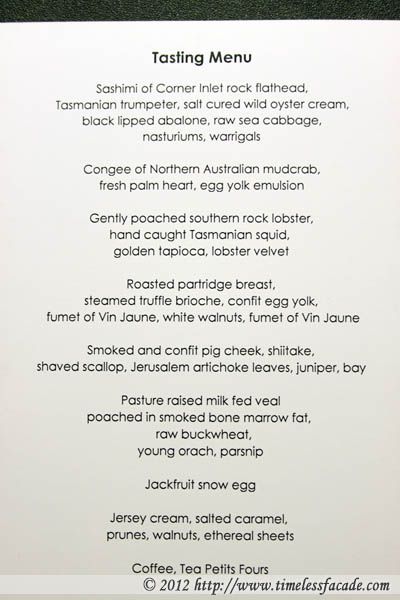 The Place & Menu
Perched on the upper level of the Overseas Passenger Terminal @ The Rocks, Quay's list of accolades is matched only by the view that it has to offer - the Harbour Bridge on one side and the iconic Sydney Opera House on the other. There is no ala carte menu available and you only have a choice of the 4 course dinner (AUD 165) or the tasting menu (AUD 220).
Mocktails


Amuse Bouche
We started off with an amuse bouche of fresh water marron sashimi with pomelo and sliced almonds. The marron's texture was a little chewy but the taste was masked by the semi sweet pomelo. Overall a rather cold and refreshing starter with a nice crunchy texture from the almonds to boot.
Sashimi of Corner Inlet Rock Flathead
The thin slices of fish were fresh and went reasonably well with the rawness of the raw sea cabbage. I wasn't too taken by it though as I didn't find it particularly outstanding in anyway.
Congee of Northern Australian Mudcrab
This was quite funny, really, because we Asians are exposed to congee on a very frequent basis and there we were, having congee in an Australian, fine dining restaurant. The truth be told, it was good comfort food but I've definitely had better. The rice grains were broken and barely visible, topped with plentiful shreds of crab meat and slivers of ginger in a sweet and light broth. What I found different was the addition of fresh palm heart, which added a nice crunchy dimension to this dish.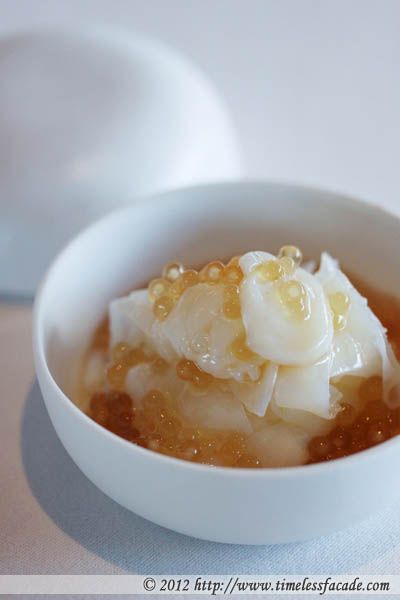 Gently Poached Southern Rock Lobster
Succulent lobster meat, beautifully cooked squid and tapioca pearls poached in smoked eel broth to resemble caviar - A myriad of robust, unexpected savoury flavours singing in harmony. A most excellent dish.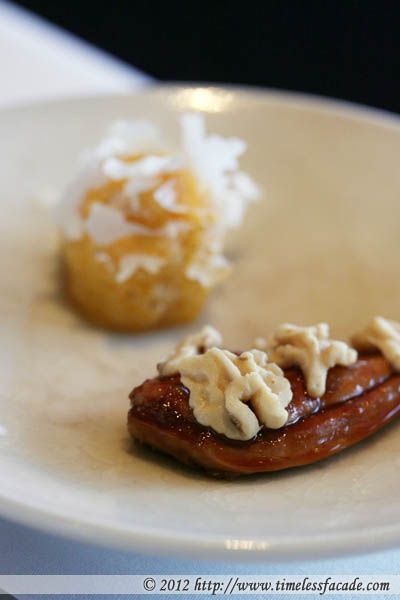 Roasted Partridge Breast
Tender yet lean, the partridge was decidedly more gamy than any birds I've ever eaten (chicken, geese, duck and the likes). Served alongside was a wonderfully soft, steamed truffle brioche with nuances of buttery goodness. Excellent.
Smoked and Confit Pig Cheek
Another outstanding dish, the pork cheek was mind blowingly tender with strong hints of smokiness and a mild saltiness. The smokiness also rubbed off onto the scallops and mushrooms, of both which sported a tinge of smoky flavour as well. The Jerusalem artichoke leaves were interestingly crisp with a cheesy aftertaste. Now I can't decide if I like this dish or the poached lobster more.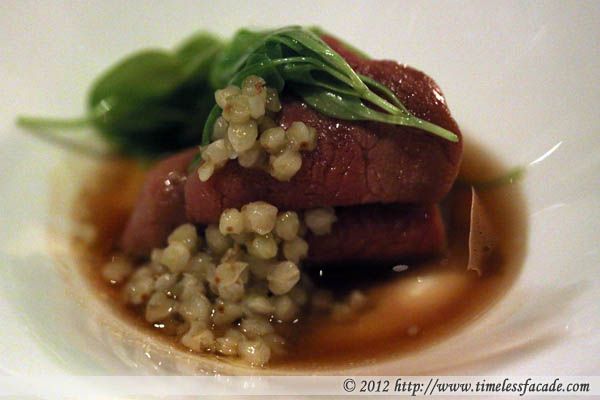 Pasture Raised Milk Fed Veal
I wasn't too enamoured by the veal but I did like the sauce - smooth, milky with a savoury aftertaste.

Hapuka Poached in Creme Fraiche
This was a replacement for the veal as my fiance doesn't take beef. But I had too little of it to make any comments, save for the fact that she was pretty happy with it.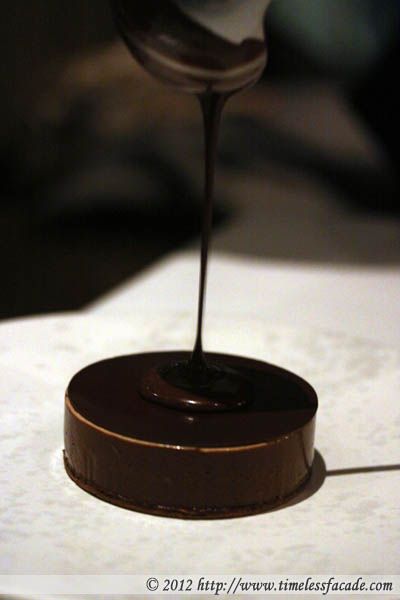 8 Textures of Chocolate
And to kick start the desserts, the sensational 8 textures of chocolate. Chocolate mousse, caramel, vanilla and chocolate ganache, chocolate and hazelnut dacquoise, cake base, milk chocolate praline discs, chocolate caramel cream, dark chocolate top disc; all 7 textures in one compact, circular structure. Topped with the 8th texture, a ladle of hot chocolate sauce, creating a rupture in the roof of the structure. Simply amazing. A must try for all chocolate fans! And just for the record, this dessert requires 3.5 hrs to make.


Jersey Cream, Salted Caramel, Prunes, Walnut, Ethereal Sheets
We were advised to crush the ethereal sheets thoroughly for maximum enjoyment. Besides the crackles from the sheets and the smooth ice cream, this dessert was good but nothing out of the ordinary. It seemed like a souped up version of ice cream with all the bells and whistles.


Jackfruit Snow Egg
And for the undisputed star of the night, the crème de la crème, the Jackfruit snow egg. Touted as one of the toughest challenges in Australia's MasterChef, this dessert requires alot of skill to perfect. A scoop of Jackfruit ice cream forms the yolk and is encapsulated in a meringue egg with a maltose shell, sitting prettily on a bed of Jackfruit granita. Knocking the top of the "egg" with your spoon produces a satisfying "crack" sound and you are on your way to Jackfruit heaven! One thing that didn't quite work for me was the maltose shell, which stuck to my teeth ever so often. But that aside, the whole experience was absolutely divine and I would have had seconds if it was available on the ala carte menu. Truly a signature dish.


Petits Fours
Bill
A 3 hour dinner for 2 pax cost to the tune of AUD 464 (~ 600 SGD), which isn't very expensive in my humble opinion, especially with the (mostly) top notch quality of food and service (albeit a little too professional for my liking). Coupled with awesome views, it is easy to see why Quay is booked out months in advance for dinner. So if you are eying a dinner table during the weekend, be sure to book 6 months in advance (when the reservation window opens).


Final Verdict:

Ambience: 9/10
Service: 8/10
Food: 8.5/10 (9.5/10 for the snow egg)
Value for money: 8.5/10

Overall: 8.5/10

Address: Upper Level, Overseas Passenger Terminal, The Rocks, Sydney 2000

Contact: 02 9251 5600

Opening Hours:

Dinner
6pm - 10pm daily

Lunch
12pm - 230pm (Tues to Fri)

Website: http://www.quay.com.au/index.html

Just to share some pictures taken from the top of the Overseas Passenger Terminal (where Quay resides)