Hurricane's Grill - One of Sydney's most popular dining chain and strongly recommended by friends and strangers alike. And the nearest outlet to our hotel was 20 minutes on foot away, more than sufficient to "walk up" an appetite.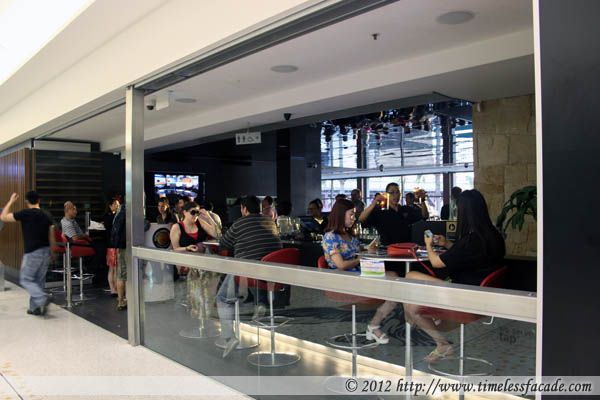 The Entrance
Located at the Harbourside Shopping Centre right along Darling Harbour, Hurricane's is so popular that you need to make a reservation at least a couple of days in advance (not bad for a chain!) or risk standing in (a long) line for a table (That was the scene we witnessed after our dinner). If you are aiming for the prime slot of around 7pm - 9pm on Saturday evenings where you will be able to view the fireworks display on darling harbour, please book way in advance.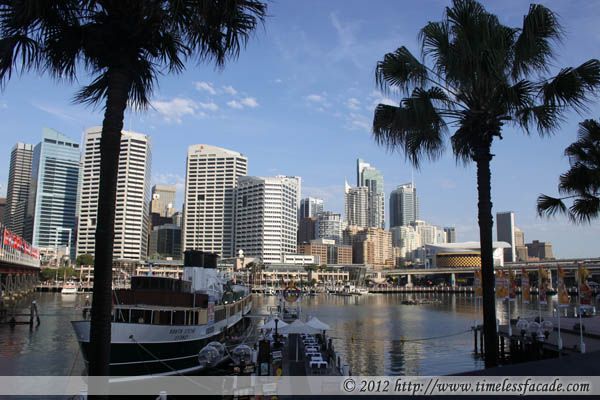 The View From Our Table
We were lucky to be blessed with wonderful weather - plenty of sunlight and temperatures of around 22 degrees Celsius. Naturally we asked to sit outside and were greeted by excellent views of the picturesque city skyline and cockle bay. And of course by our little furry friend.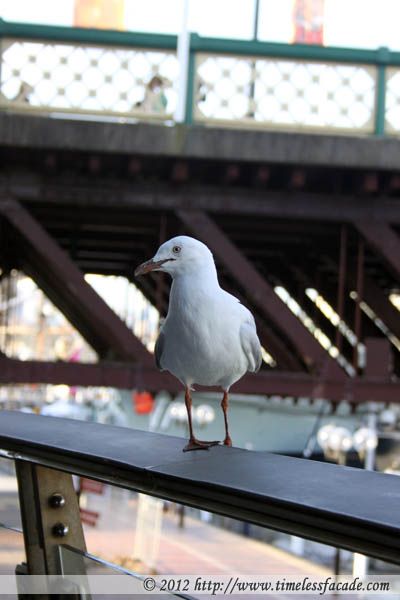 I Spy With My Little Eye
The seagull that never gave up. Constantly watching. Constantly waiting. Haha....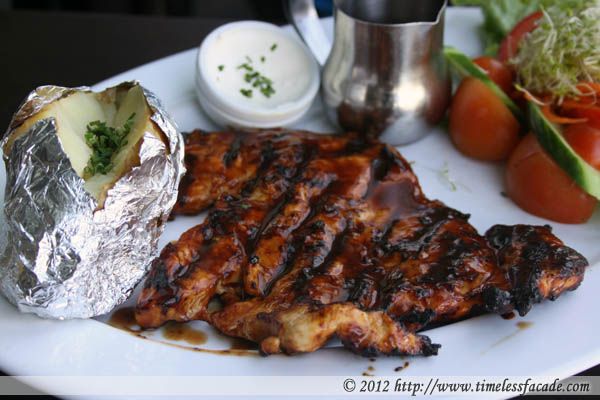 Grilled Chicken Breast
Charred along the edges and slathered with BBQ sauce, the chicken breast was tender but somehow didn't quite gel with the sauce. Maybe it's the texture. Also, some parts of the chicken were a little too charred and I could make out the bitterness amidst the sweetness of the sauce. Can't say I'm a big fan but still a very palatable dish overall.
Steak & Ribs
I was greedy so for the steak and pork ribs combo. The 200gm short cut sirloin was done medium as per my request and the came across as tender and juicy. However I couldn't quite make out the inherent beefiness or any saltiness for that matter. Simply put, a rather bland piece of steak.
But the undisputed star of our meal and the restaurant is definitely the ribs (in my case, pork ribs). This is the reason why so many people, locals and tourists alike, queue up for a table here. Fall off the bone tender meat with bits of crispy charred goodness and coated in their signature thick, sweet yet smokey BBQ sauce with a tinge of tartness probably from a dash of lime juice. Absolutely delicious! I was initially skeptical but I'm truly convinced. And just for the record, I developed a sore throat after eating the ribs but I will gladly do it all over again. Some call it gluttony. I call it an appreciation of good food ;)
Bill
The pork ribs single handedly pull this meal to great heights. Okay, the great view and weather definitely helped as well. And it wasn't really expensive by Sydney standards, at AUD 77.40 (~SGD 100) for a filling dinner for 2. I'll definitely be back for more!
Final Verdict:
Ambience: 8.5/10 (if you get the outside seats)
Service: 7/10
Food: 6.5/10 (8.5/10 for the pork ribs)
Value for money: 7/10
Overall: 7.25/10
Address: Shops 433-436, Level 2, Harbourside Shopping Centre (Other outlets available. See website)
Contact: 02 9211 2210
Opening Hours:
Monday to Saturday 12pm till 3pm for lunch
Monday to Saturday 5pm till late for dinner
Sundays & Public Holidays - 12pm till late
Website: http://hurricanesgrill.com.au/