Had an invitation to try out La Brezza's festive menu and being the
cheapo
ever grateful person that I am, unceremoniously accepted.
Interior
The restaurant used to sport a
Mediterranean theme and menu
, but has since switched to serving up Italian cuisine in a more sombre yet sufficiently casual environment. The lights are purposely kept dim to induce a relaxing atmosphere.

Complimentary Bread


Martina Franca Style Cured Pork, Baby Onion, Chanterelle Mushroom
The cured pork was nice and dry without coming across as too salty whilst the chanterelle mushrooms were savoury but a little too soft for my liking.
Asparagus Soup, Black Truffle Cream, Toasted Sicilian Almonds
I am a huge fan of asparagus and truffle but somehow this dish was let down by the execution. There was just too much truffle cream in it to actually make out the taste of asparagus. All I could taste was the richness of the truffle cream, which would have been well and good if this dish was black truffle cream soup. But the end product was still undeniably tasty, courtesy of the truffle cream of course.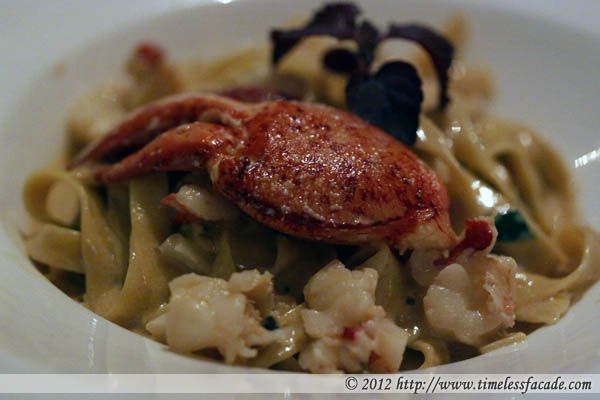 Homemade Tagliatelle, Cold Water Lobster, Lobster Cream, Fennel
Aside from the tagliatelle being a wee bit overcooked (probably due to how thin it was), this dish was great. Fresh and crunchy lobster coupled with a nice yet not dauntingly rich lobster cream base. Seconds anyone?


Pan Fried Seabass "Crazy Water" Style Braised in Tomato, Endive, Sea Salt Water
Acqua Pazza or "crazy water" in Italian, apparently originated from the fisherman on the Neapolitan coast who used sea water together with tomatoes and extra virgin olive oil to sautée their catch. I appreciated the story and found the fish quite interesting in the sense that it tasted uncannily like the pan fried version of Teochew styled steamed fish (weird I know!). The lightness of the sourish, mildly sweet broth all pointed in that direction and it was a little surreal eating this.
Sicilian Style Sauteed Veal Chops, Garlic, Anchovies, Pasley, Artichoke Gratin, Potatoes, Onion
Ironically, the star of this dish wasn't the veal but the artichoke gratin, which was nothing short of excellent. Crisp with a cheesy overtone, I finished every little bit of it. That's not to say the veal wasn't good though. It was well sautéed and firmly tender. However the topping didn't quite cut it for me and I resorted to scrapping it off.


Almond Cake Macerated in Rum, Espresso and Chocolate Mousse
And to round up the dinner, we had the Diplomatico, which wasn't anything outstanding but provided a nice bitter sweet ending to the meal.
Festive Cocktails
And four post dinner, specially concocted drinks for the festive season.Many thanks for the invite!
Final Verdict:
Ambience: 7.5/10
Service:NA
Food: 7/10
Value for money:NA
Overall: 7.25/10
Address: Level 2, St Regis
Contact: 6506 6866
Opening Hours:
Breakfast, 9.00 am - 11.00 am, Saturdays & Sundays

Lunch, 12.00 noon - 2.15 pm, Daily

Dinner, 7.00 pm - 10.30 pm, Daily
Prosecco Sunday Brunch, 12.30 pm - 2.45 pm, Sundays
Website: http://www.stregissingapore.com/labrezza