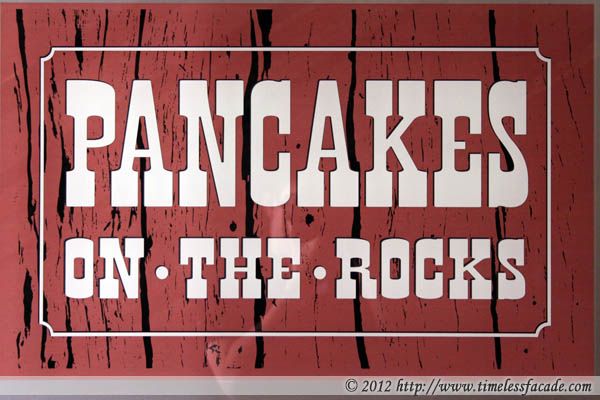 Being a pancake lover and backed by strong recommendations from my friends, we dropped by Pancakes On the Rocks @ The Rocks for a quick afternoon snack (or so we thought!). Started in 1975, this outfit has quite a few outlets across NSW and is apparently popular with locals and tourists alike. This particular outlet at The Rocks opens 24 hours a day, 7 days a week. Wow. The only place I know of in Singapore that does that is MacDonalds.
Interior
The place is quite a size, taking up two levels in the Metcalfe Arcade, a tiny building just adjacent to the weekend market. The first level has a projector television screening cartoons to keep the young ones entertained while the ground floor gives out a fast food outlet sort of vibe. Not that I'm complaining though. We were just there to eat and scram.
Grilled Chicken Caesar Salad
We started off with the greens, Caesar salad with an astonishing amount of tasty grilled chicken, fresh bacon bits and croutons (both sans the rancid oil taste). Coupled with crisp lettuce and an enormous serving, this proved to be a great (and filling) way to start the meal. Only gripe I had was that the chicken was overly salty and we had to consume quite a few glasses of water.
Seafood Crepe
The seafood crepe comprised fillets of fish, prawns, scallops, mushrooms and spring onions in a creamy white wine sauce and topped with hollandaise sauce and seafood sauce. The crepes were thin and the seafood, fresh. Nice but personally, I'm not really into savoury crepes and the crepes did seem a wee bit limp honestly.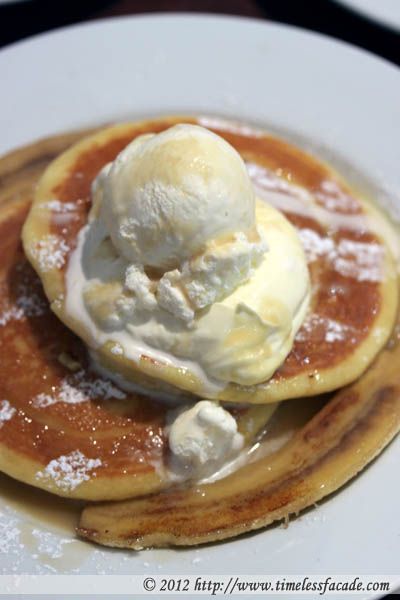 Bananarama
Fluffy, beautifully browned buttermilk pancakes with grilled banana and topped with home made, not overly sweet, butterscotch sauce and ice chip free vanilla ice cream - simply delectable! It is quite a size, so do share.
Bill
Our afternoon snack turned somewhat into a full blown, ginormous meal. All at a cost of AUD 42.85 (SGD 55), which is relatively reasonable in my humble opinion. Although I do like the Chicken Caesar salad, I personally feel that the pancakes are the main attraction here. So skip everything else and indulge in the variety of pancake desserts on offer. Anytime, any day ;)
Final Verdict:
Ambience: 6.5/10
Service: 6.5/10
Food: 7/10 (8.5/10 for the pancake)
Value for money: 7/10
Overall: 6.75/10
Address: 4 Hickson Rd, The Rocks NSW 2000, Australia
Contact:02 9247 6371
Opening Hours: 24 hours daily (The Rocks outlet)
Website: http://www.pancakesontherocks.com.au/