The year of the Dragon is set to make way for the Snake in 2 weeks and I had my first Lo Hei (捞起) session compliments of a lunch invitation from The Ritz Carlton Singapore.
Golden Crab Roe & Sea Urchin Yusheng
Instead of the usual, boring slices of raw fish, Summer Pavilion uses golden crab roe and sea urchin, which gives it a nice creamy texture and a mini burst of fishiness. Pretty good but can't say I'm terribly impressed.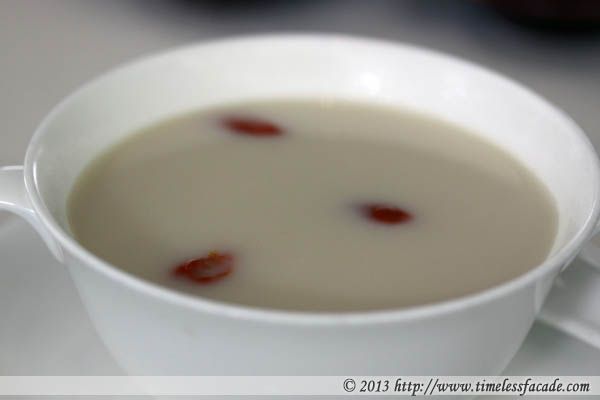 Doubled Boiled Cartilage Soup with Fish Maw
It's interesting that the word "shark" is missing from this dish. But having said that, I can't be sure if this is really shark cartilage soup or the word has been omitted on purpose due to negative environmental connotations. Nonetheless, the soup came across as light and savoury but the fish maw was a little too soggy for my liking. And I still didn't appreciate the layer of sediment lingering on my tongue after a few mouthfuls.


Braised Sliced Abalone with Dried Oyster & Black Moss in Beancurd Sheet
The dried oyster spoiled this dish for me as I dislike dried oysters quite a fair bit. To make matters worse, the beancurd sheet was a little too limp for my liking. But to give it credit, at least the abalone was reasonably sized and cooked just right, with the gravy coming across as savoury and not too starchy.


Steamed Sea Perch with Fungus and Vegetable
Visually contrasting with a rose petal served alongside a piece of fresh, snow white sea perch, this dish was simple and well executed. Firm, sweet flesh coupled with a generous garnishing of chopped garlic and spring onions, served on a bed of crunchy greens. I wouldn't mind seconds.

Braised Special Fish Noodles with Shredded Chicken, Ginger & Onion
I'm actually quite a big fan of fish noodles and the best ones I've tried in Singapore used to be from the old Hai Tien Lo @ Pan Pacific Hotel (It is still around but has undergone a major revamp). This offering from Summer Pavilion wasn't quite in the same league but still pretty tasty. Only tiny issue I had was that the noodles were a little overcooked, causing them to be a tad too soft without much bite.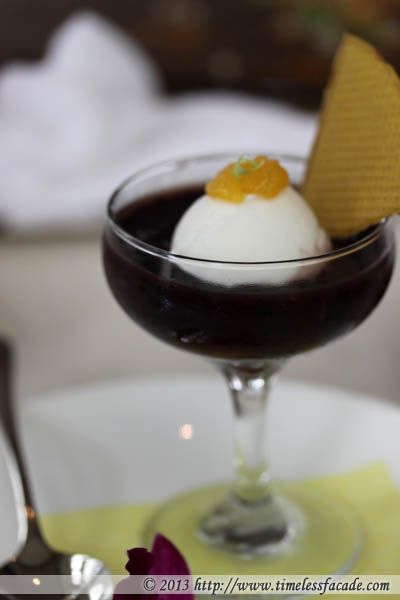 Chilled Black Glutinous Rice Topped with Coconut Ice Cream
And finally a chilled black glutinous rice topped with coconut ice cream to end off the meal - nice and not to sweet. Personally appreciated the tiny bit of orange compote atop the ice cream to help balance the sugar intake.
Thanks to Ritz Carlton for the invite!
ps: If this meal's food quality is anything to go by, I'm sad to say that Summer Pavilion's standards have slipped quite a few notches from a couple of years back when I used to patronise them.
Final Verdict:
Ambience: 8/10
Service: NA
Food: 6.5/10
Value for money: NA
Overall: 7.25/10
Address: Ritz Carlton
Contact: 6336 9093
Opening Hours:
Lunch from 11:30 a.m. - 2:30 p.m. (a la carte & dim sum)
Dinner from 6:30 p.m. - 10:30 p.m. (a la carte)
Website: http://www.ritzcarlton.com/en/Properties/Singapore/Dining/SummerPavilion/Default.htm