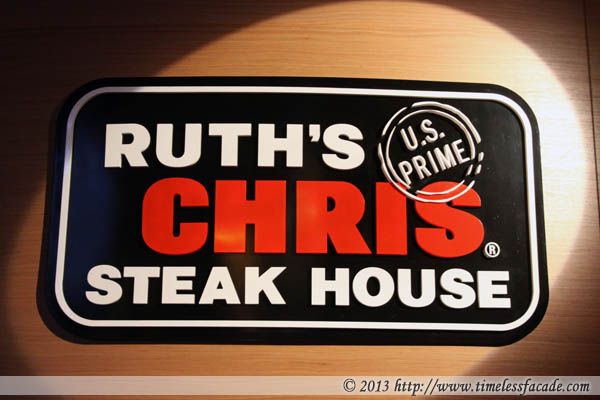 The idea was to do a comparison between our long time favourite steak house,
Morton's
, and the relatively new entrant to Singapore's F&B scene, Ruth's Chris. And so one Saturday evening saw the both of us dropping by Ruth's Chris for dinner.
Interior
Located where Restaurant Bologna used to be at Marina Mandarin Singapore, the interior hasn't changed much since the days of Bologna - crisp table clothes coupled with leather backed seats and wooden panels adorned with art. The window seats offer you a view of a huge water feature wall and of course the warmth of natural sunlight (if you arrive early enough). This place is decidedly more "upclass" and stifling than Mortons, which I personally like for its casual, convivial atmosphere.To be fair, the place was pretty much empty save for another 2 tables besides ours. So that could be a contributing factor to the "over attention" from the wait staff.
Complimentary Bread
Just your regular soft baguette served warm, nothing like the onion loaf from Mortons. But still something decent to keep your hunger pangs at bay whilst you await your orders. Morton's 1, RC 0.
Sizzlin Blue Crab Cakes
A little dry on the outside but moist within, the crab cake was chock full of crab meat and topped with capsicum, which gave it a nice contrasting flavour and texture. Personally I thought it was nice just that the crab taste was a little lacking. I'll rate this as a tie with Morton's as I really liked the use of capsicum here. Morton's 1, RC 0.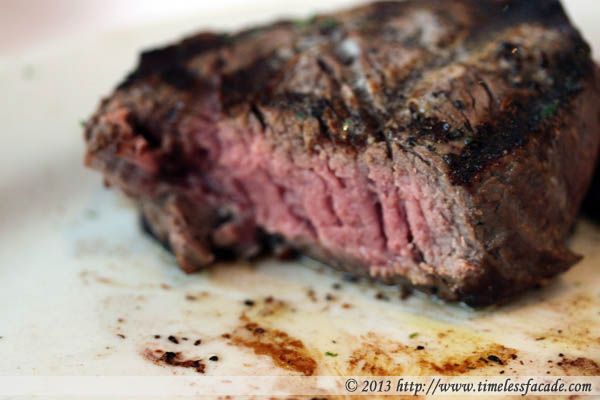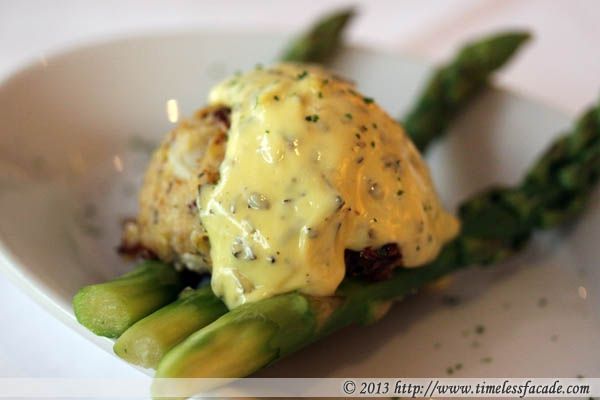 Petit Filet Oscar Style
The petit filet was 210g, which was a decent size considering I ordered it "Oscar Style", which simply meant an addition of asparagus and a lump of crab cake smothered in Bearnaise sauce (all for a mere $15++ extra). Now if only Morton's had such an option. That aside, the steak boasted tender, juicy meat that was a little crisp along the edges and well seasoned with salt. Very good! I'm gonna have to go with RC on this one as the filet marginally edges out the filet mignon from Morton's. And it definitely helps that RC has the option of an add on at a reasonable price. Morton's 1, RC 1.
Barbecued Shrimp
The BBQ shrimp were crunchy and decent sized but still a little smaller than what Morton's serves up (even after the downgrade in size). But what it lacks in size, it makes up in quantity (10 shrimps vs 6 from Morton's). The sauce reminds me of a creamy, garlicky concoction that has a mild burning sensation towards the end probably due to the copious amounts of garlic. In short, either you love it or you hate. And we loved it. But as Morton's Shrimp Alexander is vastly different, I am hard pressed to determine which dish has the edge. Morton's 1, RC 1.


Crème Brûlée
This is apparently a signature of Ruth's Chris. Though good, it wasn't anything I would go out of my way to order again. The vanilla bean custard base came across as creamily smooth whilst the caramel top was nicely and evenly torched. Portions are good for 2.


Warm Apple Crumb Tart
Huge, nicely sweet yet tart Granny Smith apple slices encrusted by a moist, fragrant tart shell and topped with a huge scoop of vanilla ice cream. Only minor gripes I had was that the tart was a little too soft for my liking and that the apple slices were a little too big for comfort. Having said that, this was still an excellent dessert and we preferred this over Morton's Upside Down Apple Pie. Morton's 1, RC 2.
Bill
Portions are a bit smaller at Ruth's Chris but prices are slightly cheaper, as compared to Morton's. Even so, dinner for the both of us (without any drinks) cost to the tune of $285. Food wise, based on the dishes we tried, Ruth's Chris has a slight edge. However, factor in the more casual, laid back ambience and service of Morton's and its a tie. But maybe you think otherwise?


Final Verdict:

Ambience: 7.5/10
Service: 8/10
Food: 8/10
Value for money: 7.5/10

Overall: 7.75/10

Address: 4th Level, Marina Mandarin Hotel

Contact: 6336 9093

Opening Hours:

Lunch: 11.30am – 3.00pm

Dinner: 5.30pm – 11.00pm

Website: http://www.ruthschris.com/Restaurant-Locations/singapore