Dropped by Royal China for lunch with a few of my colleagues during the seasonal break. It has been ages since I last dined at Royal China and I was eager to see if standards have kept up with the growing competition.
Interior
The decor is still a calming blue contrasted with white tables and chairs for that almost soothing effect (helps when the place is packed and the noise level goes up a few decibels).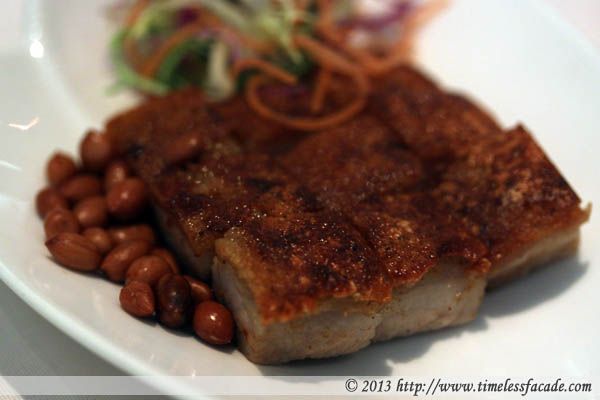 Roast Pork
One dish I can't resist ordering, especially when having dim sum, is the humble roast pork. Think crisp skin belying a succulent, mildly salted cube of meat with a reasonable proportion of fat (I personally like the fat to meat ratio to be about 1:4). But Royal China's offering was downright disappointing. Sure, the skin was crisp, but it was way too charred and there was a lingering bitterness with every bite. It definitely didn't help that the pork taste was a little overwhelming.
Prawn Dumpling
At least the prawn dumplings (虾饺) were decent. Mildly elastic, translucent skin wrapped around fresh and crunchy prawns.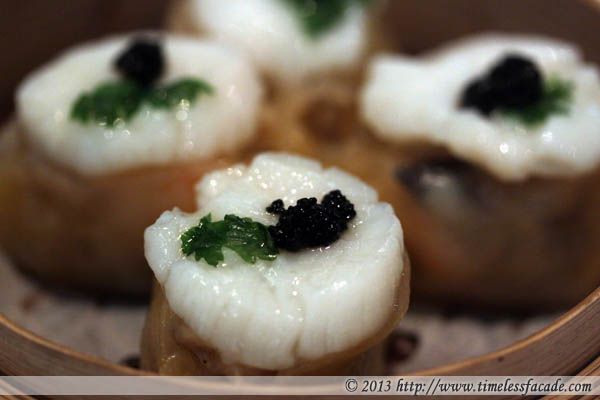 Steamed Scallop Dumpling
This was palatable with the fresh scallop topped with what looked like caviar (but without any discernible taste), sitting on a bag of mushrooms. Not particularly outstanding as the flavours were quite muted and honestly all I could make out was a generic raw vegetable taste.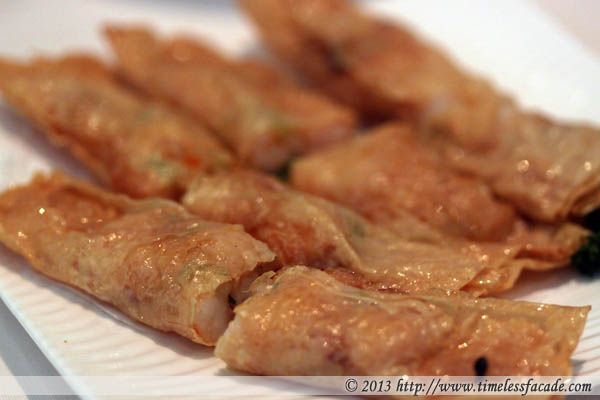 Fried Beancurd Skin with Prawns
Crackling crisp skin enveloping fresh, crunchy prawns. What's not to like? Just watch out of the excessive oil.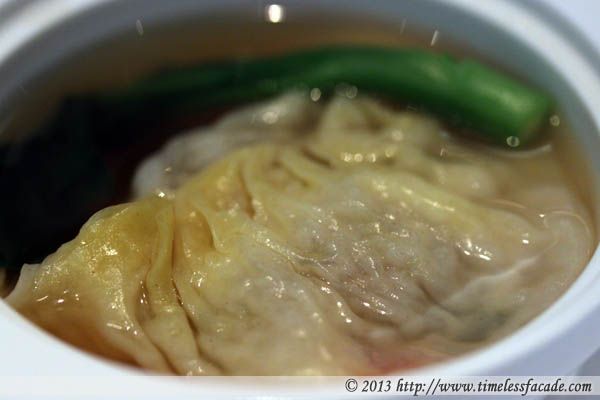 Shark's Fin Dumpling Soup
I thought the soup base was quite refreshing with a herbal tinge but I couldn't quite make out the fins within the flimsy dumpling skin enclosure. Pretty good still.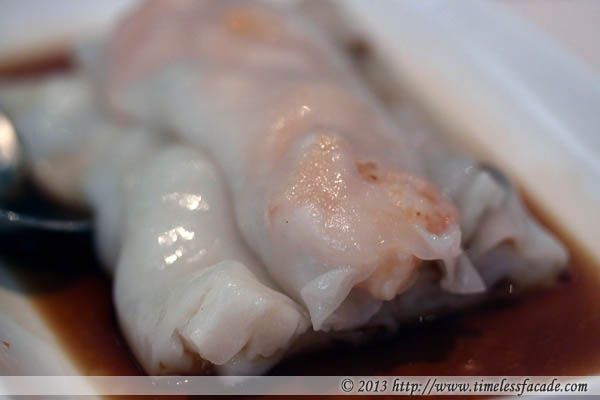 House Cheong Fun
3 rolls of cheong fun (豬腸粉). 1 stuffed with scallop, 1 with prawns and 1 with BBQ pork. And to be honest, neither stood out. The rice roll didn't come across as silky and the flavours were all rather bland. Still edible though.
Mushroom & Chicken Porridge
I wasn't expecting much but the porridge was really quite a let down. For starters, it wasn't smooth and flavours were also lacking. Someone pass the soya sauce please.
BBQ Pork Bun
A little too much flour but the BBQ pork wasn't too sweet or runny. Pretty decent.


Pan Fried Carrot Cake
I thought the carrot cake was another let down. Oily, barely smooth and bland. I wonder what possessed me to order this right from the start.
Egg Yolk Bun
As with the BBQ Pork Bun, the flour was a little too thick but the real disappointment was in the egg yolk filling, which didn't capture the contrasting saltiness and semi coarse texture of the yolk. In short, a total waste of money.
Pork Dumpling
The Siew Mai was pretty good - Fresh, crunchy prawns mixed in with a reasonable proportion of fatty meat and topped with a wolfberry (to lessen the guilt maybe?) sans the overwhelming porky taste.
BBQ Pork Puff Pastry
I thought this was probably the best dish of the afternoon. Flaky pastry stuffed with mildly sweet and starchy BBQ pork filling. Only thing lacking was the buttery aftertaste that I personally like.
Egg Tart
First looks, the egg tart didn't come across as appetising and indeed, it wasn't great. The pastry was flaky but lacked the buttery aftertaste and the custard filling was minimal.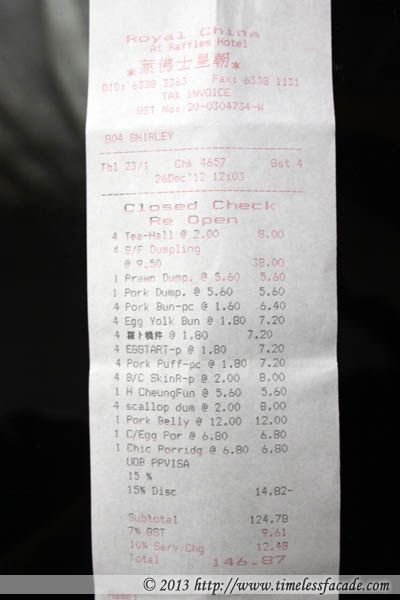 Bill
After a 15% credit card discount, the 4 of us chalked up a bill of about $147. Not too expensive but food quality seems to have nosedived since my
previous visit
over 2 years back. Service was competent but rather stiff and lacked warmth. In my humble opinion, Royal China needs to really buck up in the face of such intense competition and relook its food quality and service or risk being a has been. Gone are the days when there was only a handful of competent Chinese restaurants serving dim sum. And it's best if Royal China recognises this.
Final Verdict:
Ambience: 7.5/10
Service: 6.5/10
Food: 6/10
Value for money: 6/10
Overall: 6.5/10
Address: #03-09 Raffles Hotel Arcade
Contact: 63383363
Opening Hours
:
Lunch
Monday to Saturday - 12.00 noon to 3.00 pm
Sunday and Public Holiday - 11.00 am to 2.00 pm
Dinner
Daily - 6.00 pm to 10.30 pm
Website: http://www.raffles.com/singapore/dining/royal-china-at-raffles/