Popped by &Made by Bruno Menard for brunch one late Saturday morning since we were in the area. Read pretty good reviews about it and coupled with the fact that it is 3 Michelin Starred Chef Bruno Menard's (owner of the now defunct 3 star L'Osier in Tokyo) first restaurant in Singapore under his own name, we were pretty psyched about dining there.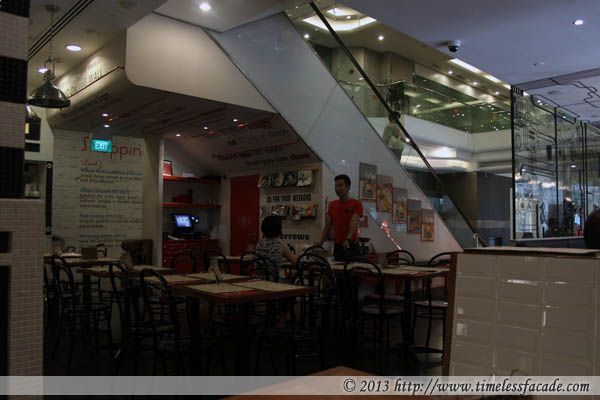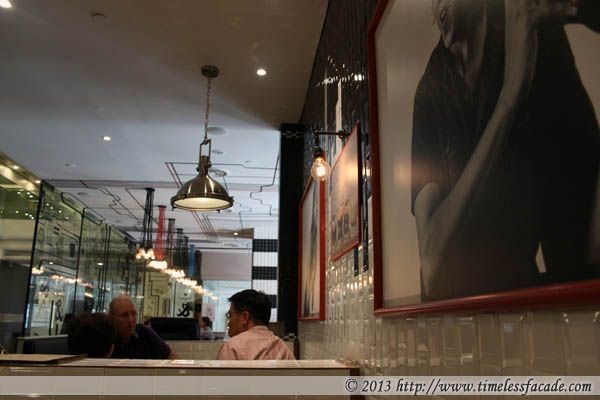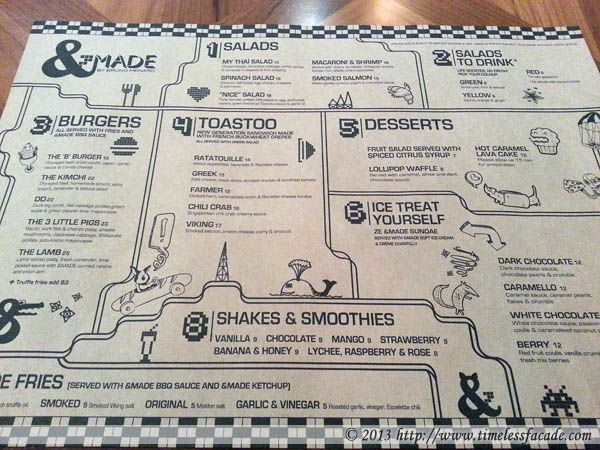 Interior & Menu
&Made occupies one corner of the ground floor at Pacific Plaza and has a rather quirky (a cross between a typical 80's video game and Alice in wonderland) feel to it. Seating capacity isn't extensive, probably about 60 pax or so and the best pick seems to be that of the booth seats if you have no more than 4 pax. Interestingly, with all the hype surrounding the restaurant, it was practically empty, save for 2 tables.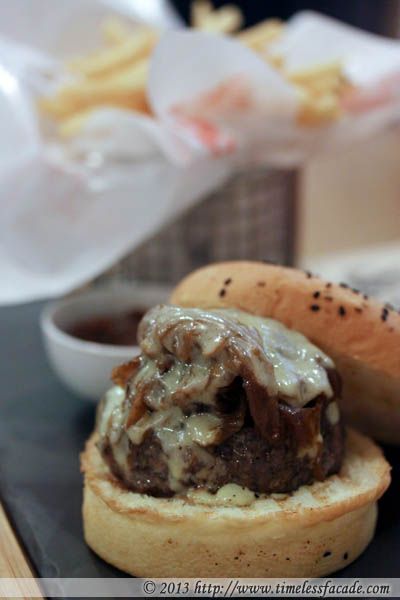 The 'B' Burger
The 'B' Burger was a tad tinier than expected whilst the patty, though done a perfect medium well, came across as tender but a little dry. The onion confit atop also proved a little overwhelming and I could hardly make out any beefy taste from the patty. I did like the bread though, soft and lightly toasted. For sides, the truffle fries (+ $3) was definitely a good choice, lightly salted with the strong fragrance of truffle oil. Overall still a pretty decent burger.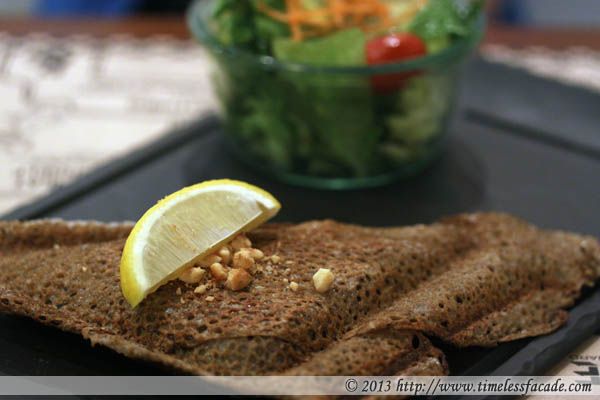 Viking Toastoo
It's the first time I'm seeing a Toastoo on a menu and apparently it is a new generation sandwich made with French buckwheat crepes (according to the menu). The viking version spotted smoked salmon, cream cheese, curry and broccoli, which sounded really interesting. Alas, it was nothing out of the ordinary. The sandwich had a crisp exterior with a stuffing of salmon (couldn't taste the smokiness unfortunately) and broccoli. The curry taste was hardly existent and honestly, the whole sandwich tasted healthily (probably due to all the broccoli) normal.
Lollipop Waffle
One of the rather quirky desserts on offer at &Made, the lollipop waffle. In actual fact, it is nothing more than a waffle cooked in a huge lollipop mold and served on a stick with 3 cylindrical containers of white, dark chocolate and caramel sauce respectively. But I did appreciate the visual creativity and the dessert looked almost too good to be eaten. However, the waffle did seem a little limp but credit goes to the consistency in cooking and the crisp edges. Not something I would personally order again for dessert though.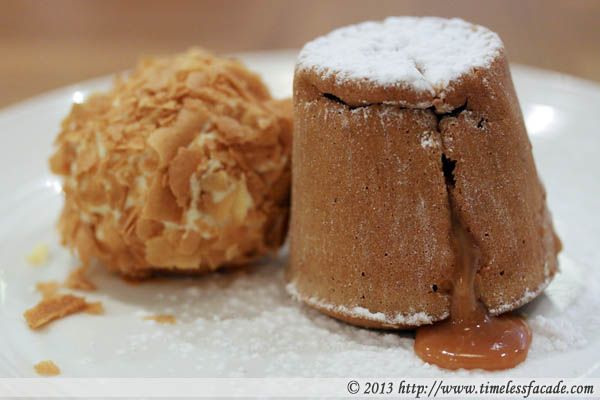 Hot Caramel Lava Cake
This, in my humble opinion, is the star of the entire evening, the pièce de résistance, if you may. Warm, not cloyingly sweet caramel oozing out of a fissure in the soft shell and served with a scoop of salted caramel ice cream coated with crispy flakes. Simply decadent! If you like your chocolate fondants, you should definitely try this.
Bill
The both of us literally stuffed ourselves and even had 2 smoothies to round up the meal, all at a cost of about $95. Cheap? Definitely not. The prices of individual items aren't really expensive per se but add everything up and the bill can be a tad alarming. After all, food quality is only slightly above average at best, save for the caramel lava cake. Service wasn't quite up to scratch with periods of inattentiveness. This I speak from two separate dining experiences (See pictures below from my 2nd visit). But to be fair, the wait staff were polite and responded promptly to requests made.
The 3 Little Pigs
Caramello
To sum up, I think &Made offers a decent meal proposition in a nice setting but lacks actual finesse in its food (bar desserts) and service can definitely be improved.


Final Verdict:
Ambience: 7.5/10
Service: 6.5/10
Food: 6.5/10 (7.5/10 for the hot caramel lava cake)
Value for money: 6.5/10

Overall: 6.75/10

Address: #01-04-06 Pacific Plaza, 9 Scotts Road

Contact: 6690 7566

Opening Hours:

Sunday to Thursday 10AM to 10PM

Friday & Saturday 10AM to 12AM

Website: http://andmade.sg/