Had the opportunity to try out Majestic Bay Seafood Restaurant (
冠華)
one weekday evening, courtesy of an invite. Helmed by Chef Yong Bing Ngen, who was formerly executive chef for Hai Tien Lo @ Pan Pacific Hotel and Jade Restaurant @ Fullerton Hotel, Majestic Bay is the latest addition to his stable of 2 restaurants - Jing and Majestic Restaurant.
Just for the record, I've never dined at Majestic Restaurant but I have tried out Jing
a couple of years back
and found it average. Needless to say, personal expectations of Majestic Bay weren't very high.
The Place
Being located at Gardens by the bay is really a plus point as you get a view of the sea, the Singapore Flyer and wide open spaces. The interior, though spacious with tables reasonably spaced apart, suffers from the typical "noise encapsulation" effect - the entire restaurant sounds like a market once the tables are filled and it is extremely difficult to carry a conversation, much less a meaningful one.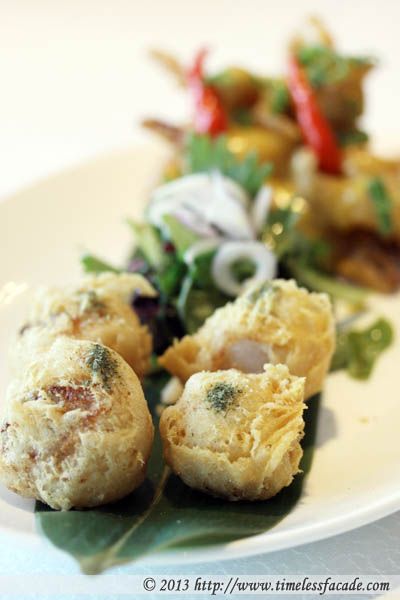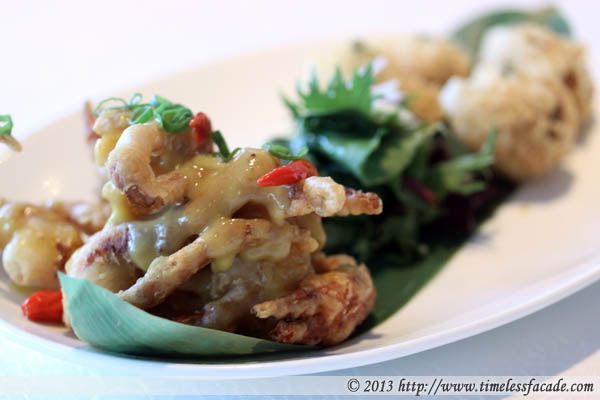 Crispy Lychee, Crab Meat, Mushrooms & Soft Shell Crabs, Lemon Butter Milk Sauce
The crispy lychee, crab meat combination didn't quite work out the way I envisioned it, coming across as rather flat and lacking in either taste. Maybe subtlety isn't always a good thing? I did think the soft shell crab was marginally better - crisp crab sans the oily aftertaste but with a rather overwhelming lemon butter milk sauce.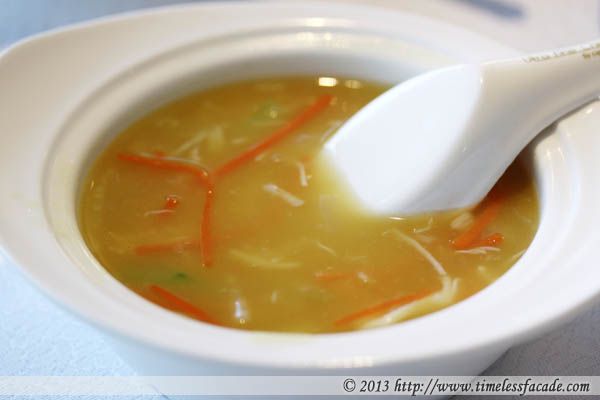 Braised Ocean Sunfish Maw, Crab Meat, Luffa, Thicken Yellow Soup
This soup wasn't too heavy on the palate (not too starchy) and had a respectable amount of vegetables coupled with strands of crab meat. Tasty but a wee bit too salty for my liking.


Steamed Live Prawns, Minced Garlic
I love steamed prawns with garlic but this didn't quite appeal to me for two reasons. First, contrary to the name of the dish, the prawns didn't seem as fresh as claimed. Second, the copious amounts of garlic overran the entire dish, masking the taste of the prawns.


Roast Chicken, Chilli Sesame Dressing
Whilst the chilli sesame dressing was a little too sweet for my liking, the roast chicken was pretty decent with its crisp skin and the load of fried garlic piled atop. Only pity was that the meat came across as a little too dry.
Live Crabs, Bay's Signature "Kopi" Sauce
The crab is first fried in butter with three types of coffee beans and apple jam and then served at the table where it is doused with coffee liqueur and flambéed. The aroma is almost instantaneous and the flames are a sight to behold. Theatrics aside, the crab tasted exactly like caramel popcorn, albeit of a different texture. Honestly, even though I do like the caramel taste, I still think it's quite a waste of good crustacean as the inherent sweetness of the crab was overshadowed.


Stewed Boston Lobster, Mee Hoon
A signature dish from Majestic Restaurant, the Stewed Boston Lobster Mee Hoon. Having tried a similar dish from
Imperial Treasure Cantonese
(
mee pok
instead of
mee hoon
), I'm of the humble opinion that Majestic's rendition isn't quite in the same league as that of Imperial Treasure. Sure, the lobster was fresh and the
mee hoon
nicely stewed but it wasn't anything too exciting. Can someone pass the white truffle oil please? :P
Sweet's Temptation
A platter of sweet desserts to end off our meal but I don't remember much except that I didn't quite take to the custard bun as it had too much flour. I did like the mochi with mango and cream as well as the pancake with seaweed topping though.

Thanks for the invite and the great company!


Ambience:7/10 (Nice place but can be very noisy)
Service:NA
Food:6.5/10
Value for money:NA

Overall:6.75/10

Address: Flower Dome, Gardens By The Bay, 18 Marina Gardens Drive #01-10

Contact: 6604 6604

Opening Hours:

Lunch (Mon-Fri) 11:45 am – 2:30pm

Lunch (Sat, Sun & PH) 11:30 am – 2:30pm

Dinner 5:45pm – 9:30pm

Website: http://majesticbay.sg/