On our previous visit to Four Seasons Hong Kong, we had a great time at one of it's 3 Michelin starred restaurant,
Lung King Heen
. This time round, we decided to do a post valentines day weekend lunch at its other 3 Michelin starred restaurant, Caprice.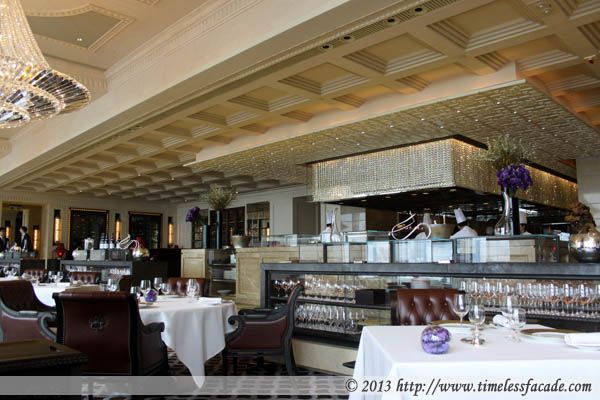 The Place & View From Our Table
Advance reservations are highly recommended, especially if you are looking to get a table by the window. Even though I had called about a month prior, the window seats were all taken and it was by sheer luck that someone cancelled their reservation and we were slotted in. So what do the window tables offer? Well, a breathtaking view (sorta) of the Hong Kong harbour through full length windows. But don't let the view take away any of the interior's lustre - beautifully designed to invoke a sense of grandeur befitting royalty with plush leather seats and grand chandeliers, the place is really in a league of its own.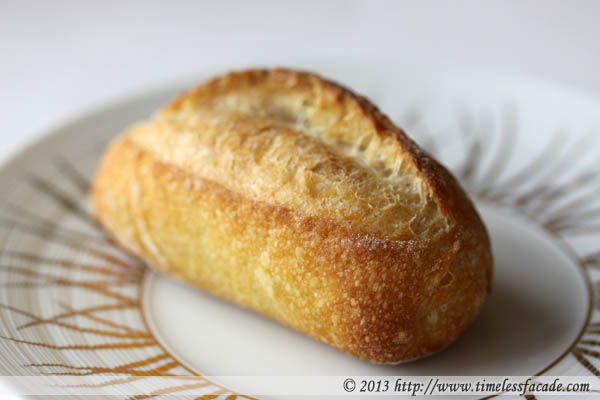 Complimentary Bread
The complimentary bread was no great shakes but good for a bite or two to stave off the imminent hunger.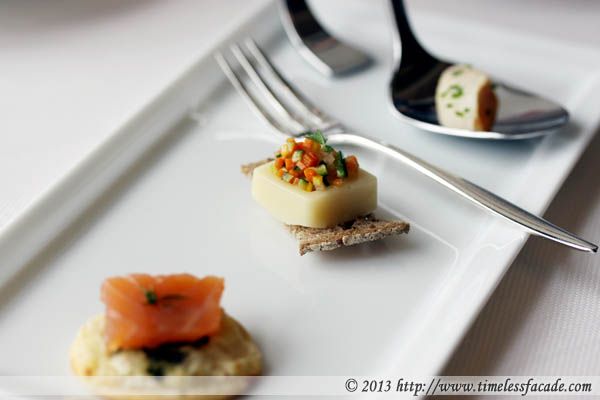 Amuse Bouche
A platter of delicately flavoured bites to start off our meal, just as we were finishing off our bread.


French Bean Salad, Duck Breast, Foie Gras & Garlic Croutons in Merlot Vinaigrette
A bunch of french beans wrapped in a slice of duck breast and topped with small pieces of foie gras terrine. First bite, the duck taste was evident together with the mild sweetness from the french bean. And as the chewing continued, the taste of foie gras slowly flittered in. Simple yet nice.


Alaskan King Crab Cake, Broccoli Mousseline & Marinated Vegetables
The Alaskan king crab cake was almost cylindrical in shape and had a sweet, beautiful crustacean taste to it. Served alongside was a light as air and creamy broccoli mousse, which made for the perfect accompaniment. Top marks for presentation and taste!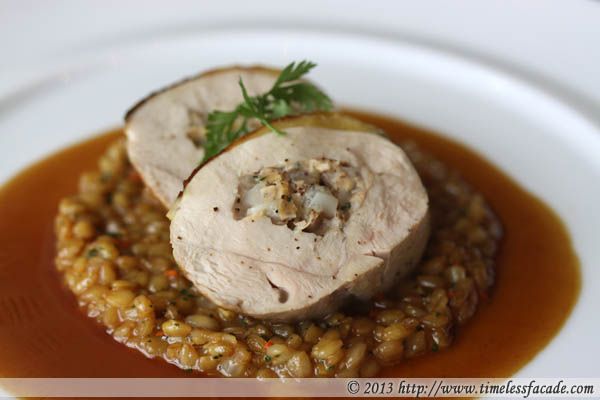 Stuffed Guinea Fowl with Lobster, Organic Spelt & Aromatic Tarragon in Natural Jus
Tender fowl meat coupled with a Brittany lobster center on a bed of nutty organic spelt (high in fibre and protein) - a most delectable pairing! The sweetness of the lobster complemented the mild gaminess of the guinea fowl and the au jus enhanced that flavour. Only small issue I had was that I found 2 husks in the spelt and I'm not sure the addition of husks was intentional on the part of the restaurant.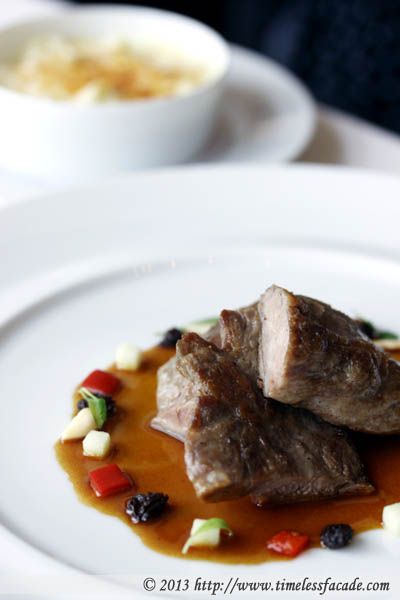 Iberico Pluma Pork & Cauliflower Gratin in Curry Sauce
Tender iberico shoulder meat belying a mildly salty, curry aftertaste sans the spiciness. Served with a bowl of cauliflower gratin that came across as light yet creamy. I like how the use of various vibrantly coloured vegetables add to the visual appeal of this dish.
Petit Fours
Just before dessert came the petit fours, which was prettily presented on a tray like compartment. I especially took to the strawberry macaron for its freshly tart yet sweet flavour though I did feel that the shell could be a little less chewy. The chocolate with mandarin orange wasn't my cup of tea as I couldn't quite reconcile the taste of mandarin orange with milk chocolate. But a novel idea (especially for Chinese New Year) nonetheless.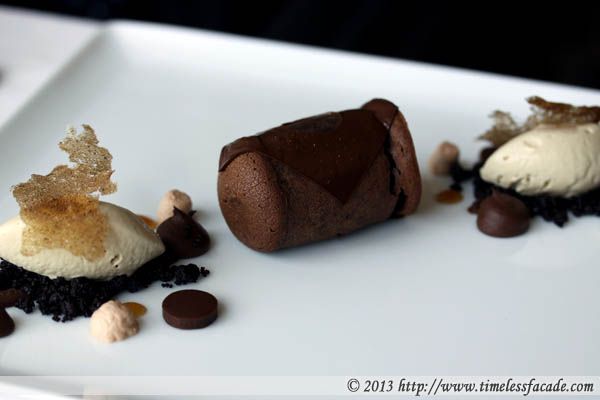 Chocolate Fondant of Coffee & Cappuccino Ice Cream
This chocolate fondant dessert proved to be that tiny blip in an otherwise unblemished lunch experience. Viscous chocolate and coffee center with a less than appealing, soft exterior. Coffee sheets, chocolate soil and smooth cappuccino ice cream rounded up the dish. Overall still a very respectable dessert but just falling short of expectations.


Millefeuille of Pecan Nut, Salted Caramel & Pear, Gianduja Ice Cream


The millefeuille was an instant favourite (with yours truly). Crisp puff pastry with salted caramel cream and pear bits sandwiched between and topped with sweet pear slices and 2 pecan nuts. Add a scoop of irresistible gianduja (chocolate & hazelnut) ice cream and you have a dessert that hits all the right notes (for me at least) without coming across as too sweet or nauseating.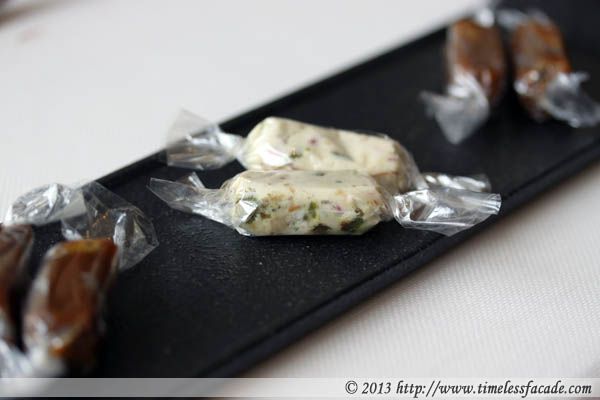 Complimentary Sweets
And our meal ended off with home made sweets courtesy of the house. That's honestly a first for me and I really liked the sweets, which alternated between tasting really great and getting stuck onto my teeth. Just remember to consume them as soon as you get them. I made the mistake of putting one in my pocket for an extended period of time and it came out of the ordeal really soft due to body heat.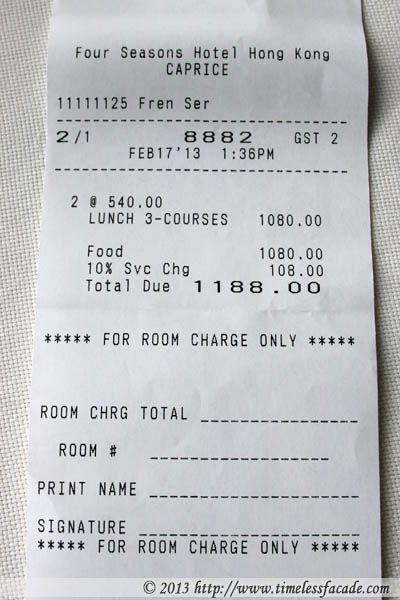 Bill
The ambience was great, the service was great and most importantly, the food was great. All at a cost of HKD 1188 (~ SGD 188). A return is definitely on the cards, this time definitely for dinner.


Final Verdict:
Ambience:9/10
Service:9/10
Food: 8.5/10
Value for money: 8.5/10
Overall: 8.75/10

Address: Podium 6, Four Seasons Hotel Hong Kong, 8 Finance Street (中環金融街8號香港四季酒店6樓)

Contact: (852) 3196-8860

Opening Hours:

Lunch: 12pm - 230pm

Dinner: 6pm - 1030pm

Website: http://www.fourseasons.com/hongkong/dining/restaurants/caprice/