Chan Kan Kee Chiu Chow Restaurant ( 陳勤記鹵鵝飯店) opened its doors in 1948 and is to date, the oldest Teochew restaurant in Hong Kong. Asia's richest man, Li Ka Shing, is said to be fan of this "Michelin Bib Gourmand" restaurant and its decades old (since 1948!) 滷水, in which it's famous goose is braised in.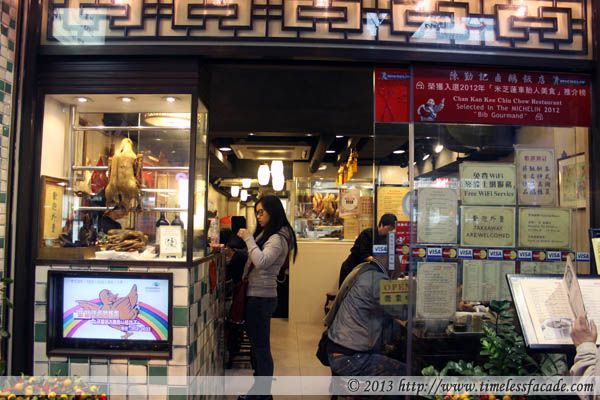 The Place
For a shop with such a huge reputation, I had expected a shopfront comparable to that of
Yung Kee
but in reality, it is a pretty small outfit located about a 5 minute walk away from Sheung Wan station. Seats are limited and we were lucky to get the last remaining table when we dropped by at 530pm on a Saturday.
Fried Kailan with Dried Sole Fish
A simple vegetable dish punctuated with that salty crispness of dried sole fish. A pity the kailan lacked wok hei but the generous servings of sole fish and the soft stems (which is rare in Singapore) more than made up for it.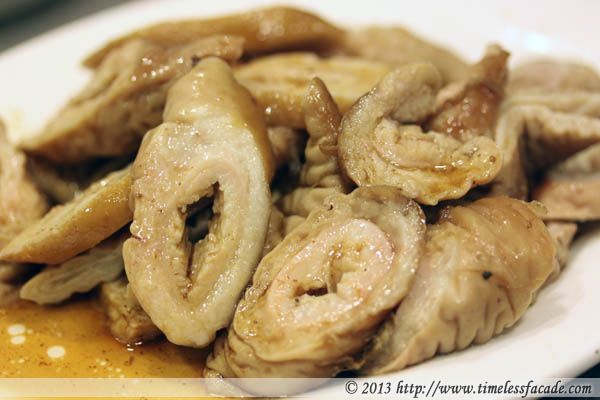 Braised Intestines
Plump braised pig chitterlings served up on a bed of beancurd, how could I say no? Crisp along certain edges with a soft, juicy center - great if you can stand the "porkiness"!


Famous Braised Goose Slices
And finally, the piece de resistance, Chan Kan Kee's famous braised goose. Thickly sliced pieces of mildly coarse meat immersed in a lightly salty gravy with hints of a rich embodiment - substantial and flavourful. Probably one of the the best goose meat I've had in a long long time. Portions are quite substantial so there's plenty for everyone (for the both of us at least).


Bill
A satisfying dinner for 2 cost to the tune of SGD 50, which is pretty reasonable for the quality of food you get. There are currently only 2 outlets (1 in Sheung Wan, 1 in Wanchai) so do go early or be prepared to wait for a seat.


Final Verdict:
Ambience:NA
Service:NA
Food: 7/10 (8/10 for the braised goose)
Value for money: 7/10
Overall: 7/10

Address: 1 Queen's Road West, Sheung Wan (上環皇后大道西11號地下), Hong Kong

Contact: 2858 0033

Opening Hours: Mon.-Sun. 11:00-22:00