Twas the weekend before Mother's day so we decided to beat the crowds (not to mention the ridiculously priced menus) and celebrate beforehand. A decision was made to try out Majestic Restaurant this year and honestly, my expectations were high as many people have raved about it.


Interior & Menu
The place wasn't big and the interior leaned towards western influences rather than Chinese, with a huge open kitchen and booth seats. We had a corner booth to ourselves which was pretty nice and cosy although I must say that the air conditioning that evening was underwhelming.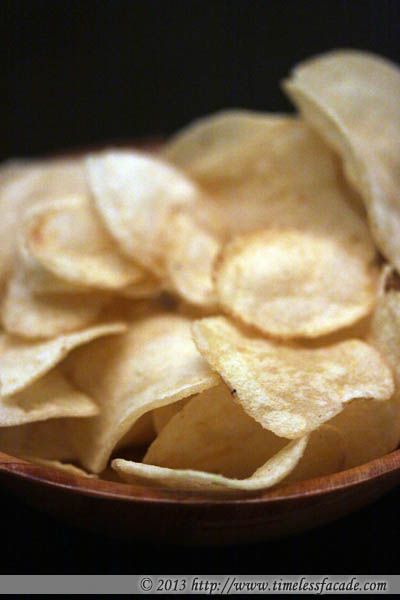 Wasabi Chips
Things got off to a good start with the wasabi chips - lightly salted, thin and crisp chips with a mild wasabi kick. Pretty addictive.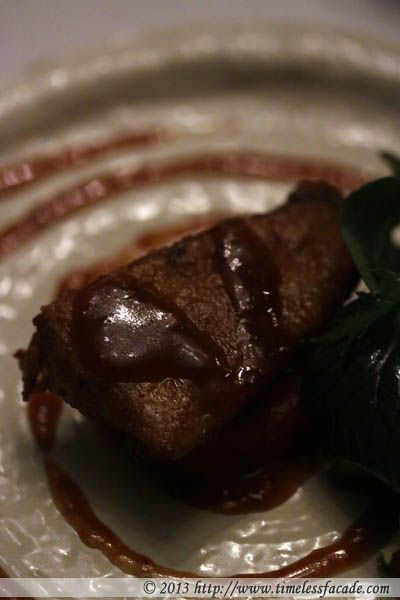 Pan Seared Foie Gras
Served up on a slice of watermelon, the foie gras's crisp, well seared exterior belied a soft quivery composition whose sweetness was complemented by that of the watermelon. One of the best foie gras dishes I've ever eaten in a Chinese restaurant.
Double Boiled Sea Treasures with Superior Shark's Fin and Black Truffle
I thought that the soup was deliciously sweet yet light. It definitely helped that there was a plethora of ingredients, from baby abalone to sea cucumber, fish maw, dried scallops, chicken etc. I'm usually not much of a soup person but this was one soup that had me yearning for more. One question though, where is the truffle taste?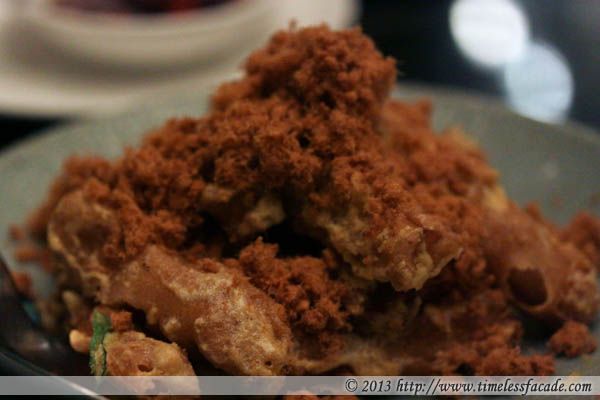 Deep Fried Brinjal with Pork Floss
I actually dislike brinjal but this dish was surprisingly quite palatable, with a crisp coating of flour and pork floss, very much like tempura. What I didn't quite take to was the oil content though.


Scallops Wrapped with Bacon
Looks can be deceiving and the scallops wrapped with bacon was one prime example of that. The scallops were huge and the bacon looked like it had nice charred bits along the edges. Alas, the scallops weren't sweet and had a flour like texture whilst the bacon came across as soft and limp. Seriously seriously disappointing.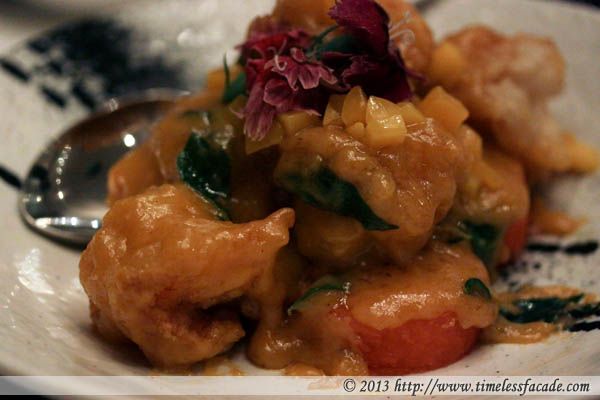 Salted Egg Yolk Prawn
A seemingly common dish in most Chinese restaurants these days, Majestic's variation came with slices of watermelon and chopped mango. The prawns were quite a size but I couldn't make out any taste or texture of egg yolk. Decent but there are probably loads of restaurants that do this dish better.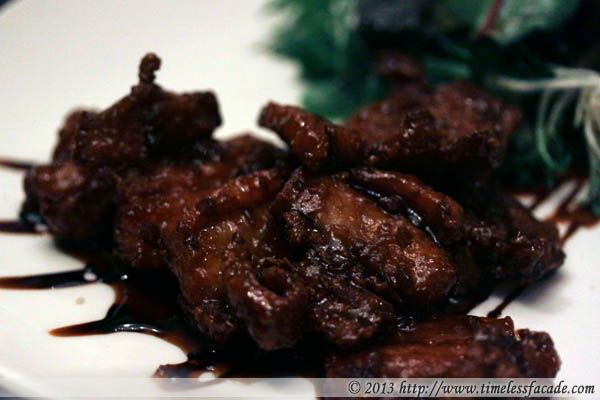 Zhejiang Spare Ribs
This was another disappointing dish, with the meat coming across as too hard. But at least the zhejiang vinegar was nicely tart with a hint of sweetness.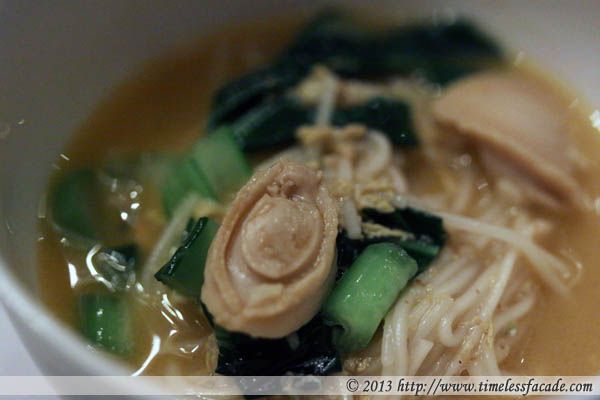 Signature Stewed Mee Sua with Baby Abalone
As much as I would like to understand the hype behind this signature dish, I am afraid I fail to comprehend. For starters, the baby abalone was, well, tiny and the soup base wasn't flavourful enough nor was the Mee Sua (面线) silky enough. Overall, a rather average dish in my humble opinion.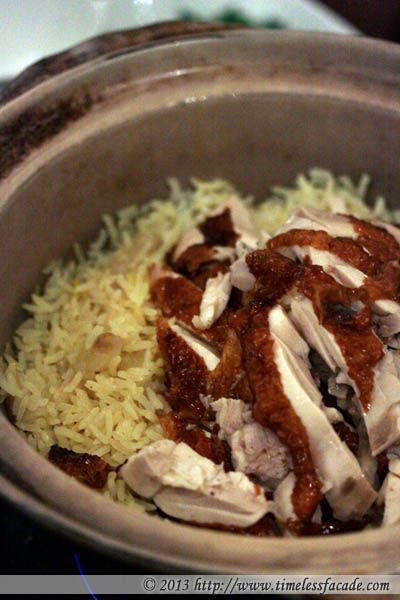 Signature Claypot Chicken Rice
Another signature dish from Majestic - the Claypot Chicken Rice. I can't say that I was wowed by it as it was evidently high class chicken rice. Sure, the rice was more fragrant than usual and less oily while the chicken was tender and reasonably plentiful. But seriously?


Durian Paste
We opted for the Mao Shan Wang (猫山王) durian paste to end off our meal and whilst rich, it didn't taste any different from eating straight out of the fruit as the gula melaka taste was non existent. Maybe I should have gone for the fried durian ice cream instead.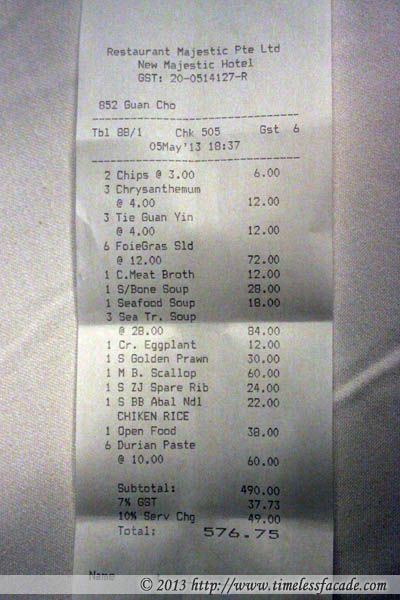 Bill
One word. Overrated. Dinner was a case of more misses than hits and wasn't cheap by any yardstick, standing at about $577 for 6 pax ($96/pax). Service was very good but I don't think that justifies the high price tag and less than stellar quality of food. I am pretty sure with $96/pax, I can get seriously better food elsewhere. Also, the choice of music played in the restaurant is pretty weird. Why would you play English pop music in a Chinese restaurant?


Final Verdict:
Ambience:7/10
Service:8/10
Food: 6.5/10 (7.5/10 for the foie gras and soup)
Value for money: 5.5/10
Overall: 6.75/10

Address: New Majestic Hotel, 31-37 Bukit Pasoh Road

Contact: 6511 4718

Opening Hours:

Lunch: 1145hrs to 1500hrs

Dinner: 1800hrs to 2230hrs

Closed on Mondays

Website: http://www.restaurantmajestic.com/

ps: I will be away for 2 weeks with no access to the internet so my next post will probably be in the later half of June. Eat well and prosper!