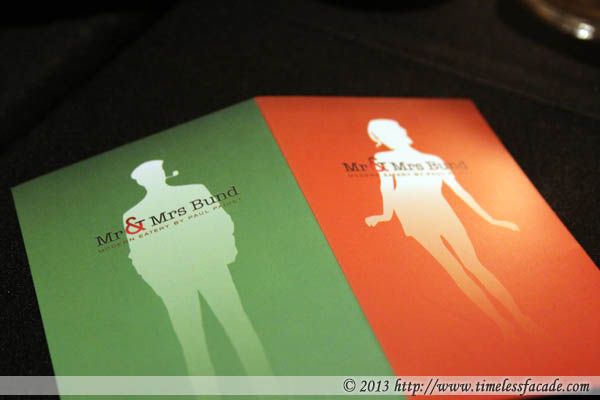 One wouldn't usually associate Shanghai with haute "western" cuisine but in recent years, more and more of such upclass eateries have opened, with some even appearing on various notable restaurant ranking publications. One such eatery is French restaurant, Mr & Mrs Bund, helmed by Chef Paul Pairet, which made it to 43rd in the "The World's 50 Best Restaurants 2013" (incidentally,
Quay
is at 48).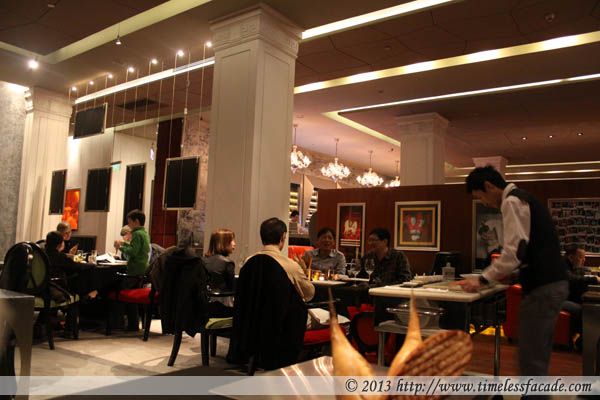 Interior & Menu
Located along the historic Bund area (上海滩), the restaurant's interior came across as rather artsy or as some might put it, whimsical. Lighting was rather dim and window seats proved to be the draw here ( apparently you need to book really early to get those) as it offers a view of the Bund area. Although tables were spaced adequately apart, noise was a pertinent problem as everyone seemed to be yelling and the loud background music definitely didn't do it any favours.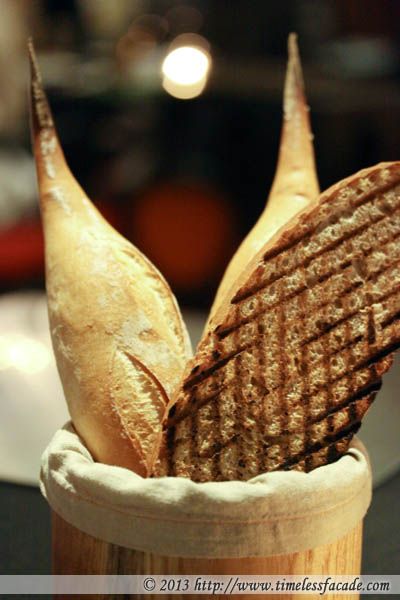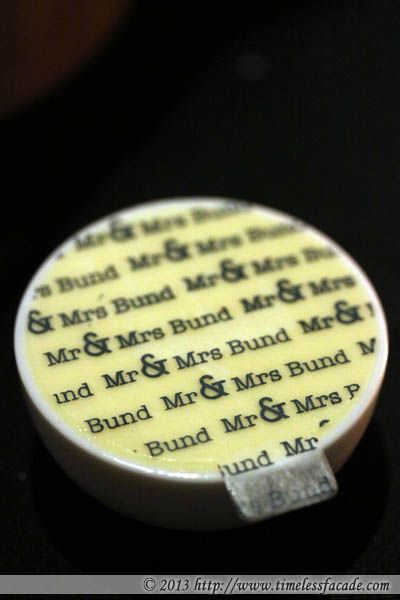 Complimentary Bread
The complimentary bread was served in an upright wooden container and I honestly think that they look better than they taste - crusty but a little too hard for my liking. And the pretty little dish of butter was pedestrian at best whilst the tuna rillettes came across as rather watery.
Scallops Lemon Ginger
This dish marked a great start to our meal with the decent sized scallops harbouring a tinge of lemon zest, following up with a hint of ginger and olive oil. Pretty interesting but they could have been a little firmer in the center. Still an excellent dish nonetheless.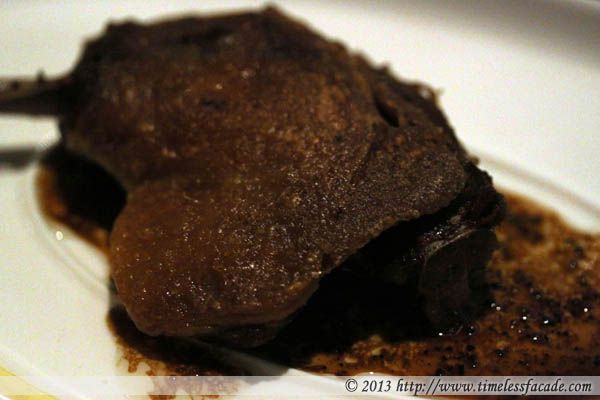 Duck Confit, Truffle Duck Jus
Crackling skin coupled with tender but way too salty meat. Can't say I enjoyed this very much and thank god for H2O.


Risotto Truffle & Paris
Though creamy, the risotto wasn't al dente and even the Paris mushrooms (portobello) and 3 thin slices of truffle couldn't save this painfully average dish. Not to mention that the lack of that distinct earthy truffle aroma was nothing short of disappointing.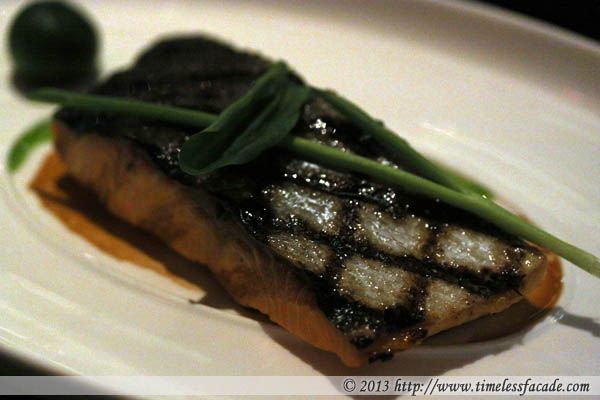 Salmon Bearnaise
Well grilled to 50% doneness as per request and served with Bearnaise sauce. I am not exactly a huge fan of salmon so I shall reserve my comments on this.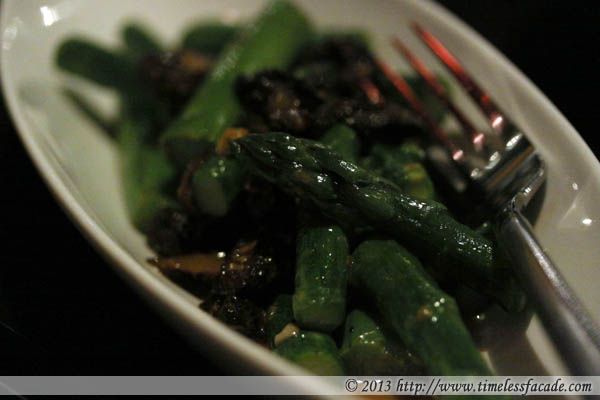 Asparagus with Morel Mushrooms & Dauphinois Prosciutto Truffle Brie
For sides we opted for the Asparagus with Morel Mushrooms and the Creamy Sliced Potato Gratin with Truffles, Brie Cheese and Prosciutto ham. The morel mushrooms were a hit, with their smooth, buttery aftertaste but the asparagus were a little too soft, almost bordering on limp.

Whilst I liked how the description of the gratin sounded, I honestly wasn't wowed by it. Think layers of thinly sliced, slightly firm potato with a creamy aftertaste coupled with the saltiness of Parma ham and the non existence of any truffle taste. Decent but not something I would order again.


Chocolate Coulant
The chocolate coulant AKA molten chocolate cake, boasted a less than ideal soft shell encapsulating viscous molten chocolate and surrounded by what seemed like watered down kirsh. The panna cotta ice cream tasted like vanilla ice cream to me so no big surprises there.


Apple Toffee
Now the apple toffee was quite a delight to consume. Toffee crumbles and apple slices dished out in a glass amidst a flurry of apple foam. Sweet with a tinge of tartness. Nicely done!


"Lemon & Lemon Tart" PP
Mr & Mrs Bund's signature dessert and the one many publications have been raving about. An entire candied lemon stuffed with lemon curd, lemon sorbet and vanilla chantilly (whipped cream) which came across tasting a little like sweetened tangerine but with the tartness of lemon. Whilst I was impressed with the concept and the execution, I must say that the taste was rather underwhelming. Maybe because I'm not really a lemon kind of person.
Bill
Dinner for the 3 of us rolled out to be 1175 CNY (~ 235 SGD) which wasn't too bad for fine dining standards but food quality failed to meet the mark in my humble opinion. Coupled with the less than desirable service standards and the bar like ambience, I am hard pressed to return.So much for rankings.


Final Verdict:
Ambience:6/10
Service:6/10
Food: 6.5/10
Value for money: 5.5/10
Overall: 6/10

Address: Bund 18, 6/F, 18 Zhongshan Dong Yi Lu (near Nanjing Dong Lu), Shanghai 200002 [外滩18号6楼,中山东一路18号 (靠近南京东路), 上海 200002]

Contact: +86 21 6323 9898

Opening Hours:

Lunch: 11:30am to 2:00pm (Monday to Friday)

Dinner: 6:00pm to 10:30pm (Sunday to Thursday)

6:00pm to 11:00pm (Friday & Saturday)

Night: 10:30pm to 2:00am (Tuesday to Thursday)

11:00pm to 4:00am (Friday & Saturday)

Website: http://www.mmbund.com/