A new steakhouse, Bull & Butcher, recently opened up in town and I had the opportunity to drop by to sample a couple of its signature dishes, courtesy of the restaurant. The eatery attempts to differentiate itself from the other steakhouses by offering diners a view of the butchers in the kitchen (dressed in traditional chain mail aprons, no less) slicing up their choice of meat. And in case you are wondering if it is in the same league as the big boys (Morton's, Ruth Chris etc), no it definitely isn't. Price wise at least.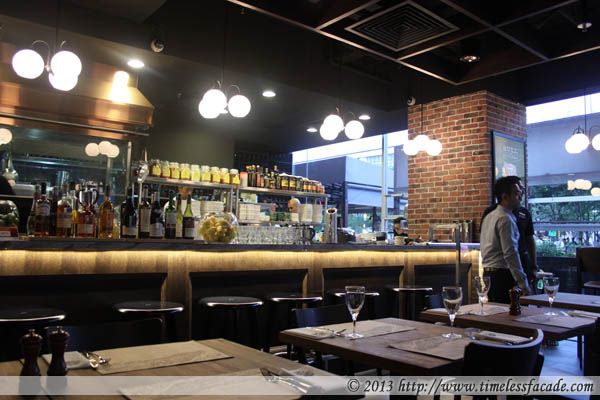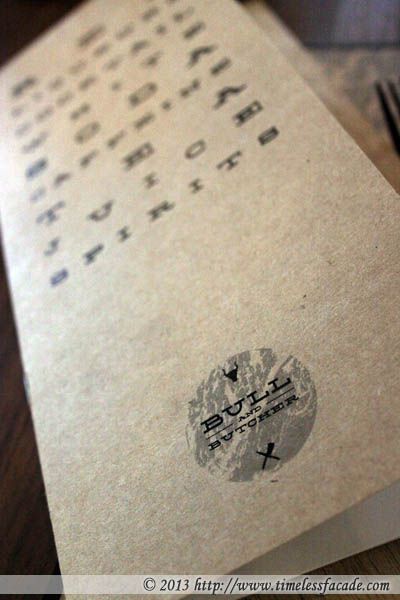 Interior & Menu
Occupying a rather prominent unit just next to the main entrance of Plaza Singapura along Orchard Road, Bull & Butcher doesn't come across as very big but there is an outdoor alfresco area if you prefer Singapore's humidity and heat (not to mention cigarette smoke). Inside, tables are spaced decently apart which makes for relaxing conversation but the overall design isn't much to rave about - very much like your typical western restaurant.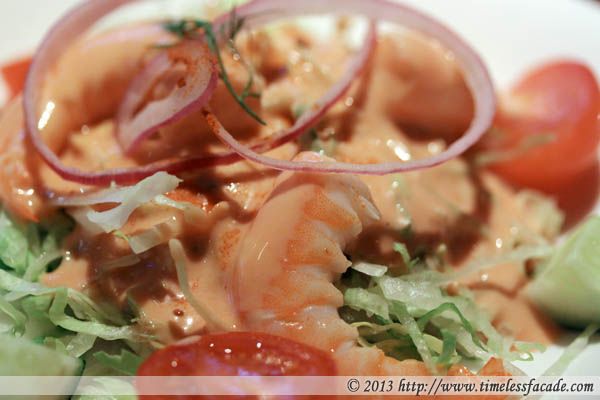 Prawn Cocktail ($14)
Dinner kick started with a prawn cocktail, which featured huge, crunchy prawns amidst an avalanche of thousand island sauce. Decent.
Roast Whole Garlic ($8)
This was actually a side and although I do like garlic, I don't quite relish the experience of eating it whole with skin and all. But that's just a personal preference.
Crab Cake, Sundried Tomato Sauce ($16)
The crab cake had a generous amount of crab meat but the breaded coating probably wasn't the best way to encapsulate the crab meat due to the absorption of oil. And the sundried tomato sauce failed to capture the intense burst of tangy, mildly sweet flavour that I had hoped for. Instead, it had a mild curry tinge to it for an Asian slant. Fusion maybe? Personally I still prefer the renditions from
Morton's
and
Ruth's Chris
.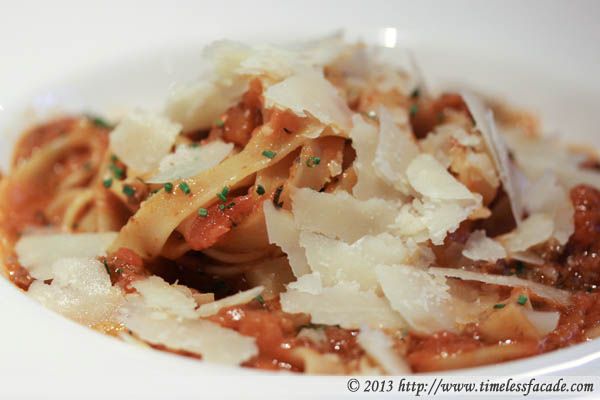 Australian Wagyu Bolognaise Pasta ($26)
I'm of the humble opinion that good beef should never be minced because it would affect the texture and taste of the beef. And this pasta dish wasn't about to change my mind. Minced beef coupled with a rather mild tomato based sauce and less than al dente tagliatelle made for an average, carbohydrate laden dish.
Braised Australian Wagyu Beef Cheek ($38)
Melt in the mouth tender beef cheek sitting on a bed of charmingly smooth mashed potato and a stock that's not overwhelmingly sweet - what's not to like? Well maybe the price to portion ratio. But that aside, this was easily one of the best dishes of the evening in my humble opinion.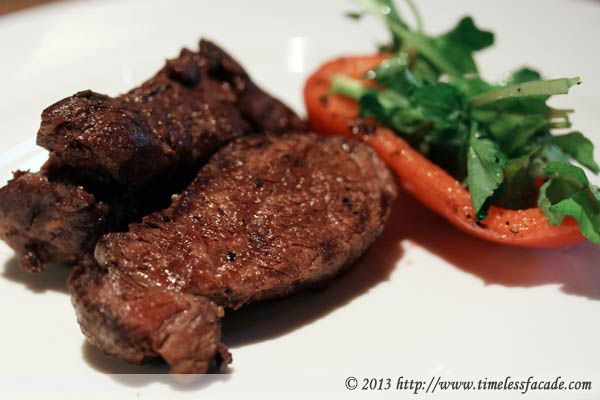 Petit Tender
The petit tender or "beef shoulder tender" is a small centre cut beef tenderloin which lies below the flat iron steak and is known to be of similar quality to the filet mignon. This cut isn't used much as it apparently requires a certain level of skill to extract. And it is currently exclusive to Bull & Butcher (off the menu though!).

First looks, the medallion shaped piece of meat was of reasonable thickness and done up medium rare. Natural flavours were drool worthy and accentuated through the use of a little salt seasoning. The only gripe I had was that the meat came across as a tad too dry for my liking.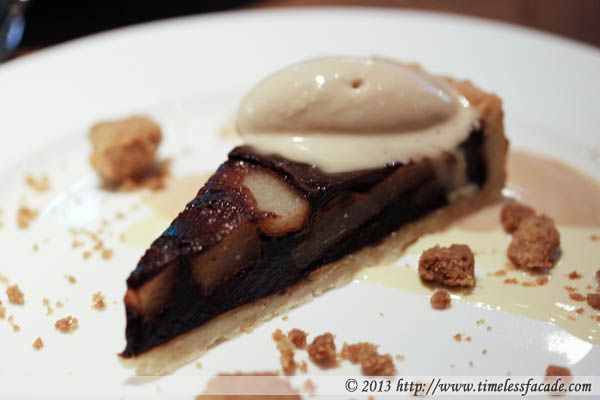 Pear and Chocolate Crumble, Vanilla Ice Cream ($12)
And for desserts, pear and chocolate crumble served with a scoop of vanilla ice cream. The crust lacked the oven baked taste whilst the chocolate came across as a little underwhelming. But on the bright side, I loved the little wayward chunks of crumble.

Thanks to Bull & Butcher for the invite!


Final Verdict:
Ambience: 7/10
Service: NA
Food: 6.5/10 (7/10 for the beef cheek & petit tender)
Value for money: NA
Overall: 6.75/10

Address: #01-33/35 Plaza Singapura

Contact: 6338 3820

Opening Hours:

1130am - 10pm (Sun to Thurs)

1130am - 11pm (Fri, Sat & PH eve)

Website: http://www.bullandbutcher.com.sg/