Recently attended an invite hosted by the charming PR folks of Sheraton Towers Singapore @ Li Bai, the well regarded Chinese restaurant of the hotel.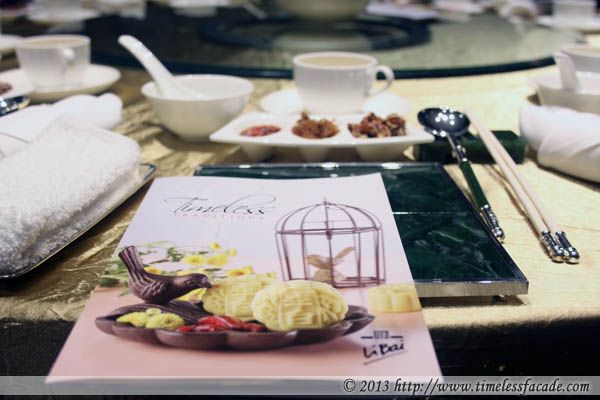 The Table Setting
The idea behind this invite was to showcase their mooncakes for the upcoming Mid Autumn Festival (中秋节) on September 19, 2013. And in case you have the same reservations as me about solely eating mooncakes for dinner, no, dinner was an exorbitant 6 course meal ending off with the delectable, lunar inspired dessert.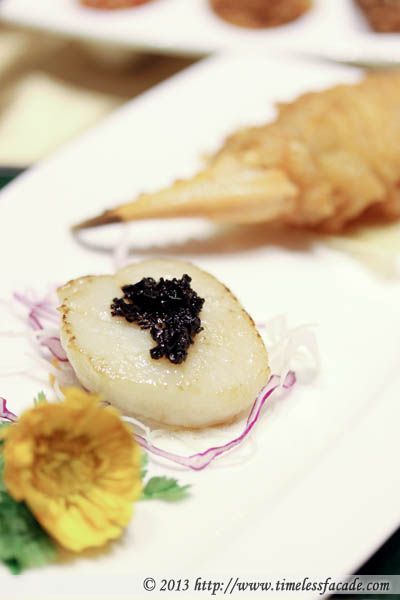 Deluxe Combination
We started off with the deluxe combination, a platter comprising a lone scallop topped with a black truffle mixture as well as a crab claw coated in batter and deep fried. The scallop was quite a size but a little too soft for my liking. Flavours were wonderful though, especially with the fragrance and earthy taste of the truffle. I couldn't quite say the same for the crab claw though, which came across as mildly spicy but overly salty. Waste of good crab if you ask me as the natural crab flavours were totally overwhelmed.
Braised Thick Soup of Bird's Nest with Homemade "Pi Pa" Beancurd
I seldom see bird's nest being used in soups and honestly, it wasn't a game changer for me. The soup was of the right consistency and flavourful with plentiful crab meat and bird's nest, with the latter providing a unique gelatin spin. Pretty good! However, I did find the soup a tad too salty though.
Baked Fillet of "Kurobuta" in Capsicum
Sitting atop a bundle of crunchy and delicious leek, the kurobuta pork was tender and savoury with a mild hint of capsicum towards the end. Nice!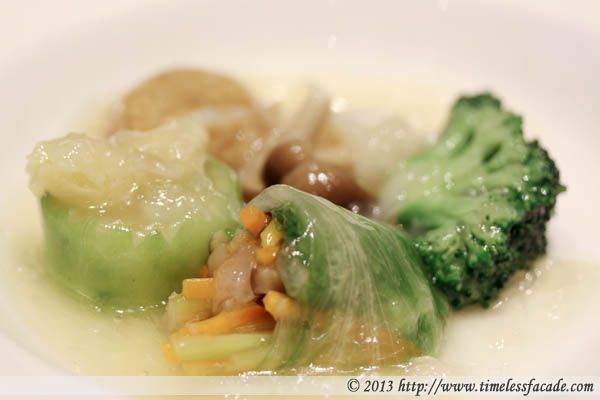 Braised Assorted Vegetables with Bird's Nest
For the obligatory greens dish, the braised assorted vegetables with bird's nest was nicely presented with the likes of luffa, broccoli etc but I didn't quite make out the bird's nest, which was a pity, really. I am of the humble opinion that bird's nest should remain as dessert instead of trying to infuse them into savoury dishes.
Crispy Noodles Rolled with Lobster
I do like crispy noodles (生面) but in moderate quantities. And the noodles in this case were rather excessive to the point of almost overwhelming the taste of the lobster. But all in all still a great dish with fantastic presentation. Just be careful not to get your eyes poked by the feelers whilst attempting to savour this dish.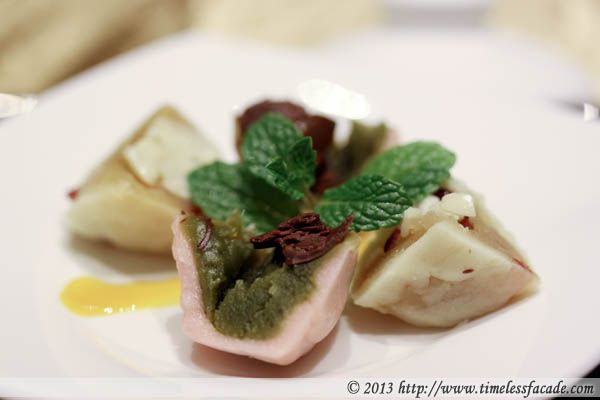 Snow Skin Mooncake
And of course, rounding up the meal were bite sized snow skin mooncakes. I am definitely not a mooncake person but I did find myself enjoying them as the flavours were surprisingly light on the palate without being too overladen with sugar. Definitely another option for me to mull over as a gift to family and friends this Mid Autumn Festival.

Thanks to Sheraton Towers Singapore for the invite!


Final Verdict:
Ambience: 8/10
Service: NA
Food: 7/10
Value for money: NA
Overall: 7.5/10

Address: B1 Sheraton Towers Hotel

Contact: 6839 5623

Opening Hours:

Monday to Saturday: Lunch, 11.30am to 2.30pm

Monday to Sunday: Dinner, 6.30pm to 10.30pm

Sunday: Yum Cha, 10.30am to 2.30pm

Website: http://www.sheratonsingapore.com/li-bai