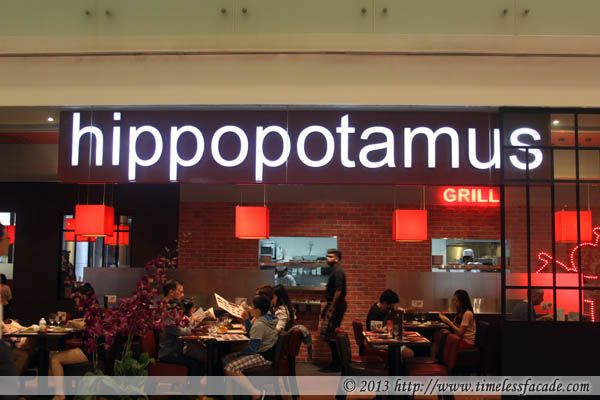 Had been meaning to try out Hippopotamus for the longest time, after reading about and seeing an outlet in Paris a couple of years back. And so we dropped by for an early dinner on a Saturday evening. Apparently the eatery's selling point is its wide range of beef cuts at affordable prices. Honestly, I am not too hung up on the variety of cuts because I am not picky but I do like the sound of affordable.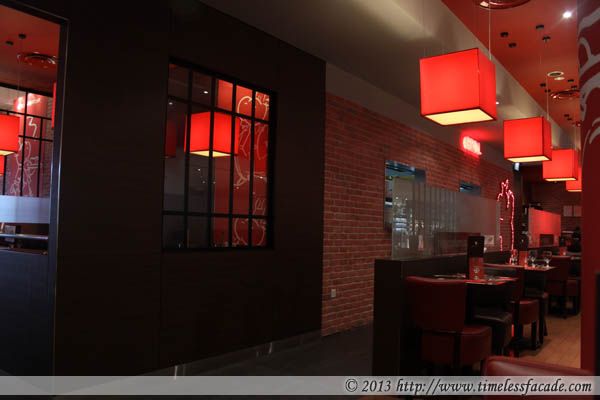 Interior
Because the restaurant is located along a rather quiet stretch on the ground floor of Marina Square Shopping Mall, it offers an "al fresco" dining area alongside the pedestrian walkway as well as seating in the inner chambers which offer more privacy. Exposed brick walls with red, square lights complete the cafe like setup.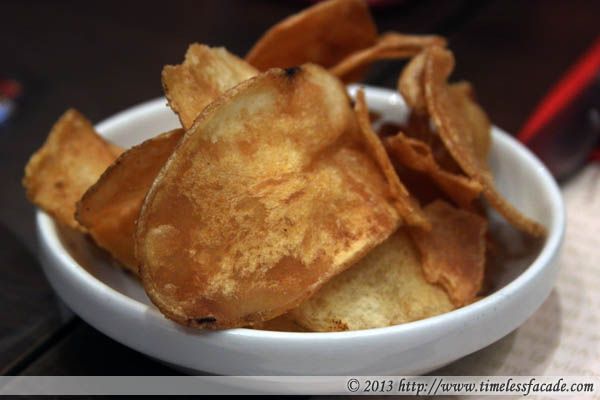 Complimentary Chips
This was served alongside a basket of dry, hard and mildly sourish bread (skip it!). No surprise the chips were the first to go - crisp and a great way to start off.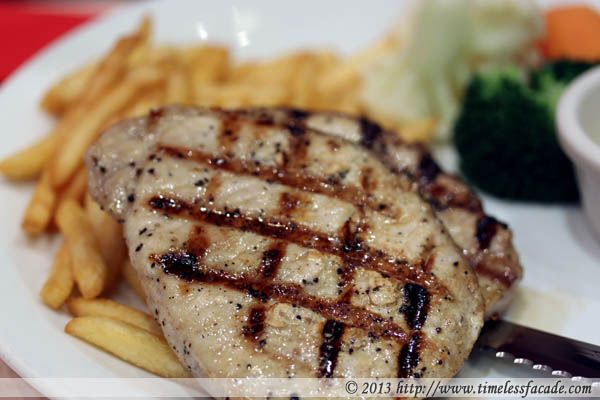 US Pork Chops
A very flavourful and well grilled piece of pork that threatened to put alot of "western" restaurants to shame.A pity the meat was a little too dry and tough for my liking. Also, some of the accompanying fries came a little too charred as well.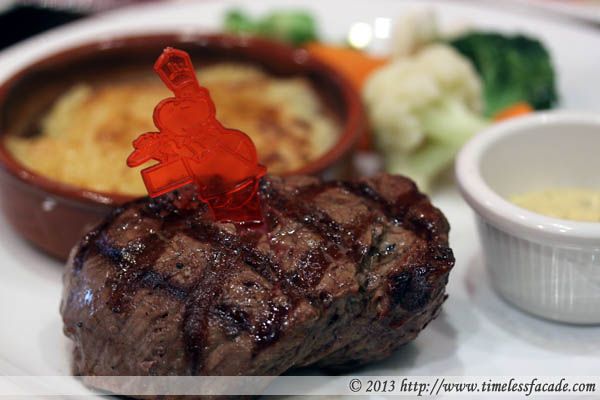 Tenderloin "Chateaubriand"
The crème de la crème of the cuts and the tenderest of them all, the Chateaubriand tenderloin (Chateaubriand is actually a recipe involving a particular thick cut of beef) was a little overcooked to medium well, contrary to my request for medium rare. Nonetheless, it was still tender with nuances of bovine flavour seeping through with every bite. I would have liked the flavours to be more pronounced though. Served alongside 2 sides of your choice.
Chocolate Hazelnut Cake
Coming across as a little dense and dry and tasting overwhelmingly of chocolate with a nuance of hazelnut, the cake had tiny crumbs of hazelnut etched atop and sat in a shallow pool of vanilla cream. Brownies, anyone?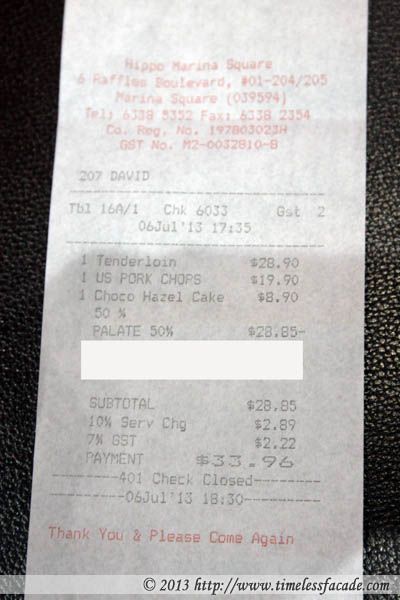 Bill
With a 50% discount courtesy of my palate card, dinner was relatively inexpensive at about $34 for 2 pax. I know it's not a fair comparison but at this price point (50% off) and quality, it beats the likes of Astons or any other budget steak house hands down in my humble opinion. However, take the discount away and the value ratio decreases quite a bit. Service was decent but could be a little more attentive (my glass of water was never refilled). All in all, a place I would only return with the 50% off.


Final Verdict:
Ambience: 6.5/10
Service: 6/10
Food: 7/10
Value for money: 7.5/10 (with the 50%)
Overall: 6.75/10

Address: #01-204/205 Marina Square

Contact: 63385352

Opening Hours: 11am - 10.30pm daily

Website: http://www.hippopotamus.com.sg/