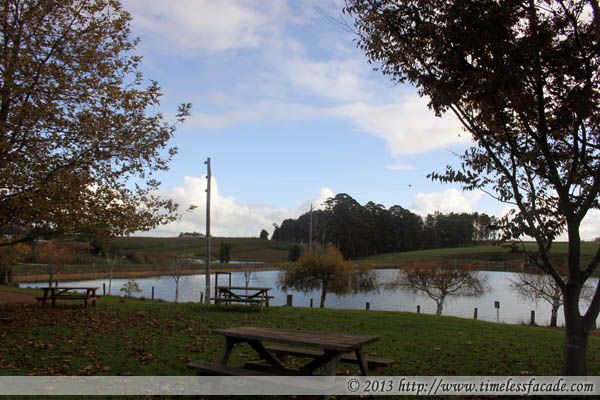 The Place & View
And what a beautiful day it was! Cooling winds coupled with lots of sunshine and the sight of autumn foliage was pure nourishment for the weary (definitely beats the view in winter). The interior of the cafe hasn't changed a bit and the red cheery walls greet you upon arrival.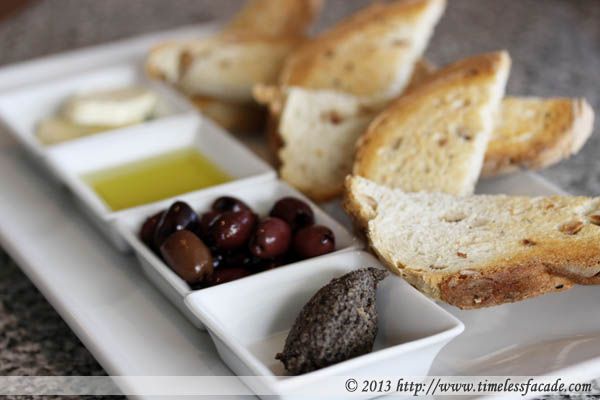 Taste Plate with Truffle Paste Oil & Stuffed Olives with Hazelnut Bread ($20)
We started off with a platter of deliciously toasted hazelnut bread served with a variety of condiments including truffle paste, truffle butter, olives and olive oil. The pièce de résistance was definitely the truffle paste, which, when paired with the olive oil, was utterly sublime. Aromatic truffle coupled with the smoothness of olive oil - pure ecstasy (but I love truffle so I'm definitely biased). The truffle butter was a little bland though so we left most of it untouched.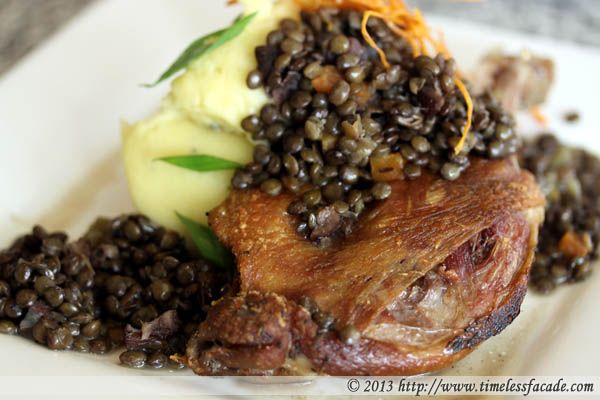 Confit Duck Leg & Puy Lentils Braised in Truffle Jus Served with Truffle Mash ($34)
Decently executed with the skin crisp and the meat spotting a reddish hue without coming across as too dry or salty. I personally liked the truffle mash, which was fragrant with bits of real truffle in it, unlike the usual ones which use truffle oil.


Gnocchi in a Creamy Porcini & Field Mushroom Sauce Served with Fresh Truffle Shavings ($30)
Although the gnocchi was a tad too big and soft for my liking (a little like chomping down on flour), I loved the excellent creamy mushroom sauce topped with shavings of cheese and fresh truffle. And that alone was enough to eclipse and compensate for the quality of the gnocchi in my humble opinion.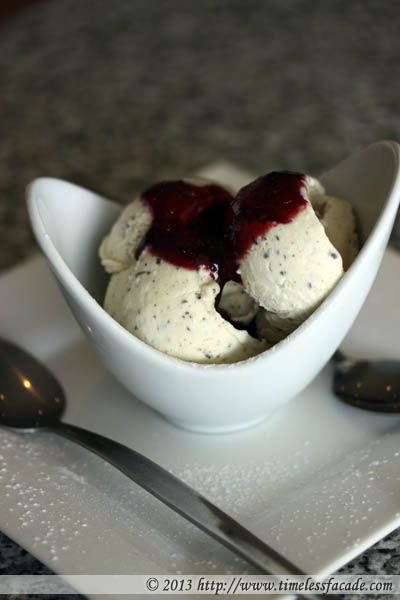 Truffle Ice Cream ($10)
It's honestly the first time I've tried truffle ice cream or seen truffle ice cream for that matter. And it was interestingly smooth and savoury with a lingering truffle taste. Served with a topping of sweetened raspberry sauce.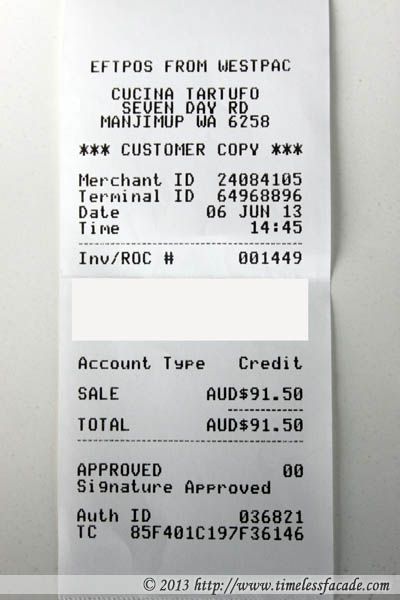 Bill
The scenery was great, service was great and the food in general was above average (and it all thanks to the truffles). Considering how pricey truffles are, I would say that the price of AUD 91.50 ( ~ SGD 114 at time of expenditure) is quite reasonable for a filling 2 pax lunch. Definitely a place I would make an effort to drop by again on my next trip to Perth.
See my initial review
here
.
Final Verdict:
Ambience: 7/10 (autumn plays a part!)
Service: 7.5/10
Food: 7.5/10
Value for money: 8/10
Overall: 7.5/10
Address: Lot 490 Seven Day Road, Manjimup
Contact: (08) 9777 2474
Opening Hours
Thursday through Sunday from 10:00 a.m. to 4.30 p.m. Open Monday of long weekends (Check website for updated opening hours)
Website: http://truffleandwine.com.au/truffle-cafe