We were craving for Japanese food after an afternoon musical at the Mastercard Theatres @ Marina Bay Sands so popped by Hide Yamamoto for an early dinner on a Saturday evening.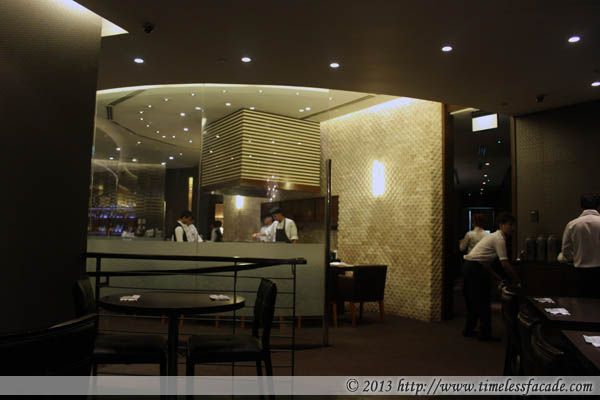 The Place
There are a total of 4 seating areas within Hide Yamamoto - Sushi bar, Teppanyaki counter, Robata counter and the Ramen & Dining area. We opted for the Ramen & Dining area as it would allow us to order from all the counters. Not too sure if you are entitled to the same flexibility if you sit at one of the specialised areas. Do note that tables are spaced quite close to each other (unless you manage to snag the red velvet booth seat) so private conversations can pose quite a challenge.
Grilled Hokkaido Scallop
At $35++ a pop, I was desperately hoping for more than the solitary scallop to start us off. Alas, it wasn't meant to be. However the lone scallop that made it to our table was huge, boasting a natural sweetness that was complemented by the mild saltiness from the roe that came alongside. The accompanying side salad had seaweed strips in it and came across as zesty.


Tuna Sushi Combination
The tuna combination consisted of 3 slices of tuna (Fatty, medium and normal) apparently flown in straight from Tsukiji in Tokyo and served atop blocks of sushi rice. Goes without saying that the tuna was fresh and the rice lightly tart without coming across as too loose or sticky. Only thing that I didn't like was the heavy handedness of the wasabi layer wedged between the tuna and the rice. And of course the price tag ($50++).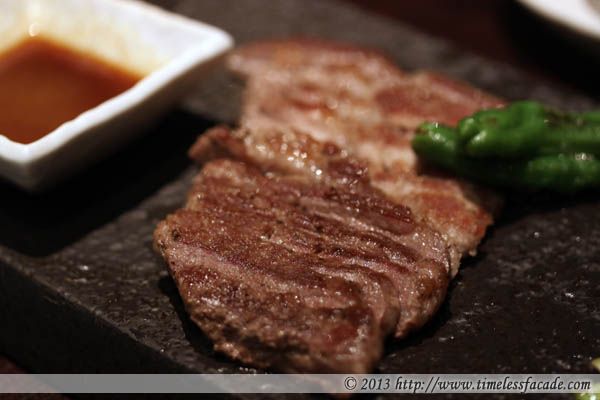 Kurobuta Collar
Weighing in at 150g, the kurobuta collar was from the Teppanyaki counter and came across as sufficiently tender without the overwhelming pork taste. A sesame based dipping sauce completed the picture.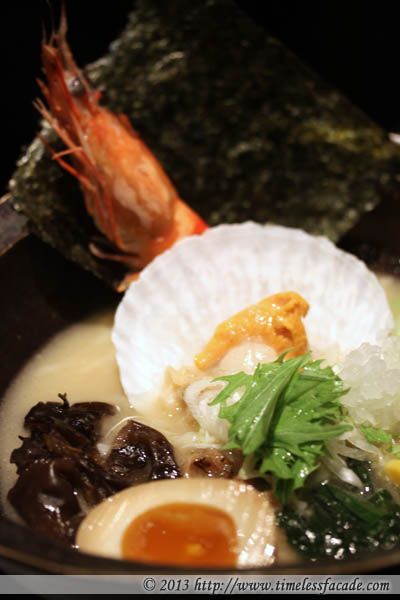 Soy Seafood Ramen
If I may, the soy based seafood ramen was very good with the broth light yet refreshingly tasty probably due in part to the addition of sweet corn. The ramen itself was springy (apparently the ramen is made in house from a 110 year old recipe) and full of bite whilst the seafood was fresh.
Portions are slightly smaller than your average ramen bowl though.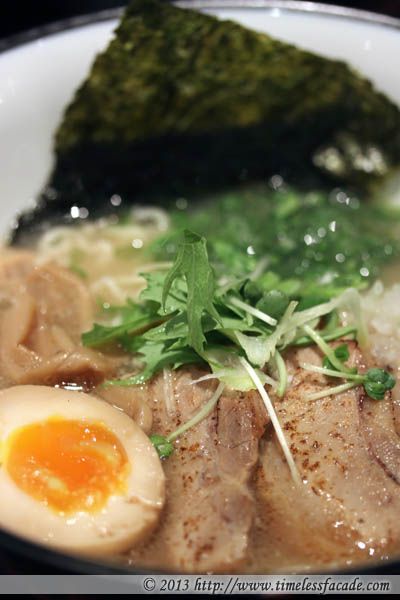 Soy Cha Shu Ramen
The cha shu ramen's broth was comparatively heavier than that of the seafood ramen but the noodles were excellent as well. Cha shu pieces were tender and overall portion size was just right to keep nausea at bay. I am definitely sticking to the seafood ramen the next time round.
Bill
A pretty satisfying dinner for 2 cost us in excess of $200, which is honestly a little on the high side. Service was good and food quality was definitely above average but I wouldn't rate it as excellent overall. I'll probably be back again, if only for the ramen.


Final Verdict:

Ambience: 6.5/10
Service: 7.5/10
Food: 7.5/10
Value for money: 6.5/10

Overall: 7/10

Address: #02-05 Marina Bay Sands

Contact: 6688 7098

Opening Hours

12pm – 3pm | 6pm - 11pm

Website: http://www.hideyamamoto.com/