The year of the horse will be upon us in less than 2 weeks and I was very fortunate to have the opportunity to try out a few CNY dishes at Li Bai, courtesy of the kind folks at Sheraton Singapore.


Turbot Fish "Yu Sheng Loh Hei"
My first lou hei of the year and a relatively pleasing one at that. Instead of the usual salmon, Li Bai uses the turbot (大鲽鱼 or 大菱鲆), which is a relatively pricey fish and stands out with its firm texture. Definitely a good way to start off the festivities!
Braised Superior Bird's Nest with Crabmeat and Crab Roe
In an effort to ensure the sustainability and welfare of sharks, Li Bai has put bird's nest on the menu as a substitute for shark's fin. And this dish definitely looks absolutely decadent and mouth watering on paper. But in reality, the execution was far from perfect. Granted, the bird's nest was nice and silky whilst the crab meat and roe was in abundance but the whole thing started out nicely salty and turned bland somewhere after the second or third spoonful. Talk about consistency issues.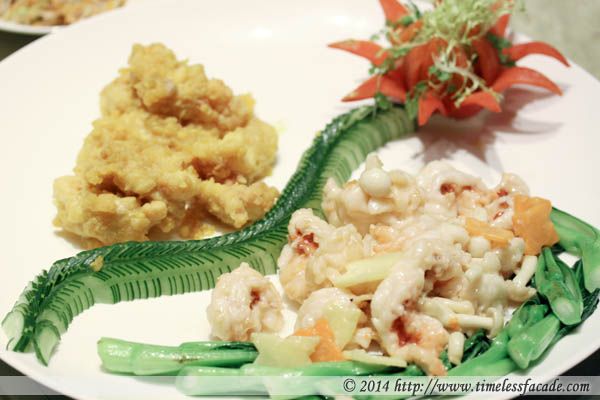 Salted Egg Lobster and Sauteed Fillet of Lobster
I appreciated the aesthetics of this dish and applaud the simple flavours of the sauteed lobster fillet, which was lightly salty coupled with a nice crunchy texture. The salted egg yolk variant was, however, too overwhelming and masked the inherent sweetness of the lobster. Prawns would have sufficed in my humble opinion. But nonetheless, still a pretty decent eat.
Stewed "Eight Treasures" Chicken with South African 5-head Abalone and Sea Cucumber
Instead of the usual peng cai, Li Bai has introduced the Stewed "Eight Treasures" Chicken with South African Abalone and Sea Cucumber. Apart from the sizable and chewy abalone, I can't really comment on this dish as my serving only consisted of chicken skin and salted egg yolk - probably not the best representation.
Water Chestnut Cake with Pan-fried Nian-gao
The water chestnut cake didn't sit well with me due to the presence of a singular foreign taste mixed into it. The nian gao (年糕) fared better in my humble opinion, coming across as sinfully pleasing with a similar texture to that of 九层糕.

Thanks once again to Sheraton for the invite!


Final Verdict:

Ambience: 7.5/10
Service: NA
Food: 7/10
Value for money: NA
Overall: 7.25/10

Address: B1 Sheraton Towers Hotel

Contact: 6839 5623

Opening Hours:

Monday to Saturday: Lunch, 11.30am to 2.30pm

Monday to Sunday: Dinner, 6.30pm to 10.30pm

Sunday: Yum Cha, 10.30am to 2.30pm

Website: http://www.sheratonsingapore.com/li-bai