It was a weekend beach getaway to neighbouring Koh Samui and (un)fortunately, our hotel was so secluded that we were largely confined to dining within the hotel premises. Read. Inflated prices. Nonetheless, dinner one evening was at Saffron, our hotel's signature Thai restaurant. After a less than stellar experience at
Saffron @ Banyan Tree Bangkok
a couple of years ago, I honestly didn't have high hopes for the meal.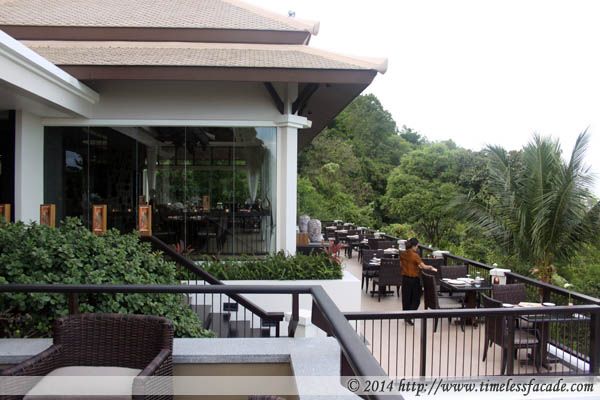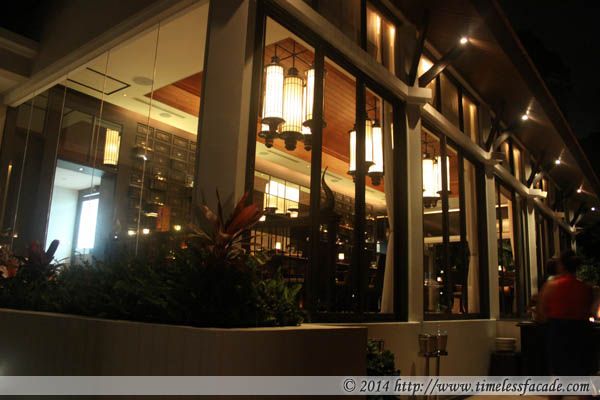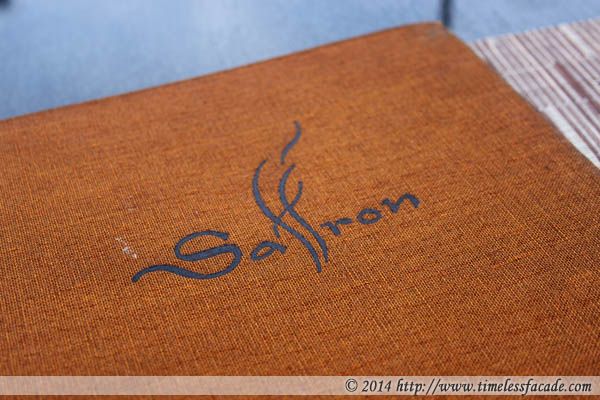 The Place, Beautiful View & Menu
Saffron sits atop a hilltop and offers expansive views of Lamai Bay and the surrounding South China Sea if you manage to snag a table on the outdoor dining terrace (our fantastic villa host got us the first and best table!). The only issue is that it can get a little warm if the land breeze fails to pick up.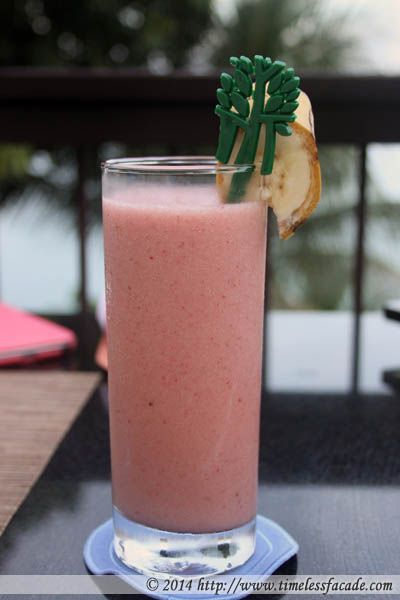 My Drink


Complimentary Rice Crackers
Served with 3 condiments (chicken with coconut cream, tomato sauce and green chilli and egg plant sauce), the rice crackers were a great snack to start off, especially with the coconut cream sauce! The Thai pancakes were nice as well; light taste of coconut with a tinge of spiciness.
Complimentary Amuse Bouche
And the complimentary stuff continued with a small stick of freshly grilled prawn in mild satay sauce. Nice and simple.

Duo of Crisp Blue Swimmer "Larb" & Fried Soft Shell Crab, Pan Grilled Fresh Ahi - Tuna Wrapped in Serrano Ham, Seared Duck Foie Gras on Spicy Mango Salad


I had the set dinner and first up was the appetiser platter with foie gras, tuna and crab.The Ahi tuna's texture was just right but unfortunately the taste of the bacon almost overwhelmed the inherent sweetness of the tuna. A pity if you ask me.

On the other hand, the soft shell crab was pretty good - crisp without the reused oil aftertaste whilst the blue swimmer "larb" sported a crisp wanton shell chock full of blue swimmer crab shreds. Only issue I had was the rather distinct lemongrass taste that I personally dislike.
Although the foie gras wasn't quivery enough, it went well with the mildly sourish mangoes. A redemption of sorts I guess.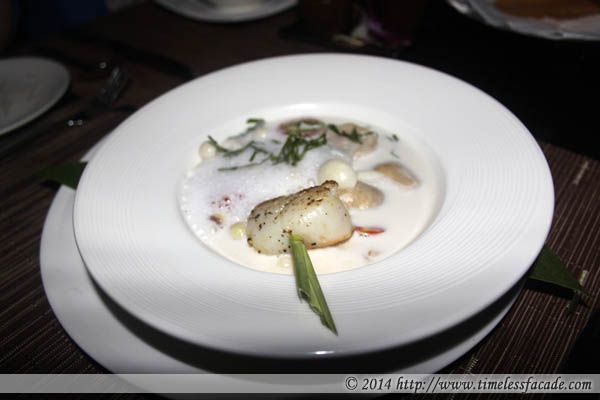 Coconut Cappucino, Grilled Sea Scallop on Lemon Grass Skewer, Lotus Seed & Lime
Next was a deliciously frothy, mildly sweet and creamy coconut cappucino soup that was loaded up with straw mushrooms and gingko nuts. The sole piece of scallop appeared to be nicely seared but the middle was a little too soft for my liking. Still a great dish nonetheless!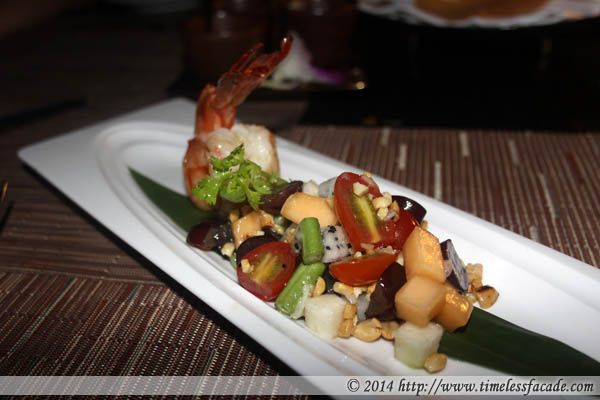 Charcoal Grilled Tiger Prawn, Samui Island Fruit Salsa, White Truffle Honey
A most refreshing salad dish if I may say, with a zesty tinge contrasting beautifully with the mild sweetness from the grapes, mangoes and truffle honey. Crushed nuts added texture whilst the huge piece of tiger prawn came across as fresh and crunchy.


Anchan Flower & Mangosteen Sorbet
Something light and a little sweet to cleanse the palate during the intermission.


Beef Short Ribs Braised in Mussaman Curry, Baked Snow Fish in Banana Leaf, Stir Fried Assorted Asian Vegetables in Oyster Sauce And Served with a Selection of Rice
Now for the heavyweights. Beef, fish and vegetables served with a selection of rice; white rice, coconut rice, lemon grass rice and brown rice. My personal favourite was the coconut rice, which was reminiscent of nasi lemak. The lemongrass variant didn't quite work for me even though the lemongrass taste was fairly mild.
Instead of your usual stir fried vegetables in oyster sauce, the vegetables came in the form of crisp and fresh tasting tempura. Not exactly my idea of having greens though. The beef ribs soaked in the flavours of the curry and had a tender, fibrous texture whilst the fish was nicely cooked; smooth but oily.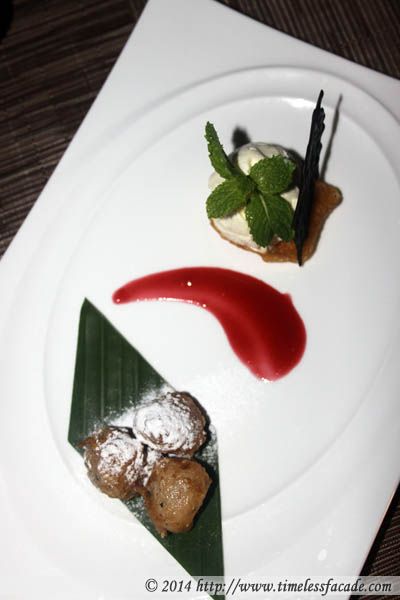 Deep Fried Lychee Tempura Filled with Cashew Nut Marzipan, Raspberry Coulis, Vanilla Ice Cream
This dessert sounded intriguing but turned out a little underwhelming. The lychee tempura was sweet with a faint lychee taste, served up with average tasting vanilla ice cream.
Petit Fours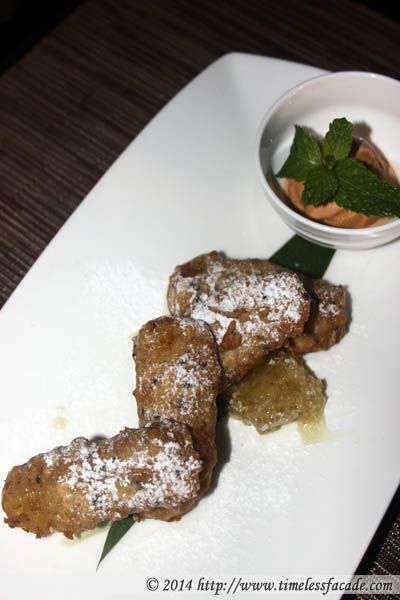 Tom Yum Goong & Gluay Thod
I only managed a small tasting of the tom yum goong and the gluay thod (deep fried bananas) so I won't comment too much. Just keep in mind that the normal level of spiciness in Thailand is a couple of notches higher than the normal in Singapore. We learnt it the hard way. Also, I personally prefer the gluay thod over my deep fried lychee tempura for dessert maybe because it tasted very similar to goreng pisang.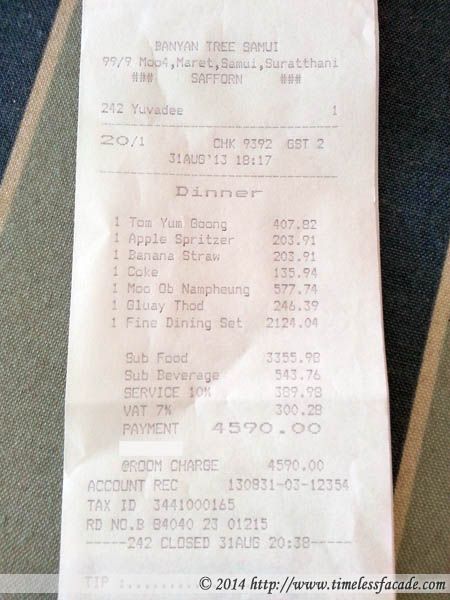 Bill
Dinner wasn't cheap, standing at 4590 THB (~ SGD 184) for 2 pax. However, food quality was above average, the view was superb and so was the service. Hearing the leaves rustling gently in the breeze and watching the sunlight slowly fade out from the horizon while nursing a cold drink in hand; now that's life.


Final Verdict:

Ambience: 9/10 (pray for a windy/cool evening)
Service: 8/10
Food: 7/10
Value for money: 7/10
Overall: 7.75/10

Address: 99/9 Moo 4 | Maret, Ko Samui 84310, Thailand

Contact: +6677915333

Opening Hours: 6 to 11pm daily

Website: http://www.banyantree.com/en/samui/experience_the_resort/dining/saffron