We were late. For the annual Chinese New Year reunion dinner booking frenzy that is. Trying to get a table about a month before the actual day proved to be an exasperating effort and with our options limited, we settled for Yan Ting. To be honest, I wasn't too optimistic about the quality of food as my previous dining experiences at Yan Ting (> 20 times in the past 2 years) only yielded disappointment with the ala carte menu (dim sum is above average though).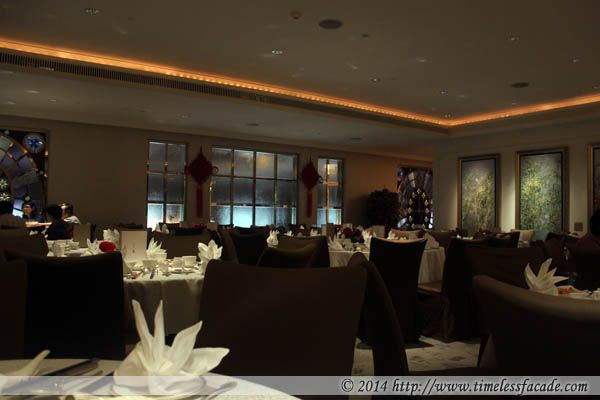 Interior
To accomodate the CNY reunion dinner crowd, Yan Ting has replaced a few of the cosy 4 seaters with round tables for 6 pax as well as opened up the nearby ballrooms for bigger groups. The usual peace and calm in the restaurant was replaced by the hustle and bustle of wait staff madly dashing around serving customers and the incessant chatter from families (us included).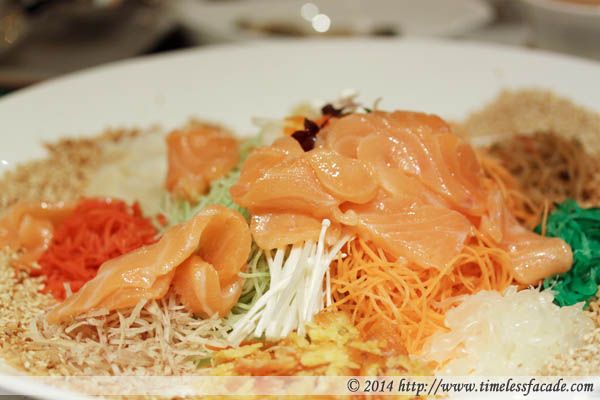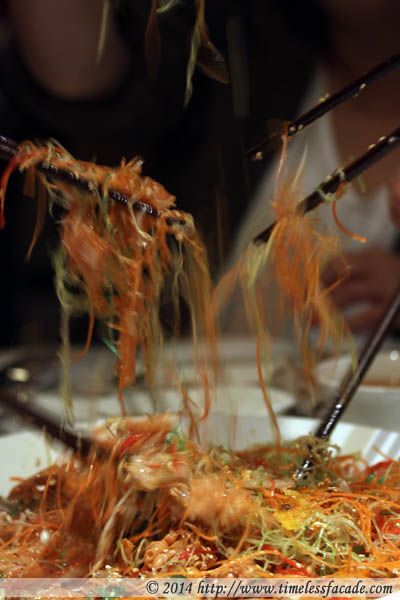 Prosperity Yusheng with Norwegian Salmon
I'm usually not too picky about yusheng but Yan Ting's offering was seriously underwhelming.The flavours were bland and I couldn't make out any sweetness from the plum sauce and even the crackers were tasteless!


Double Boiled Chicken Consomme with Abalone and Fish Maw
Presentation was almost non existent for this dish and it looked like a plain, simple bowl of soup. No fancy soup bowl, garnishes, nothing. Having said that, the broth was light yet tasty with a reasonably sized piece of abalone, fish maw and chicken slices.


Hong Kong Style Steamed Coral Trout
I had expected a whole fish to share but all we got was 3 slices of coral trout each (too expensive probably?), served up in a dim sum steamer. The trout's flesh was sweet, smooth yet firm with a mild saltiness from the shreds of
jinhua
ham (
金華火腿).
Stewed Pig's Trotter with Moss and Prosperity Oyster in Brown Sauce
This is honestly the first time I've seen pig's trotters in a reunion dinner menu and I can't say that I'm thrilled. Though tender, the trotters were bland due to the lacklustre brown sauce. Not a big fan of dried oysters so I'll reserve my comments.


Crispy Roasted Chicken with Truffles ($30++ for Half)
This dish was an add on on top of our 6 course dinner and the description had me all salivating. Imagine the prospect of juicy chicken meat coupled with crispy skin and the fragrance of truffles - a match made in heaven in my humble opinion. Alas, reality proved otherwise. Sure, the skin was a tad crispy and the meat wasn't too salty. However, the meat was a bit too dry while the truffle smell was barely existent. Whilst I appreciated the black truffle slices, they seemed to play a more decorative role than a functional one; they were bland and void of the strong, earthy aroma that I normally associate with black truffle.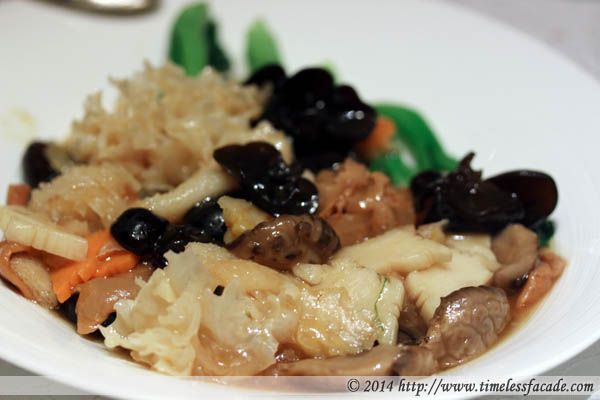 Buddha's Delight ($26++)
This was another add on from the vegetarian menu and as fanciful as the name sounded, it was just a bunch of vegetables lumped together and stir fried. Overall a very bland and insipid dish. Not too sure Buddha would have been pleased.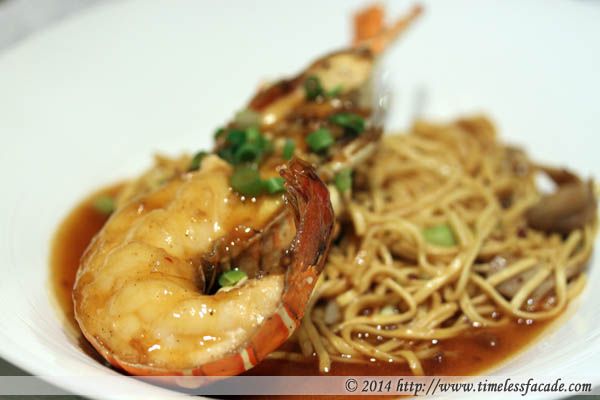 Braised Ee-Fu Noodles with Lobster in XO Sauce
After the less than ideal meal thus far, the braised Ee-Fu noodles threw up a pleasant surprise. Though soaked in the mildly salty XO sauce, the noodles were neither too sticky nor soft, retaining a bit of springiness whilst the lobster was naturally flavourful and full of bite. Only gripe I had was that portion sizes were unequal throughout and some of us ended up getting a much smaller plate of noodles and lobster. A little QC perhaps?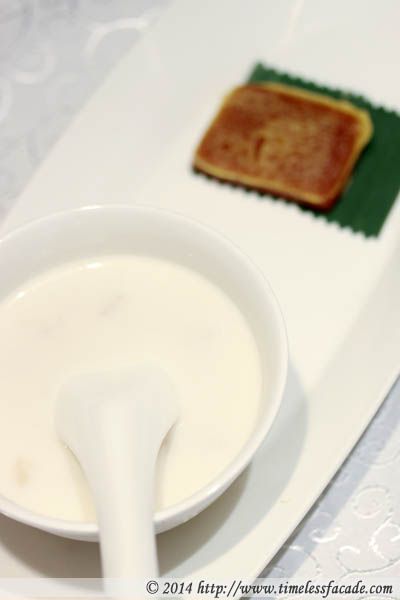 Fragrant Homemade Almond Tea with Hashima Glutinous Rice Cake
I'll be honest. I'm no fan of Hashima or what some people call the poor man's bird's nest. Maybe its more psychological than anything but I just can't get over the fact that hashima is made from fat tissue found near a frog's fallopian tubes. So this dessert was a no go for me. Well, I did eat the nian gao (年糕) though.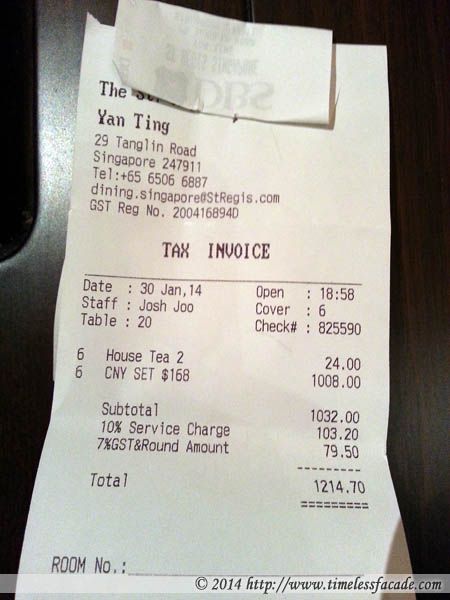 Bill
Excluding the price of the roasted chicken and Buddha's delight (which was billed seperately), a 6 course dinner for the 6 of us cost about $1215 or just over $200/pax. Factor in the additional 2 dishes and the price goes up to about $213/head, which is relatively expensive for the quality of food. Service was efficient but everything seemed very rushed and there was no room for friendly banter with the wait staff. I would put that down to a lack of manpower but it definitely didn't help the atmosphere.
In conclusion, Yan Ting seriously needs to buck up on its food quality especially when there is a premium price tag attached to it. Cherry Garden @ Mandarin Oriental, which has always disappointed me (until recently), has stepped up its game and it's time for Yan Ting to do likewise or go the way of the dodo. I have given Yan Ting too many chances and this is probably when and where I draw the line.
Final Verdict:
Ambience: 7/10
Service: 6/10
Food: 6/10
Value for money:6/10
Overall: 6.25/10
(Please note that all scores are based solely on this particular CNY visit)
Address: Level 1U, St. Regis Singapore, 29 Tanglin Road
Contact: 6506-6888
Opening Hours: 11.45am to 3.30pm, 6 to 11pm
Website: http://www.yantingrestaurant.com/