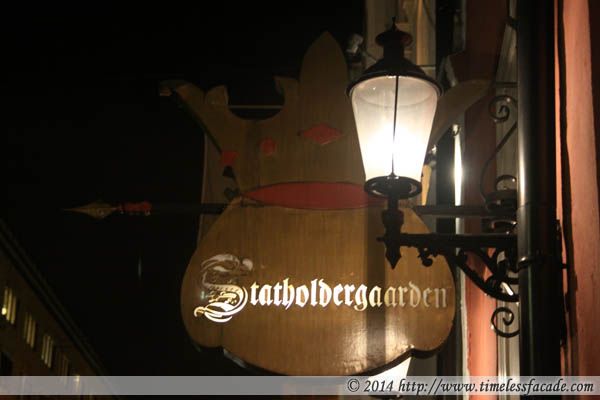 We happened to be in Oslo the week before Christmas and made a reservation to dine at one of only five Michelin starred restaurants in Norway (it used to be only two in 2013 hence the choices were limited), Statholdergaarden. Established in 1994 and helmed by Bocuse d'Or winning Chef Bent Stiansen, Statholdergaarden currently holds 1 michelin star and has been considered by many as one of the best restaurants in Norway.


Interior
Situated in Oslo's historic quarter, Kvadraturen and housed in a protected villa dating back to 1640, Statholdergaarden's is located on the first floor whilst its sister restaurant, Statholderens Food & Wine Cellar (a casual establishment), takes the basement vaulted cellar. Statholdergaarden boasts a stately dining room with beautiful stucco ceilings and hanging chandeliers; much like a journey back in time. Noise levels can be a problem as the ceiling is rather low and we could hear what the tables around us were saying.
Menu
The menu says it all. 4 courses for Kr. 1035, 5 courses for Kr. 1135 and 6 courses for Kr. 1235 with an option to have matching wines for a top up. I went with the 6 course while my wife went with 4.
Complimentary Bread
I honestly don't remember much about the complimentary bread safe for the fact that it helped in quelling the growling unrest in my stomach that evening.



Amuse Bouche
The amuse bouche got us off to a nice start with thin, crispy cone filled with delicious cream cheese and a touch of truffle.
Amuse Bouche
Following up was a rather interesting amuse bouche trio of potato ball with cod fish filling, trumpet soup and crispy pastry with horseradish and shredded moose. The potato ball was quite tasty without coming across as too fishy but I did find it a tad too salty. Ditto the deliciously creamy trumpet (mushroom) soup.
Believe it or not, it's my first time eating moose and I was naturally excited. But the cured moose shreds were so underwhelming that I could only make out the horseradish. So much for my first try of moose.
Grilled Scallop and Cured Salmon Served with Dill, Crisp Rye & Mustard Emulsion
The word "sparse" came to my mind when I set my eyes on our first appetiser. First impressions aside, the scallop was grilled to perfection and full of natural sweetness to boot. The cured salmon had a nice bite to it and didn't come across as too salty whilst the rye gave the entire dish a nice crisp texture.
Shellfish Soup Garnished with Roulade of Halibut, Fennel & Feves
Served amidst a rich and mildly creamy langoustine broth, the roulade of halibut was fresh but a tad too salty for my liking. I wouldn't mind seconds though.


Fried Cod Served with Spinach, Pickled Red Onion and Jerusalem Artichoke Puree, Tarragon Sauce
Crackling crisp skin coupled with fresh, tender meat and topped with artichoke crisps. Lovely but a tad too salty. I don't know if it's just me or do Norwegians generally prefer more salt in their dishes?


Pepper Glazed Breast of Duck Served with Brussels Sprouts, Baked Root Vegetables, Mushroom Croquet and Coast Berry
Pink in the center with a nicely crisp skin and tender, not too gamy meat, the duck breast went very well with the mildly sweet port wine sauce. The mushroom croquet was also a nice tough, bringing a nice earthy flavour to the dish.


Palate Cleanser
An intermission of raspberry granita with something that skips my memory.


Taleggio Cream Served with Apple Compote, Caramelized Nuts & Salad
This is honestly the first time I'm seeing dessert served with vegetables and I can't say that I'm a fan. The taleggio cream on its own had a pretty mild and easygoing flavour (nothing like aged taleggio cheese which is rather pungent) but when paired with apple compote and caramalised nuts, it gave rise to a semi creamy dish with sweet touches and a crunchy texture. Interesting but I am of the humble opinion that this would probably sit better under appetisers?


Milk Chocolate Bonnet & Sour Cream Pannacotta Garnished with Clementine Curd & Sherbet
The chocolate bonnet was lightly bitter and rich whilst the clementine curd and sherbet provided a nice juxtapose with their mild sweetness and citrusy flavours. I personally liked the crushed soil below the sherbet, which provided a nice crunch texture to the dessert.


Bill
Dinner at Statholdergaarden was a relatively inexpensive affair (by Norwegian standards), standing at 2270 NOK (~ SGD 475) for 2 pax (6 course and 4 course respectively) without any wine. Food was competent but honestly a little disappointing for a 1 michelin starred restaurant. Service was great and extremely polished though and the restaurant was full the evening we were there. So be sure to make reservations at least a few weeks in advance.


Final Verdict:
Ambience: 8.5/10
Service: 8/10
Food: 7/10
Value for money: 6.5/10 (by Norwegian standards)

Overall: 7.5/10

Address: Rådhusgate 11 , entrance kirkegaten, 0151 Oslo

Contact: 00 47 22 41 88 00

Opening Hours: Mon to Sat - 6pm till midnight. Last order at 1130pm.

Website: http://www.statholdergaarden.no/