Was itching to try out somewhere new for dim sum instead of the usual favourites thus settled for Jin Shan Restaurant (金山楼) at Marina Bay Sands one late Saturday morning.
The Place
Located within the confines of the hotel (not the shopping mall), Jin Shan sat on an elevated platform on the ground floor. Natural sunlight peered through the huge glass panels that lined the side, making for a comfortable and cheery atmosphere. Unfortunately this also meant that some tables were subjected to more sunlight than others.
Abalone Pork Dumpling
We started off with the abalone siew mai, which was a joke, seriously. The siew mai itself was decent without encapsulating too much fatty meat but the abalone had a very raw taste that spoilt the whole dish. Gross.


Jin Shan Signature Rice Rolls
The signature cheong fun was actually a combination of scallop, BBQ pork and deep fried beancurd skin rice rolls. The fillings were decent but the rice rolls were too thick for my liking and lacked the silkiness of good cheong fun.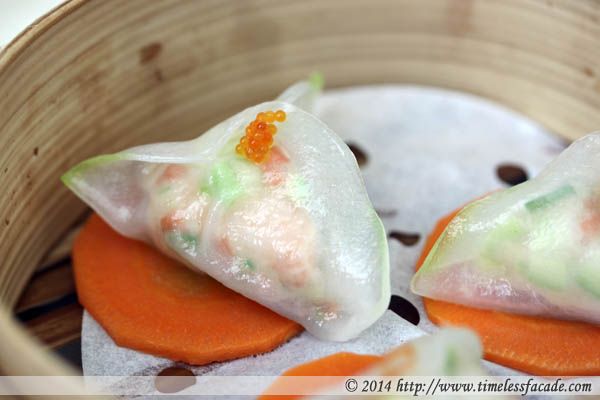 Steamed Asparagus with Prawns Dumpling
Prawns and crunchy asparagus deftly wrapped in translucent dumpling skin and topped with a smidgen of roe; Decent but nothing too surprising.


Fresh Shrimp Dumpling
Crunchy prawns and acceptably thin dumpling skin. No burst of flavour though.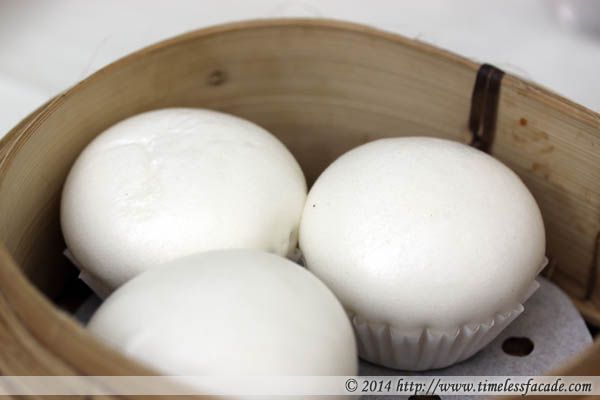 Steamed Custard Buns
Rich custard oozed out when we broke into the buns but sadly, the custard was just sweet without the saltiness and rough texture of egg yolk which would have made this dish great.


Deep Fried Prawn with Mango
This dish was a little interesting although not exactly in a good way. The prawns and mango bits were wrapped in dumpling skin, deep fried till crisp and topped with sesame seeds. I could make out the taste of the prawns and sesame seeds but sadly, the mango was non existent.


Fried Carrot Cake
A tad crisp on the outside without coming across as too mushy on the inside. Average tasting at best.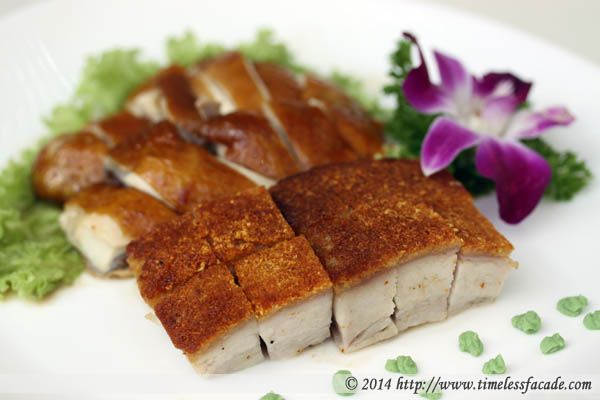 BBQ Combination
I think a good yardstick of any dim sum place is its roasted/BBQ meats (烧腊) and as pretty as our BBQ combination (roasted pork & soya sauce chicken) looked, it didn't quite match up. For starters, even though the roasted pork's skin was crisp, it wasn't evenly roasted (as evident from the different hues of brown on the skin) and a tad overly salty. The soya sauce chicken fared slightly better with tender meat and a spot of sweetness.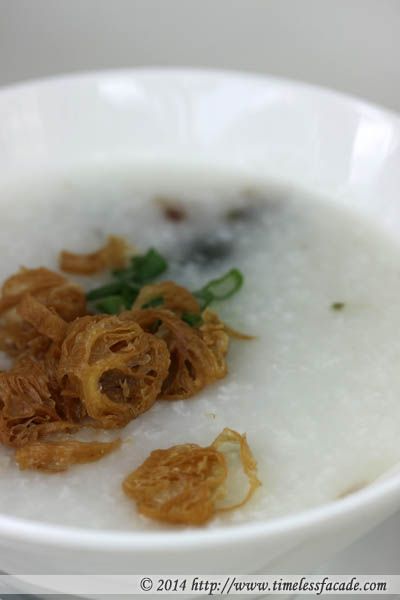 Lean Meat Century Egg Congee
The lean meat century egg congee was a tad too watery and bland for my liking. Ditto the scallop congee (forgot to take a picture), which was watery and extremely bland. Forgettable.
Bird's Nest Egg Tart
Flaky but sans the buttery goodness that I would normally associate with tarts. The custard was mildly sweet whilst the strands of birds nest offered a nice gelatin texture to the mix. Decent but no great shakes.


BBQ Pork Puff
One of my favourite dim sum dishes, Jin Shan's rendition of the BBQ pork puff was average at best and nowhere near my personal favourite at
Yan Ting
. The pastry was too thick and as with the egg tarts, lacked the buttery, oven baked goodness that I personally like. And I could only make out the taste of the pork floss atop as the
char siew
filling was rather bland.
Bill
With a 10% discount, the 4 of us chalked up a bill of about $180, which is quite a bit higher than what I usually pay at
Wah Lok
. Food quality was average at best and service was definitely below that of a restaurant in a 5 star hotel. Read. Grouchy at times and unhelpful to say the least. The only thing going for the restaurant is its bright, cheery ambience. Will I go back? Definitely not!
Final Verdict:
Ambience: 7/10
Service: 4/10
Food: 5/10
Value for money: 4/10
Overall: 5/10
Address: 1 Bayfront Ave Marina Bay Sands Hotel Lobby #01-05 Tower 2
Contact: 6688 7733
Opening Hours: Mon - Sun: 7:00 am - 4:00 am
Website: http://www.jinshan.com.sg/